Flora is a Partner in the Employment team. She is an immigration solicitor specialising in helping employers recruit from overseas and helping individuals with visa applications.
Flora provides immigration and employment advice to both public and private sector organisations and defends a wide range of Employment Tribunal claims for her clients.
Flora leads the firm's business immigration offering across our three offices and provides specialist advice to clients across a wide variety of sectors on the full range of immigration issues.  She assists with sponsor licence applications and has a 100% success rate.  She also advises on sponsor management compliance, Skilled Worker (formerly Tier 2 General) visas and Intra-company (formerly Tier 2 Intra Company Transfer (ICT)) visas.
She has developed a particular expertise advising individuals with exceptional promise and exceptional talent who wish to apply for the Global Talent visa (formerly the Tier 1 Exceptional Talent visa) and has gone on to assist many clients from all visa routes with settling in the UK through applications for indefinite leave to remain (ILR) and British citizenship. More details of which can be found here.
Flora also has vast experience advising employers and senior level employees on a wide range of employment/HR matters such as disciplinary and grievance issues, restructuring and redundancy exercises, TUPE, exit strategies and advising on settlement agreements.  She takes a pragmatic and commercial approach to achieve her client's aims.
Flora conducts her own advocacy in the Employment Tribunal and defends a wide range of claims including unfair dismissal, race, sex, pregnancy and disability discrimination, whistleblowing and unlawful deduction from wages.
Experience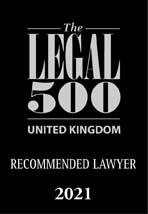 Matters of which Flora has advised include:
Numerous successful Global Talent (Tier 1 Exceptional Talent) endorsement and visa applications for experts in digital technology (Tech Nation), arts and culture (The Arts Council) and research and innovation (The Royal Society and The British Academy)
Helping a London based digital technology start-up founder with a Tier 1 Exceptional Talent visa and their dependants attain ILR
Successfully applying for a Tier 2 General sponsor licence for a North-East based company following revocation of its previous licence and obtaining new Tier 2 General visas and unbroken continuous residence for an employee and their partner
Receiving a spousal/partner visa for a Syrian refugee living in Greece based on their marriage to a British citizen
Successfully challenging a Civil Penalty Notice issued to a premier league football club for employing illegal workers with the result of the penalty being reduced to nil and providing right to work check training to HR and Management
Assisting with the closure of multiple businesses in the UK and Europe which involved both TUPE and redundancy consultations and acting as project manager for all European legal advice
Successfully defending an Employment Tribunal claim (constructive unfair dismissal, disability discrimination and breach of contract) at a four day hearing for a private care home provider
Advising a top London-based recruitment agency in relation to the removal of confidential information and anticipated breach of non-compete restrictive covenant and successfully negotiating onerous undertakings from the ex-employee
Memberships / Networks
ILPA (immigration law practitioners association)