Flora is an Associate in the Employment team in the Leeds office.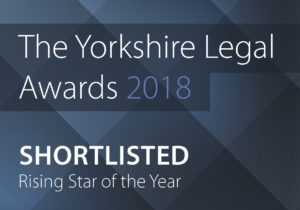 She is an employment lawyer with experience of a wide variety of contentious and non-contentious employment issues. Flora also leads the firm's business immigration offering across our three offices and provides specialist advice to clients across a wide variety of sectors on the full range of immigration issues.
She has experience in a wide range of employment matters, such as disciplinary and grievance issues, restructuring and redundancy exercises, TUPE issues, exit strategies and advising on settlement agreements, acting primarily on behalf of employer clients and senior level employees.
Flora has been involved in the defence of a range of Employment Tribunal claims, including unfair and wrongful dismissal, race, sex, pregnancy and disability discrimination, whistleblowing and unlawful deduction from wages and regularly conducts her own advocacy in the Employment Tribunal at preliminary hearings, liability hearings and remedy hearings.
She has spent time on secondment to the HR Department of a leading private healthcare provider where she assisted with providing advice on day to day employment issues as well as a strategic project involving a number of sensitive dismissals requiring input from various regulatory bodies.
Flora assists clients across the UK and overseas with all of their corporate immigration needs.  This includes obtaining sponsor licences, sponsoring migrant workers, Tier 2 General and Intra Company Transfer visas as well as visitor visas, settlement and citizenship and EU and EEA nationals.
Over the last 5 years, Flora has developed a particular expertise in advising world leaders and those with the potential to become world leaders on the Tier 1 Exceptional Talent visa.
Flora also designs and delivers bespoke immigration training for clients on topics including carrying out compliant right to work checks, utilising a global workforce and the implications of Brexit on the employment of EU nationals.  In addition, Flora has created an audit tool and regularly audits HR, immigration and compliance systems for clients holding a sponsor licence.
Experience

Flora has specialist experience in a number of different sectors including:
Recruitment – Flora advises both recruitment agencies and their clients on all aspects of employment, HR and immigration matters including restrictive covenants and confidentiality as well as drafting terms of business for placement of temporary and permanent candidates and consulting companies.
Private healthcare – Flora advises providers of care homes, rehabilitation services, secure services and specialist education facilities on a variety of employment and immigration issues including safeguarding issues involving the police and the CQC, whistleblowing allegations and routinely defends all types of Employment Tribunal cases on their behalf.
Digital technology – Flora has vast experience in the digital technology sector advising both start-ups and established businesses on a wide range of employment and HR issues including recruitment, policies and procedures and using various immigration routes to recruit and retain staff from overseas.
Transport – Flora regularly advises transport providers day to day HR matters as well as on the TUPE implications of winning or losing a tender to provide services including harmonisation of terms following a TUPE transfer.
Sport – Flora advises and works with organisations to defend Employment Tribunal claims which can include claims brought by office staff, coaching staff and players.
Recent projects on which Flora has advised include:
Devising and implementing a strategic immigration project for a British based plc including conducting in-house audits, presenting findings and solutions to senior management, preparing and presenting training and drafting template guidance and documentation.
Advising a top London-based recruitment agency in relation to the removal of confidential information and anticipated breach of non-compete restrictive covenant and successfully negotiating onerous undertakings from the ex-employee.
Achieving endorsement and Tier 1 Exceptional Talent visas for a significant number of individuals in the digital technology sector and the arts.
Assisting with advising a US multi-national courier company on the use of an "Owner Driver" model across its network in the UK, and defending Employment Tribunal claims alleging employee and/or worker status.
Obtaining a new sponsor licence following revocation for a North-East based subsidiary of a US group of companies and obtaining new Tier 2 general visas and unbroken leave to remain for their employee and his partner.
Advising a NHS Trust on the employment and sponsorship of non-EEA nurses and the Trust's reporting obligations to UK Visas & Immigration.
Advising on complex race discrimination, harassment and victimisation Employment Tribunal claims, including conducting her own advocacy in the Employment Tribunal over multiple days.
Successfully challenging a Civil Penalty Notice issued to a premier league football club for employing illegal workers with the result of the penalty being reduced to nil.
Advising a national private sector company providing non-emergency "blue light" services to the NHS, on the TUPE issues and the integration of transferring employees from the NHS to the private sector company.