Jamie Guy, Newly Qualified Solicitor
After graduating from the University of Leeds in the summer of 2016 I completed the LPC the following year and began my training contract in September 2017. Throughout the course of my training I completed seat rotations in the Commercial, Corporate, Employment and Real Estate departments before qualifying into the Corporate team in September 2019.
The experience I gained during my training contract was invaluable and I thoroughly enjoyed my time in all four departments, however, I particularly enjoyed the transactional and multi-departmental aspect of Corporate deals as well as the buzz surrounding completions. It was this fast paced and stimulating style of work which led me to qualify into the Corporate team.
As a trainee in the Corporate team I was able to assist on a wide variety of corporate transactions which ranged from a £50m national disposal to the internal group reorganisations on North East based companies. This exposure to such an array of transactions meant that my workload was diverse and developed a prevalent range of skills. I principally assisted the team with legal due diligence exercises, drafting transaction documentation and dealing with numerous completions. I was also regularly taken to meet clients and was encouraged to attend networking events which resulted in a well-rounded and rewarding experience.
The progression into qualification was very straightforward as the firm dealt with all necessary formalities which allowed me to concentrate on settling back into the Corporate team and get up to speed with ongoing transactions. As an NQ my level of responsibility has increased, however, the team ensures that supervising partners are always available to assist, guide and review my work to give me the confidence to develop and improve from their direction.
Both throughout my training contract and moving into newly qualified life I have felt like a valued member of each department and that each of my supervisors has been invested in ensuring that I have been given the highest level of work, supervision and time to aid my progression. This, coupled with the friendly and approachable nature of the firm, provides an ideal foundation for any trainee or junior lawyer to make the most of their potential.
In the future I hope to progress within the firm and believe that the experience I gained during my training contract, as well as the connections I have established across the firm, will provide the ideal foundation to do so.
Kerry McFarlane, Newly Qualified Solicitor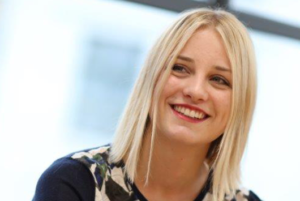 In my second year at university, I was invited to apply to Ward Hadaway's bursary scheme, which is offered to Newcastle and Northumbria University students. I was already aware of the firm as they get involved with a number of extra-curricular activities at Newcastle University, but I was very nervous when attending the bursary interview. I needn't have worried – the interviewers were friendly, encouraging and welcoming. I felt like they were considering my potential rather than expecting me to answer every question flawlessly.
I found the people at Ward Hadaway just as pleasant throughout my work experience and at my training contract interview. There were some difficult questions, but these encouraged me to think practically about how I would approach new challenges as a trainee.
One of the things which most appeals to me is the fact that Ward Hadaway is a full service firm. I was lucky enough to experience very different seats throughout my training contract: Housing, Commercial Litigation, Matrimonial and Commercial Dispute Resolution (a combined seat which involved assisting in Commercial Litigation, Construction, Insolvency and Matrimonial). The firm has always taken account of my preferences but also encouraged me to try areas of practice which I had not previously considered, but thoroughly enjoyed.
All of my supervisors have struck the perfect balance between ensuring my workload is managed and I feel supported, whilst giving me the opportunity to get stuck in to a variety of tasks. You are made to feel like part of the team straight away, and fee earners are always happy to help you out with any queries you have and provide comprehensive feedback. The work and clients that the firm attracts is testament to the fact that you don't need to work in London to have an fulfilling, challenging and varied legal career.
As a trainee, client contact is encouraged from the start – you are always invited to meetings and given the opportunity to attend lots of client networking events. We are also encouraged to take part in fundraising and community activities. In my first week at the firm I took part in 3 Points North, a non-stop relay between our three offices, and I now volunteer at a weekly lunchtime run for the general public which takes place near to our office.
The firm is very sociable and, pre-Covid, employees could be found at the nearby bars each Friday. I'm sure that once it is safe to do so, this is something which we will all be keen to resume! However, throughout lockdown we have been encouraged to catch up virtually. The location of our Newcastle office dispels the myth that 'it's grim up north' too, with lovely views of Quayside.
Sam Walker, a newly qualified solicitor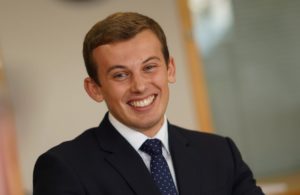 Upon graduating from the University of Nottingham, I moved back to my hometown of Leeds in order to complete my LPC and begin my training contract at Ward Hadaway. I did not want to live in London but still wanted to experience the highest quality of legal work. As one of the largest full service law firms in the North of England, Ward Hadaway was able to provide me with this.
During the recruitment process, it was clear that Ward Hadaway wanted to get to know me as a person. My interviewers wanted to know about my interests and hobbies, rather than what I had simply read in the Financial Times that morning. They were friendly, supportive and fully engaged throughout.
My training contract commenced with a three day induction in Newcastle, which brought together all of the trainees from across each of the offices. This was a great introduction to Ward Hadaway and allowed for all of the trainees to really get to know each other. Ward Hadaway, despite operating from a number of offices, strives to be one firm working together to provide the best possible client and working experience. Multi-office events such as these, and the many multi-office social events, make this a reality.
Following my induction, I was made to feel welcome as soon as I arrived at the Leeds office. The firm has a very friendly and down to earth culture. Colleagues frequently socialise outside of the office and the firm's social committee organise a range of events throughout the year. Recent highlights have included the summer barbeque, a charity bake sale and the Halloween party.
From the outset, I was involved in work that is engaging, completing a wide range of tasks that have all allowed me to develop as a trainee. Even in my first few weeks, I attended court multiple times and met with several clients.  Colleagues provide detailed feedback on the work that I complete and are always willing to help.
Ultimately, Ward Hadaway has been an amazing start to my career. The firm has provided me with high quality training, whilst also being a great place to work.