Ward Hadaway has been re-appointed as the legal advisors to the Co-op Academies Trust.
The firm has been awarded a three-year contract by the Trust, which currently operates 23 schools and colleges in some of the most economically challenged areas across the north of England. Ward Hadaway will provide advice on a range of legal matters to support its growing base of Academies in Leeds, Bradford, Manchester and the Wirral.
Ward Hadaway has supported the Trust in its growth strategy and are delighted to be re-appointed after a competitive procurement process, which saw them compete against a number of firms for the contract.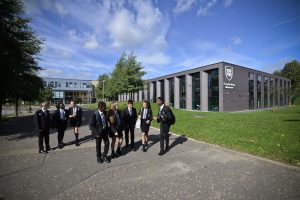 The Co-op Academies Trust help to regenerate local communities by turning previously failed or weak schools into thriving, high performing education providers. It has ambitious growth plans to increase the number of academies to 40 by 2022. The Trust, which is sponsored by the Co-op, is one of the fastest growing multi-academy trusts in the country.
Tim Care, a partner at Ward Hadaway's Newcastle office said: "We are delighted to have been re-appointed to this contract by the Co-op Academy Trust. This is a significant contract which further strengthens our already long-established relationship with the Trust and our ability to support one of our key education clients. We look forward to supporting them with their ambitious growth plans over the next three years of providing better education to some of the most hard to reach communities in the country."
Commercial solicitor, Michelle Fleming advises schools and Academies on a range matters including conversions and transfers, contracts, public procurement and governance. She said: "This contract is testament to the quality and range of legal services Ward Hadaway provides and we are delighted to be able to continue to assist Co-op Academies Trust's growth strategy.
Associate solicitor Jennifer Patterson from the real estate team, who form an integral part of the service offered to the Trust, added: "As a team, we continue to expand our expertise and experience, in 2018 alone we completed 50 academy conversions and transfers for a wide variety of academy trusts. We recently completed ten new schools for the Co-op Academies Trust in the space of a year. We provide daily advice for any legal situation that an academy trust may face, ranging from challenging exclusions to tree preservation orders, so no two days are the same."
Frank Norris, Director of the Co-op Academies Trust, said: "This is a very exciting time for our Trust and our growth plans mean we need a wealth of legal advice on tap.
"We are making a big difference to the lives of thousands of young people in communities that have some of the greatest educational challenges.
"The effect of a good school that was previously failing or weak is immense in regenerating communities and have established a great track record of turning around schools, which were previously struggling."
The contract includes an option to extend for a further two years.
Please note that this briefing is designed to be informative, not advisory and represents our understanding of English law and practice as at the date indicated. We would always recommend that you should seek specific guidance on any particular legal issue.
This page may contain links that direct you to third party websites. We have no control over and are not responsible for the content, use by you or availability of those third party websites, for any products or services you buy through those sites or for the treatment of any personal information you provide to the third party.