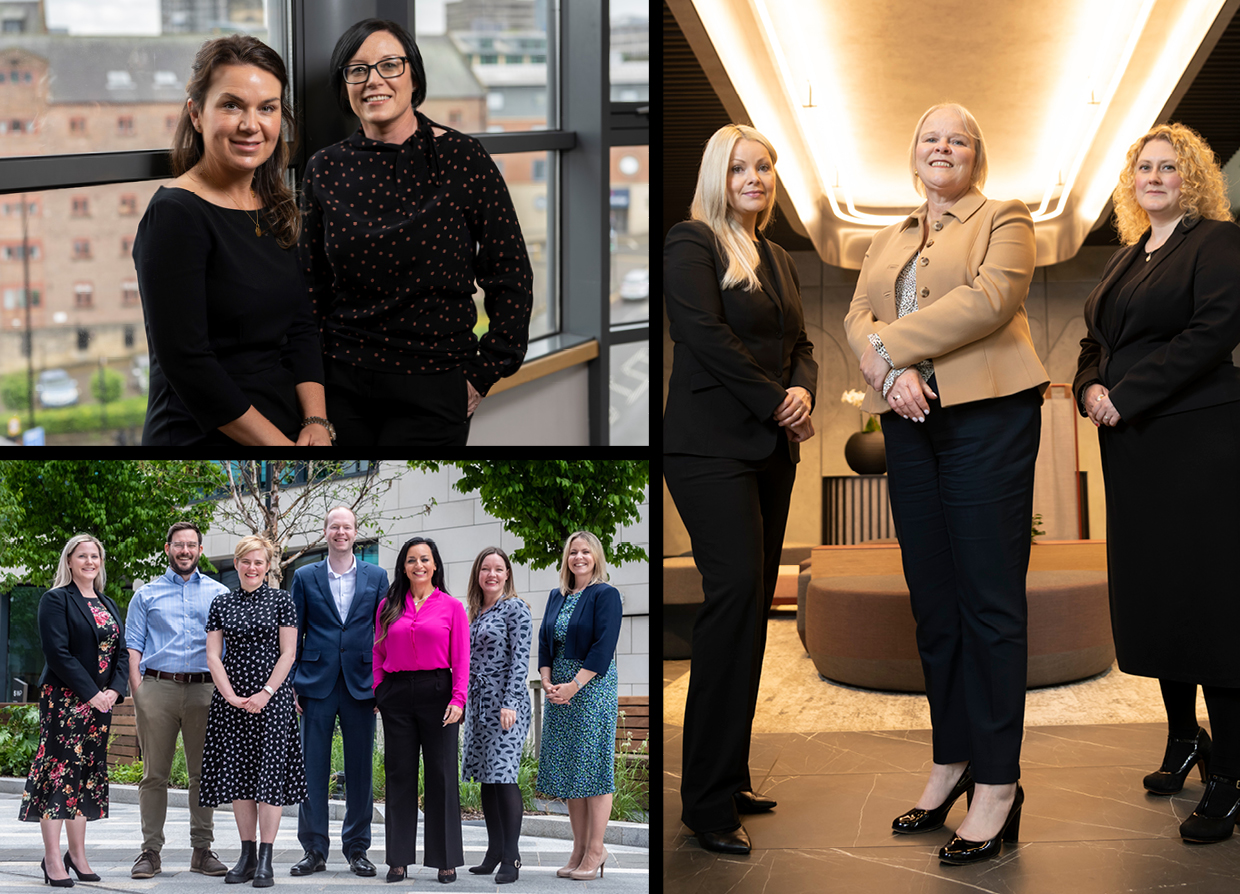 We are pleased to share some great employee news as we continue to grow strongly across the North of England.
A total of 28 lawyers across our Leeds, Manchester and Newcastle offices have been promoted which includes 4 partners – Kerry Adcock and Louise Cannell-Mirza, in our Newcastle office, Melanie Gavin, who is based in our Manchester office, and Leeds-based Laura Gooddy.
Managing Partner Martin Hulls said: "Our team are exceptional lawyers who thoroughly deserve their promotions, which reflect an important milestone in their individual careers.
"It's important our people feel valued in their roles at every level. The culture here is supportive, nurturing, and friendly. We invest in our team and their ongoing professional development, helping them be the best they can be. It's important to acknowledge the contribution they make not only to the legal services we deliver but also in making the firm such a progressive, dynamic and inclusive place to work.
"As a full-service firm, we're focused on delivering high quality, expert legal support across a wide range of sectors, encompassing all aspects of the law. Our investment in the recruitment and development of our people enables us to achieve this and is accelerating our growth. It's an exciting time to work at Ward Hadaway."
Ward Hadaway currently has over 450 people in three key locations – Leeds, Manchester and Newcastle – including 97 partners.
Speaking of her promotion to partner, Laura Gooddy, a specialist in real estate matters, said: "Since I joined Ward Hadaway I have been fortunate to work with some world-class organisations and individuals in the built environment sector. The firm has fully supported my ongoing career, and together with the rest of the teams in Leeds, Manchester and Newcastle, we continue to build on the strong foundations first laid down over 30 years ago.
"I'd also like to congratulate my fellow newly promoted partners, this year we are certainly flying the flag for female leadership with women accounting for 60% of all promotions, which is empowering. As someone who trained here, I can vouch for the fact that for many years the firm has invested significantly in home grown talent and it's a place that offers fantastic opportunities for all – no matter their gender or background. It is great to see that strategy, combined with proactive career development opportunities also enabling a better gender balance at all levels across the firm."
Speaking of her promotion to partner, Melanie Gavin, a barrister specialising in healthcare matters, added: "There is a culture here that supports and empowers individualism, and a motivation to see others thrive. Our people-first ethos allows us to focus on the best possible client experience, delivered with a friendly, no-nonsense approach, and that extends to how we treat each other within the firm. It's a great place to work, and I'm excited to see what the future holds, both for the business and for myself."
Please note that this briefing is designed to be informative, not advisory and represents our understanding of English law and practice as at the date indicated. We would always recommend that you should seek specific guidance on any particular legal issue.
This page may contain links that direct you to third party websites. We have no control over and are not responsible for the content, use by you or availability of those third party websites, for any products or services you buy through those sites or for the treatment of any personal information you provide to the third party.