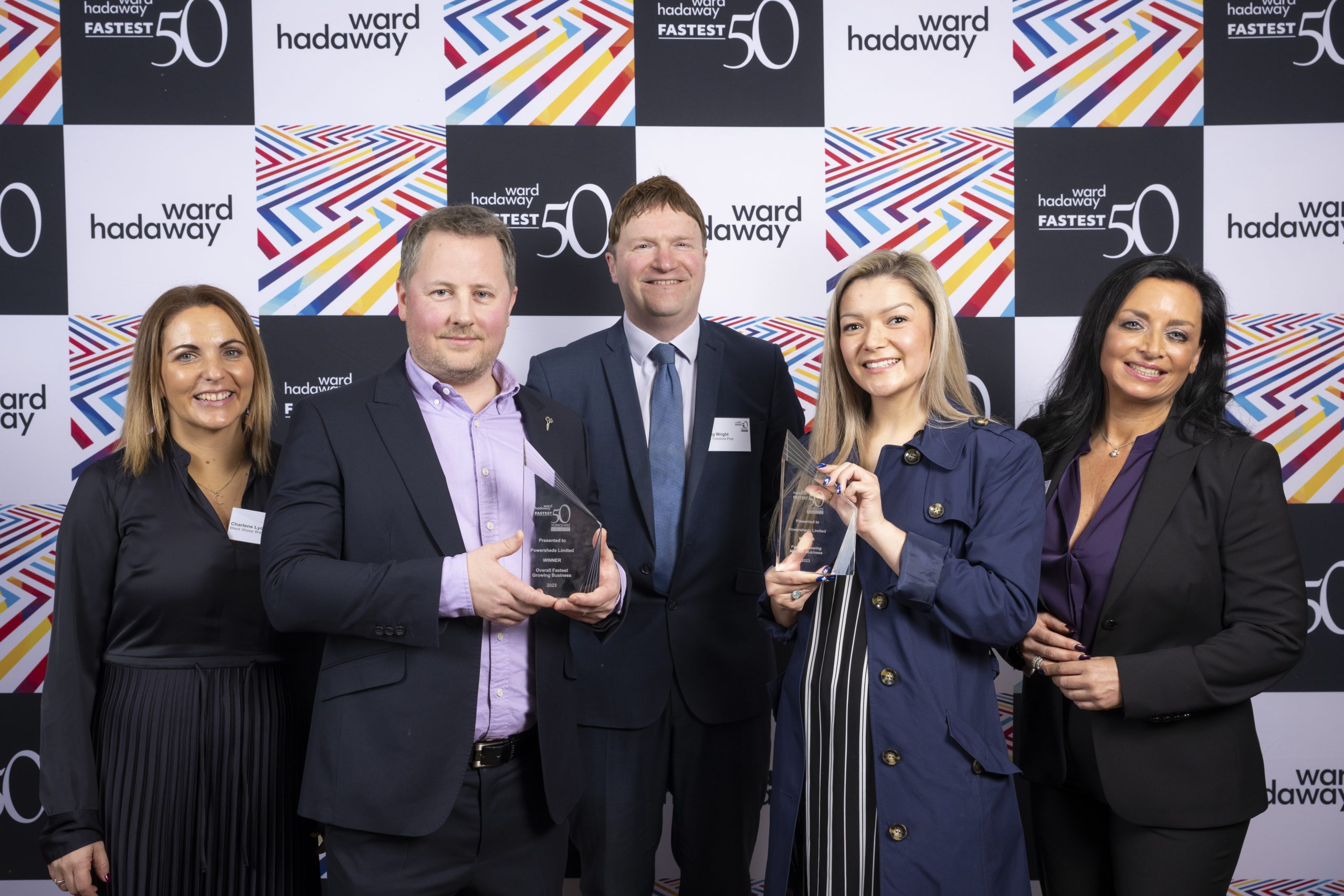 Bradford-based Power Sheds won the overall fastest growing business of the year at the 2023 Ward Hadaway Yorkshire Fastest 50 Awards. The event celebrates the region's most successful privately owned businesses that are bringing wealth, jobs and investment to Yorkshire.
We caught up with Jack Sutcliffe, Power Shed's CEO, alongside Ward Hadaway's Jonathan Pollard to find out more about the company's path to growth and what the future holds for the shed manufacturer and retailer.
"We have a very simple product, delivered with genuine quality, care and an understanding of what our customer wants," says Jack Sutcliffe, who co-founded Power Sheds with Simon Hobson in 2019. "We've both worked in the shed manufacturing industry for a long time, so we were very familiar with common customer pain points. When we decided to set up our own company, we knew we had to adopt a customer-first model if we were going to create a sustainable, successful business."
And that's exactly what Power Sheds has done and, consequently, grown at a phenomenal rate with a current turnover approaching £15million. "We saw a gap in the market to create a product that ticked all the boxes in terms of quality, structure and delivery," explains Jack. "Our sheds are highly flexible due to their unique modular design. The customer can construct the shed in the way they want and gone are the days of waiting at least six weeks for your shed to arrive. We offer next day delivery across the UK."

Through its high quality, scalable sheds that can be delivered within 24 hours, Power Sheds has disrupted the traditional market, establishing a unique and sustainable offering.
"When we first started out, we sold 14 sheds in our first month on eBay and Simon and I did it all ourselves. We manufactured them, dipped them in paint and dispatched them. 12 months later we were making 300 sheds a week with a 36-strong workforce. Today, we have 80 employees, and are selling 700 sheds every week. We got here by keeping our strategy simple and, above all, sincere."
And that straightforward approach to growth is certainly paying off. Power Sheds has recently opened a new 40,000 square foot manufacturing facility in Bradford, adding to its existing 10,000 square foot site which is just down the road from the new warehouse.
60 percent of Power Shed's revenue comes from its trade partnerships with garden centres, DIY stores and other shed retailers that includes household brands such as Wickes and Wayfair. The remaining 40 percent is generated via its own website and Amazon. It's no surprise that investors soon came knocking.
Jack continues: "Last year, Simon and I realised we had grown Power Sheds as much as we could without any external form of financial support. It wasn't a time to rest on our laurels – we have big plans for Power Sheds – but we also didn't want a silent contributor who simply gave us cash to continue growing. We needed an investment partner who was fully on board with our vision."
And that came from the sustainable forestry business BSW Group. In August 2022, BSW Group acquired a stake in Power Sheds to help the company grow further.
"We wanted an investment partner that brought authenticity and accountability to the table, which are our core values at Power Sheds," says Jack. "BSW is that company as it responsibly grows trees and ethically sources timber which they now supply to us. The firm is committed to a genuine reforestation programme to make the industry more sustainable which is what we're extremely focused on too. BSW's support will enable us to not only diversify the product range from predominantly sheds to gazebos, decking and other garden furniture but also aggressively target international markets."
The plan is to enter the German market in the next eight to 12 weeks, closely followed by Italy and France. Eventually, Jack and Simon want to take Power Sheds to the US. In terms of the business model, products will, at first, be manufactured in the UK and exported until Power Sheds is up and running in the local country and in a position to manufacture and sell locally.
Jonathan Pollard, a partner in the Ward Hadaway corporate team based in the Leeds office, said: "It's incredible to see what Jack, Simon and the team at Power Sheds have achieved in four short and incredibly tough years. From a global pandemic and supply shortages to war in Europe and rocketing inflation, Power Sheds has faced it all whilst managing to create a niche offering in a highly competitive market. What's admirable is the way the business has remained true to its core principles throughout its journey which has seen it choose an investor that shares its ambition and, most importantly, its values. From multi-million-pound refinancing to early-stage investment, we work with many businesses in Yorkshire to help them make the right decisions when it comes to investment, and we know how pivotal this moment is in a business's growth trajectory. I wish Power Sheds the best of luck for the future as it sets its sights on global expansion. Well done on your Fastest 50 success."
The future definitely looks positive for Power Sheds which manufactures the UK's most awarded garden shed and is renowned across the industry for its rigorous timber sourcing policy across its entire supply chain.
"Someone once told me to not dream big but think big," adds Jack. "As a business leader, you must remove yourself from the day-to-day running of the business, put in place a team who can manage that effectively, whilst you focus on the bigger picture which is hitting your next milestone and setting your next goal. If you become stuck in the daily operations of the business, you simply won't grow as fast or achieve the potential you're capable of."
Please note that this briefing is designed to be informative, not advisory and represents our understanding of English law and practice as at the date indicated. We would always recommend that you should seek specific guidance on any particular legal issue.
This page may contain links that direct you to third party websites. We have no control over and are not responsible for the content, use by you or availability of those third party websites, for any products or services you buy through those sites or for the treatment of any personal information you provide to the third party.