Who will be crowned the fastest growing business in the North East?
In two days, on Friday 11th October, three businesses will be crowned the Fastest 50 small, medium and large privately owned enterprises in the North East of England.
The Ward Hadaway Fastest 50, backed by The Journal, recognises those profitable businesses that have grown the most in terms of turnover over the past 3 years, and celebrates the success of the innovators, ground breakers and forerunners in our region.
Three people who know exactly how it feels to receive the coveted and hard-won prizes are Toby Bridges of NBT Group, Les Thompson of Total Resources UK and Mark Fleetwood of END.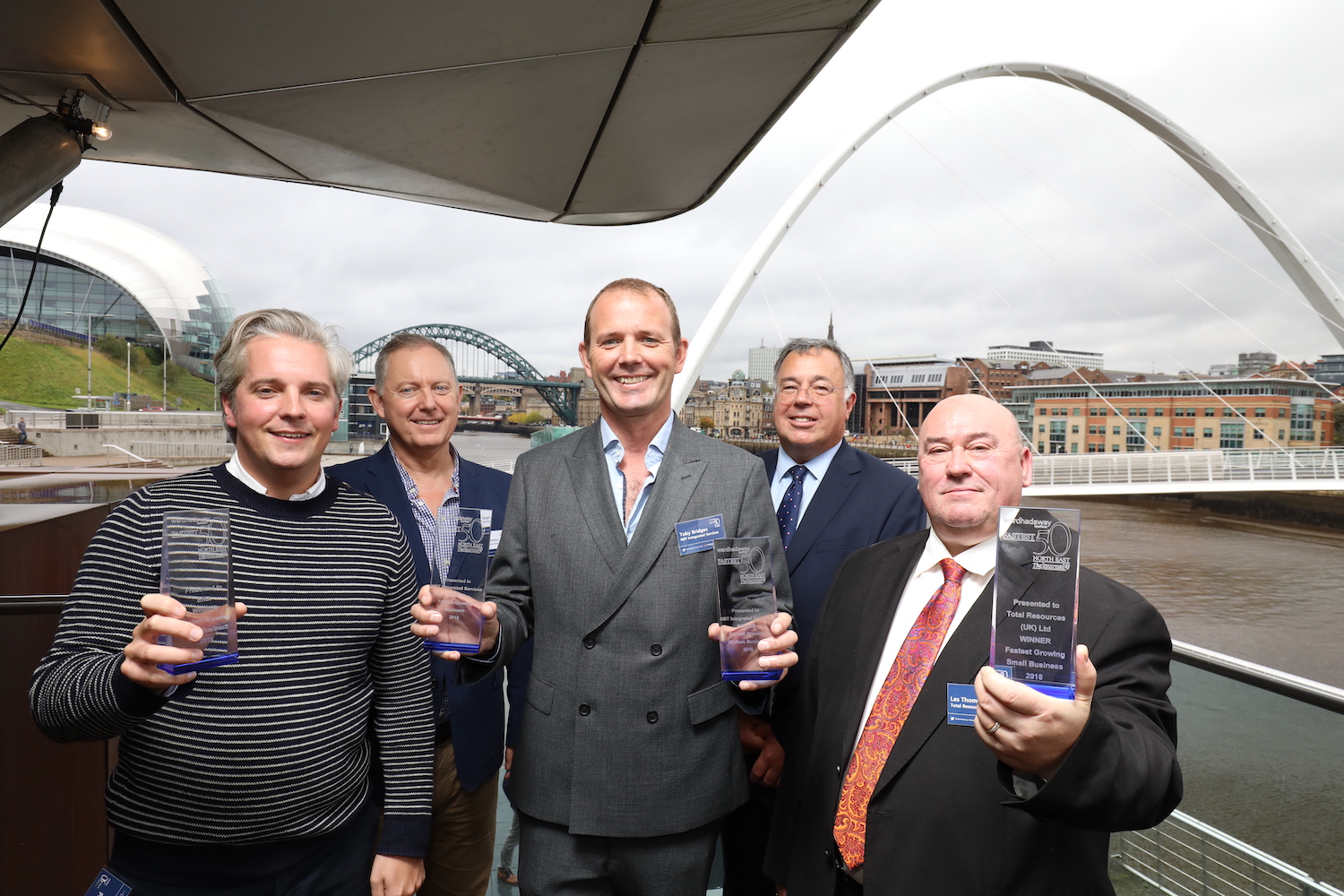 The trio took home the awards at last year's ceremony, held at BALTIC Centre for Contemporary Art, with NBT Group scooping the overall Fastest Growing Company. All in the list again this year, they'll return to the scene of much celebration on Friday and take their chances against the 47 other businesses hoping to clinch a spot on the podium.
Toby is Chairman of family run NBT Group, providing stock control through the use of storeroom management and intelligent vending machines. The company was founded by his great-grandfather over a century ago and won the prize for Fastest Medium Size Company in 2018, as well as the overall award.
"We like to think of ourselves as the 110-year-old start up," says the tech entrepreneur who also sits on the Scale Up Advisory Board, backed by the North East Local Enterprise Partnership.
Toby and his team are continuously innovating, automating business clients' supply chains by installing state of the art vending and people-less stores. The technology controls the exact supply of products to his clients at a time and place convenient for them. NBT Group is now looking to take its services to Europe as they scale internationally.
"Winning the awards for medium sized and overall Fastest 50 business last year was humbling," he continues. "It was a privilege to be in the room with the other companies, and the awards mean a great deal to our team," he says.
Les Thompson is Managing Director and owner of Total Resources UK, a provider of temporary traffic management solutions. The company scooped the prize for Fastest Growing Small Company in 2018. He said; "Anybody and everybody can work hard and do well for themselves. Last year's award is fantastic to have on the company's CV because we're able to say to potential customers; 'look what we've achieved'. I wish all those businesses on the list the best of luck this year."
Total Resources UK counts Northumbrian Water and Murphys amongst its clients. Les continues,  "Service, quality and price are all key to our success. We've invested considerably in our infrastructure and we own the very best kit and technology. That helps because we have full control of the systems we're hiring out to clients. We also have a very clear understanding of our customers and the pressures on their time and we're able to respond quickly and easily. We get the job done for them."
END. the online and high street clothing retailer, won the award for Fastest Growing Large Company last year.
Mark Fleetwood is Finance Director at END. He said; "Winning the award last year was a huge credit to our team, their focus, creativity and energy. Our continued growth has been supported by a clear strategy, we create a differentiated, market leading experience for our customers, our suppliers and our staff, and keep things simple to support our focus. We're always prepared to take on different challenges, find ways to do things that push us forward and innovate in our sector.
"Our collabroations and partnerships set us apart. They are a core theme and help us create originality with authenticity. We now have 2.7million regular customers and 10million visitors to our App and website every month, plus 2.4million followers on social media. We've built a loyal global community of customers and suppliers who we put first and deliver a great experience for."
Whether they can retain their titles in 2019 remains to be seen. Ward Hadaway Partner, Damien Charlton, will be presiding over the event on Friday. He said, "This is the 22nd year we've run the Fastest 50 Awards but as our business landscape evolves, so does the list, which means each year is different and that makes these awards so exciting.
"In 2018 we had three very diverse business take home the awards, but every one of the 50 businesses on that list should be very proud. There's always a great atmosphere on the day and I am very much looking forward to meeting and talking to all the businesses present and wish them every success."