Twins' double vision secures award win
VISITORS to law firm Ward Hadaway could be forgiven for seeing double after trainee solicitors and identical twins Hollie and Melissa Walker shared an award for being the top Northumbria University law graduate – after getting the same marks.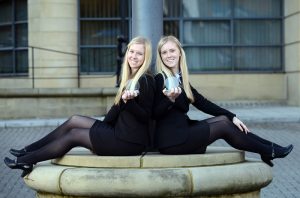 Hollie and Melissa, both 24, are the joint winners of the Newcastle Law Society LLB (Hons) Solicitors Exempting Prize for 2013.
The award is given to the student on the Northumbria University LLB (Hons) Exempting Degree who gets the highest mark and goes on to start a training contract at a law firm in the North East.
However, Hollie and Melissa ended up sharing the award after getting the same marks in their degrees after four years of study.
Melissa Walker said: "It came as quite a shock that we both won. We knew we had been shortlisted for the award, but we didn't know who else was on the shortlist and where we had been placed."
Hollie Walker said: "We did think that only one person could win the award and it was not until they read out both our names that we realised we had both won."
It is not the first time that the twins, who are from Yarm and both went to Conyers School in the town, have ended up doing the same thing – albeit not always intentionally.
Melissa explained: "We didn't set out to go to the same university to study the same subject. When we were considering what we wanted to do, we went to different universities and saw different courses but we both happened to like the same one.
"After graduating last summer, we both wanted to stay in Newcastle. Hollie had won a bursary from Ward Hadaway so she had already had some experience here and it was a firm which we both really liked."
Melissa worked as a paralegal in Ward Hadaway's property team for a year after graduating before she and Hollie started their two-year training contracts with the Top 100 UK law firm this September.
The two are currently working in different departments – Melissa is in Ward Hadaway's property team while Hollie is currently part of the firm's employment team – so there are fewer chances of confusion for other members of the firm.
However, both twins are members of Ward Hadaway's netball team so opponents can sometimes end up seeing double on the court.
Melissa said: "A lot of people are quite intrigued about twins, particularly identical twins, but this is all we've ever known so we find it all quite normal."
Jamie Martin, managing partner at Ward Hadaway, said: "We are extremely proud of Hollie and Melissa for this terrific achievement.
"It is unusual to have identical twins starting their legal careers at the same time and in the same firm – and sharing the same marks in their exams! – but Hollie and Melissa are both outstanding young trainees, as this award demonstrates and we look forward to helping them develop their careers, as well as those of our other superb trainee solicitors, over the coming years."