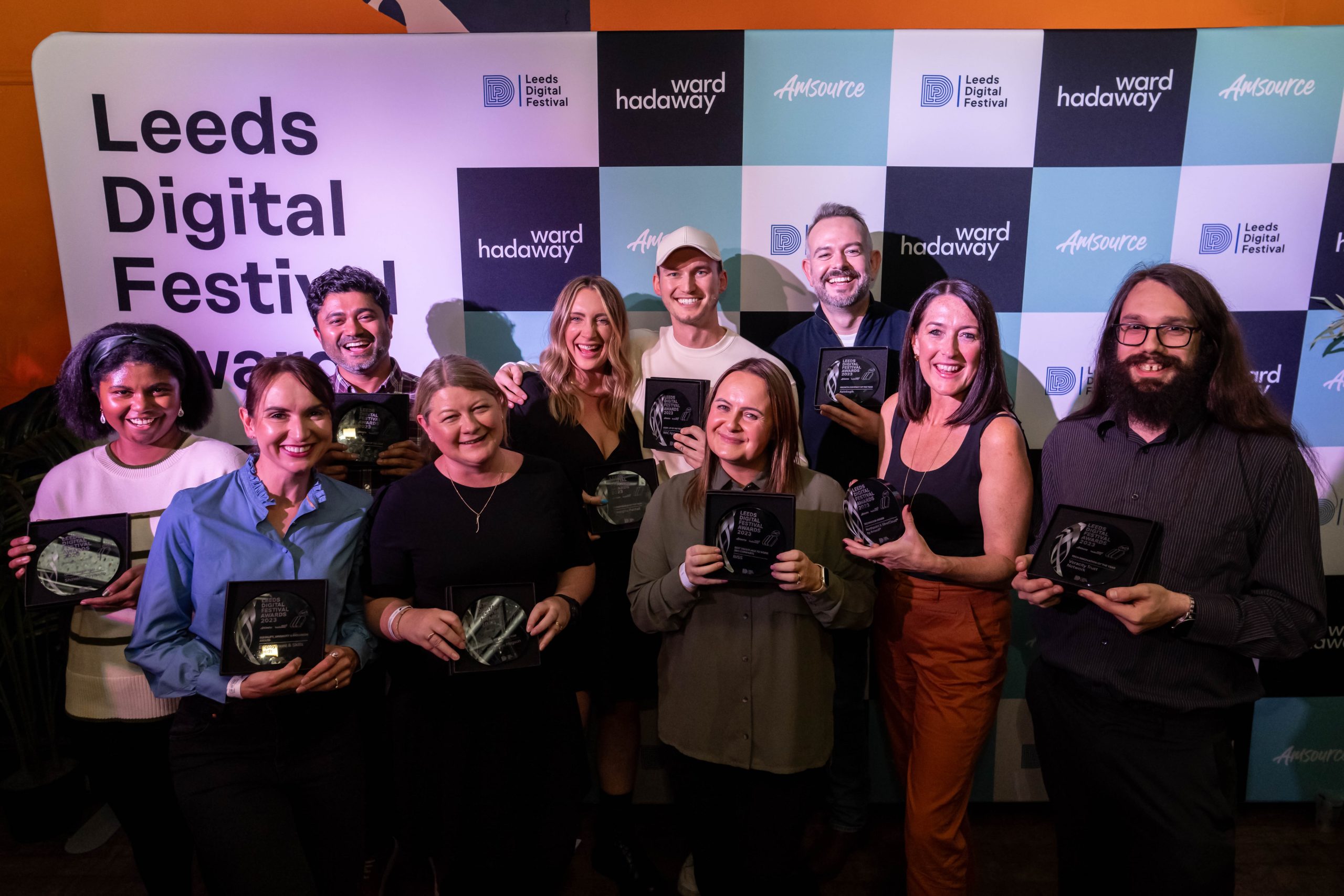 The winners of this year's Leeds Digital Festival Awards, which highlight achievements in Leeds and the city region's digital and tech sectors, have been announced.
Organised by tech recruitment agency Amsource and leading Leeds-based law firm Ward Hadaway, the awards recognise innovations and contributions from regional tech and digital businesses. 12 winners were announced, and they include company-wide and individual awards.
Digital leadership consultancy Axiologic won Growth Company of the Year with Veracity Trust Network taking away the accolade for Tech Innovation of the Year. Startup of the Year went to fintech WAC App and Humans not Robots collected the Sustainability Award. In the individual categories, founder and CEO of WAC App, Georgina Fairhall, won Entrepreneur of the Year, and software engineer Shavana Peynado picked up the One to Watch Award.
Andrew Maeer, CEO of Amsource, said: "The winners this year have not only showcased the best of digital innovations but also set pioneering benchmarks for the entire sector. We're pleased to spotlight their achievements and I would like to say congratulations to every individual and business that participated in the awards. They showcase the great talent, drive, and creativity we have right here in the region, positioning Leeds and the wider area as a leading force in the tech and digital sectors."
The awards ceremony took place on Thursday September 28 in central Leeds, celebrating the best in the regional tech industry.
Bill Goodwin, head of IP/IT at Ward Hadaway, which also has offices in Newcastle and Manchester, said: "Together with Amsource, we aim to recognise and support excellence within our region's tech and digital sectors. At Ward Hadaway, we work with a diverse range of digital and tech companies, both promising start-ups and established enterprises, in Leeds and the wider Northern region. Our involvement spans advising on legal aspects of technology, assisting with intellectual property rights, and guiding businesses through their digital transformation journey. It's a privilege to witness first hand the innovation happening in our backyard, and we're proud to champion these efforts. Congratulations to all of the winners."
The full list of winners are:
Best Place to Work: Audacia
ED & I Winner: Employment & Skills Leeds
Growth Company of the Year: Axiologic
Facilitator of the Year: Katherine Megson
Tech Innovation of the Year: Veracity Trust Network
One to Watch: Shavana Peynado
Startup of the Year: WAC App
Sustainability Award: Humans Not Robots
Tech Team of the Year: EMIS
Tech4Good Award: Northpoint & SilverCloud® by Amwell®
Entrepreneur of the Year: Georgina Fairhall
Best Place to Work (Large Company): BJSS
Stuart Clarke, director of the Leeds Digital Festival, said: "The festival is a key event in the region's tech and digital calendar that serves as a platform for tech professionals and enthusiasts to come together and collaborate, innovate and share ideas. Each festival gets bigger and better which is a testament to Leeds' growing significance as a tech hub on the national stage. The awards are a great way to bring the annual festival to a close where we acknowledge and celebrate the best in our community. Well done to all our winners and contributors who make this festival so impactful year after year."
For more information about the Leeds Digital Festival Awards 2023 and the winners, please visit: https://leedsdigitalfestivalawards.org/
Watch the video
Please note that this briefing is designed to be informative, not advisory and represents our understanding of English law and practice as at the date indicated. We would always recommend that you should seek specific guidance on any particular legal issue.
This page may contain links that direct you to third party websites. We have no control over and are not responsible for the content, use by you or availability of those third party websites, for any products or services you buy through those sites or for the treatment of any personal information you provide to the third party.