TODAY we reveal the definitive list of the fastest growing companies in the region with the Ward Hadaway North East Fastest 50 for 2017 – the 20th in the event's history.
Organised by leading law firm Ward Hadaway and backed by The Journal, the list highlights and celebrates the achievements of the profitable, privately-owned companies in the region who have grown their turnover by the largest amount in recent years.
This year's Ward Hadaway North East Fastest 50 spans a wide range of sectors from construction companies and car dealerships to manufacturers and retailers.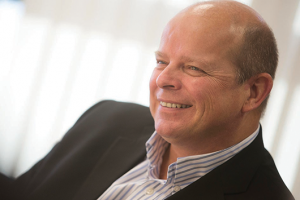 Colin Hewitt (pictured), Partner and Head of Commercial at Ward Hadaway, said: "This is the 20th time which we have compiled and published the list of the fastest growing companies in the North East and this year's pace-setters are as impressive as any in the event's history.
"All of those listed here have consistently grown their businesses over a number of years whilst remaining profitable – something which we can all celebrate.
"They are the real engines helping to fuel economic growth across the North East, attracting investment, generating wealth and creating employment.
"The range of companies in this year's Fastest 50 list again demonstrates the diversity of the region's economy and illustrates how businesses of all kinds can thrive here."
The 2017 Ward Hadaway Fastest 50 has been compiled using publicly available information from Companies House and independently verified.
Following today's publication of the full A to Z list, the Fastest 50 Awards will take place at BALTIC, the Centre for Contemporary Art, in Gateshead on Friday October 6 when the winners of the Fastest 50 2017 will be revealed.
Awards will be given to the fastest growing small, medium and large business with one of these three winners going on to be named the overall fastest growing North East business for 2017.
Here is the Fastest 50 for 2017 in alphabetical order:
A&J Keith Ltd, Wallsend
Based in Wallsend, A&J Keith Ltd is a long-established electrical contracting company. It also operates a number of subsidiary companies including Heat Solutions NE, Electrical Solutions NE and Solar Solutions NE.
Alexanders Motor Group, Thornaby on Tees
Alexanders is a family-owned and run company, established in 1948 and operating two franchised dealerships in Thornaby on Tees, Teesside and Nether Poppleton in York. This is the third year that the company has been named in the Fastest 50.
Automotive Group, Newcastle
Making a repeat appearance in the Fastest 50 after appearing in last year's list, Automotive Group specialises in the design and adaptation of wheelchair-accessible vehicles. A family business, the company provides a range of new and used vehicles as well as wheelchair-accessible taxis.
Bentincks Ltd, Gateshead
Bentincks specialises in making upholstery furniture as well as upholstered sofas and sofabeds. The company also manufactures bedroom furniture through Bentincks Cabinet and currently makes over 1,000 items of furniture a week at its Gateshead centre.
Biss Underwriting, Ponteland
From its base in Ponteland, near Newcastle, this company provides a range of insurance services.
Burridge, Newcastle
A family-run company, Burridge celebrates its 50th anniversary this year. It provides a range of repair, maintenance and construction services to a range of clients including social housing providers, small businesses, public sector organisations, homeowners and commercial customers.
CA Group (Holdings) Limited, Evenwood, Co Durham
Founded in 1983, CA Group is a metal roofing and cladding systems manufacturer and contractor for the industrial, commercial and public sectors, and refurbishment markets. This is the second time that the company has made it into the Fastest 50.
Careline Lifestyles, Newcastle
Winner of the fastest growing small business in the 2014 Fastest 50, Careline Lifestyles makes a return appearance in 2017. The company is an independent provider of outcomes-based, person-centred care for people with mental health needs, acquired brain injuries, complex learning and physical disabilities within high quality environments.
Central Employment Agency, Newcastle
Established in 1979, Central Employment is a recruitment company specialising in temporary, contract and permanent recruitment across a broad spectrum of industries. It is the preferred recruitment partner for some of the region's largest blue chip employers and established privately owned SMEs.
Clayton Glass, Stanley
Clayton Glass is an independent sealed unit manufacturer which specialises in insulating glass units, conservatory roof glass and composite door units. The company supplies over 20,000 products every week from its County Durham factory, delivering nationwide. This is the second time Clayton Glass has appeared in the Fastest 50.
Connect Health, Newcastle
Connect has grown from a single private clinic established in 1989 to being the largest provider of community musculoskeletal (MSK) physiotherapy services in the UK, with over 300 clinical experts in MSK and occupational physiotherapy.
Crafter's Companion Limited, Newton Aycliffe
Started by entrepreneur Sara Davies whilst she was still a student at university, Crafter's Companion has grown to become a major supplier of crafting materials and products in the UK and abroad. As well as its Co Durham HQ, it also has an office in California from where the US side of the business is conducted. The company also appeared in the 2016 Fastest 50.
DC Handrails and Ironwork Parts, Swalwell
This is the third year in a row in which this company has appeared in the Fastest 50. DC Handrails and Ironwork Parts was started in 1997 after founder and MD Dave Collins spotted the demand for wrought iron components when fitting plastic handrails. It has since grown to become a leading UK supplier of wrought iron and handrail components.
Dynamic CCTV, Middlesbrough
This Teesside company was established in 1994 with the aim of reducing the prices charged for CCTV equipment at the time. Since then, it has grown so much that the business has relocated to larger premises four times in the ensuing years and provides a wide range of CCTV security and monitoring equipment to customers in the security industry.
Edgeman Limited, Newcastle
Based in Woolsington, Edgeman Limited operates in the hotels sector.
eMerchantPay, North Shields
Established in 2002, eMerchantPay is a payment service provider, partner and specialist which provides international online payment processing services to merchants across the globe. This is the third time that the company has appeared in the Fastest 50.
END., Newcastle
This designer menswear retailer was founded in 2005 and operates a flagship store on Grainger Street in Newcastle. It is also a major online seller of high-end men's fashion brands, sourced from across the world. END. appears in the Fastest 50 for the second year in a row.
FJ Booth Construction Ltd, Guisborough
FJ Booth Construction provides services including the design, fabrication and construction in the petrochemical, oil & gas, industrial, engineering, power generation, nuclear, and biofuels industries. It has worked on major projects including developments at Heathrow and Gatwick airports and chemical plants on Teesside.
Goodfellow & Goodfellow, Peterlee
From its base in Peterlee, this company bills itself as "the home of sexy plates", providing a range of tableware, utensils and other equipment to the catering trade. As well as its headquarters in Peterlee, Goodfellow & Goodfellow also has a 'plate cave' showroom on Baker Street in London.
Grab & Deliver, Sunderland
Making a repeat appearance after being included in the 2016 Fastest 50, this company supplies the construction sector with a range of services including tipper grab vehicle hire, top soil delivery and collection, aggregates supplies and commercial vehicle repairs.
Hathaway, Bishop Auckland
Formed in 1967, this company has grown to become a leading presence in the design, manufacture and installation of roof and wall cladding systems. Hathaway has worked on a range of major projects including the Toyota plant in Derby and Heathrow's Terminal 5.
Hays Travel, Sunderland
Appearing in the Fastest 50 for a fourth time, Hays Travel is well known as the largest independent travel agent in the UK. The company was set up by MD John Hays in a single shop in 1980 and now operates more than 100 branches across the UK.
Henson Motor Group, Newcastle
Established in 1996, Henson Motor Group has grown to become one of the UK's largest car supermarkets. The company also operates a range of after-sales services including parts, servicing and MOT testing.
Hodgson Fish, Hartlepool
Hodgson Fish supplies fresh-caught fish to top hotels and restaurants across the North East as well as catching a lot of its own fish. The company is also celebrating its fifth appearance in the Fastest 50 after appearing in 2010, 2011, 2015 and 2016.
Hodgson Sayers, Stanley
With roots going back four decades, Hodgson Sayers' core expertise is in roofing, building works, metal fabrication and fencing. It invests in its workforce via in house and external personal development programmes and traditional peer-to-peer mentoring. This is the third time the company has made it into the Fastest 50.
Intelect, Middlesbrough
Founded in 1997, this company currently has three bases in Teesside, Humberside and Leicestershire, where it provides engineering services to some of the leading operators in the food processing, utilities, renewables and pharmaceuticals sectors.
Intelligent Services Group, Newcastle
This company provides technology-led integrated services to property professionals across the UK, including an auction management service under the IAMSOLD brand, conveyancing service and compliance software.
Kavli UK Limited, Gateshead
Kavli UK makes a range of food products including cheese spreads, snacks and dips under the Primula brand, chilled pâté and cheese bakes under the Castle MacLellan brand and goats' milk products under the St Helens Farm brand. It also manufactures a range of private label products for UK supermarkets.
Kitwave, North Shields
This independent wholesaler has depots and delivery centres across the UK and sells confectionery, soft drinks, alcohol and groceries. It operates a fleet of 120 delivery vehicles and employs more than 500 people. This is the third time Kitwave has made it into the Fastest 50.
Metnor Group Limited, Newcastle
Founded in the 1960s and originally operating in the heavy engineering sector, the Metnor Group now comprises four trading divisions which operate in the construction, property, mechanical and electrical services and pressure testing sectors.
MGL Group, Durham
The MGL Group provides a range of services throughout the construction and demolition industry. Established in 1972, it employs more than 450 people, including 30 Apprentices and works with over 1000 supply-chain operatives and partners on a range of different projects.
Motherdale Limited, Castle Eden
Appearing in the Fastest 50 for the fourth year in a row, Motherdale is based in Castle Eden near Hartlepool and provides a range of care home services.
MTrec, Newcastle
Established in 2006, this recruitment company works in the manufacturing, engineering and warehouse distribution sectors. It operates three main divisions – technical, manufacturing & engineering and industrial – providing temporary and permanent staff. It also featured in the 2016 Fastest 50.
Nixon Hire, Newcastle
Founded in 1967, Nixon Hire provides plant and site equipment to the construction and civil engineering sectors and related industries. The company employs over 400 people across an expanding depot network throughout the UK and the Middle East and has previously appeared in the Fastest 50 in 2008, 2009, 2014 and 2016.
Prince Bishops Homes, Stanley
Prince Bishops Homes develops high quality new build homes across the North East. The company is unique in offering a range of different models for customers to buy, rent, or 'rent then buy' their homes.  The operating profits of Prince Bishops Homes are re-invested back into building more homes, including the development of affordable homes through the company's parent group Karbon Homes, a not-for-profit housing association.
Puregas Solutions, Sunderland
This is the UK arm of a Swedish-based company which specialises in delivering efficient and reliable biogas upgrading solutions. The group has more than 30 plants already operational across Europe.
Ramside Estates, Durham
This company operates Ramside Hall in Durham, a luxury hotel set in 350 acres. The four-star hotel has 127 bedrooms and suites as well as a spa, restaurant and two 18-hole golf courses.
Resource Management Solutions, Darlington
Established in 2000, this recruitment and HR managed services company provides temporary and permanent staff to clients across the UK in a wide range of industry sectors and divisions. It is the second year in a row that the company has made it into the Fastest 50
Robert Kirkland (Blyth) Limited, Blyth
This company is a heating contractor which works on a range of different projects from its base in Blyth.
Roman Limited, Newton Aycliffe
Established in 1985, Roman manufactures and supplies a range of bathroom products such as shower enclosures and wet room panels. The company is currently active in 28 international markets and has supplied products for projects in over 48 markets across the world from its headquarters in County Durham.
Roundel Kitchens, South Shields
Roundel was formed in 1981 and now operates from six sites with a workforce of around 160 people manufacturing kitchens for trade customers and, under the Nixons Kitchens banner, for retail customers. It also featured in the 2016 Fastest 50.
Ryder Architecture, Newcastle
Ryder works across the UK from offices in Newcastle, Glasgow, Liverpool and London. The architectural practice, which is making its second appearance in the Fastest 50, is commissioned on projects ranging in value from £50,000 to £300m in the office, education, industrial, healthcare, leisure, residential and infrastructure sectors.
Scott Logic, Newcastle
Scott Logic creates intuitive software applications for clients in a range of sectors including finance, energy, healthcare and oil and gas. Founded by Gary Scott in 2005 following a successful IT career in investment banking, the company now employs more than 190 people in four offices across the UK.
Stiller Warehousing & Distribution Ltd, Newton Aycliffe
Stiller is a family-owned business, established in 1954, which operates in the transport, distribution and warehousing sectors. It provides a range of warehousing and distribution services as well as a broad range of commercial and industrial properties to let.
The Feel Good Group, Darlington
Incorporating three trading divisions – Blue Tanning & Beauty, Tanning Shop and Sunless UK – The Feel Good Group offers a wide range of tanning products and equipment as well as training seminars and equipment maintenance for salons. This is the third time it has appeared in the Fastest 50.
The Protector Group, Gateshead
Established in 1994, The Protector Group began by supplying security to clients across the North East. It now provides a wide range of services to customers across the country including electronic security, manned guarding and mobile services. It appeared in the 2016 Fastest 50.
Tombola Ltd, Sunderland
Online gaming specialist tombola is one of the leading players in the UK online bingo market, also launching online sites in Spain and Italy. tombola and its associated companies have been involved in bingo for 50 years, initially supplying tickets to bingo halls. This is the fifth time it has appeared in the Fastest 50.
Transflex Vehicle Rental, Stockton
This company specialises in flexible commercial vehicle hire from single vans to multi-site national operators and appeared in the 2016 Fastest 50.
Wearmouth Construction & Plant, Stockton
This Teesside-based business is a specialist building contractor involved in the construction of commercial developments. This is the fourth time it has appeared in the Fastest 50.
Workwear Express, Durham
Beginning life in 1990 with founder Andrew Ward selling work clothing from the back of a van, Workwear Express has grown to become a major supplier of more than 7,000 workwear and related products to over 70,000 customers across the UK and overseas. The company appears in the Fastest 50 for a fourth time.
The companies in this list have been selected from the table of fastest growing profit-making, private, regional companies, based on turnover growth.
Information has been compiled using data which is publicly available at Companies House of UK-listed companies before being independently verified.
The average turnover growth has been assessed on a percentage increase based on the difference between turnover figures filed for the last three years.
To qualify, companies must be trading entities and have turnover in excess of £1,000,000 in the last three years of filed accounts, which are up to date as at 31 July 2017. Companies must also have made profits in each of the past three years' accounts and must have filed new accounts since last year's Fastest 50.
Private limited companies which are subsidiaries of listed companies do not qualify.
Subsidiaries of foreign-controlled companies have been accepted if they have headquarters or a decision-making function in the region.
Ward Hadaway and The Journal do not accept any responsibility for any errors or omissions.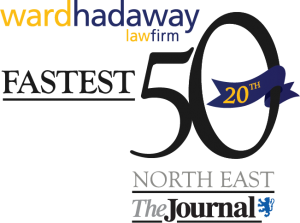 * Find out more about the Fastest 50.
Please note that this briefing is designed to be informative, not advisory and represents our understanding of English law and practice as at the date indicated. We would always recommend that you should seek specific guidance on any particular legal issue.
This page may contain links that direct you to third party websites. We have no control over and are not responsible for the content, use by you or availability of those third party websites, for any products or services you buy through those sites or for the treatment of any personal information you provide to the third party.