Ward Hadaway advises on Farmway sale
LAW firm Ward Hadaway has advised long-standing client Farmway on the sale of its business to a Devon farming co-operative.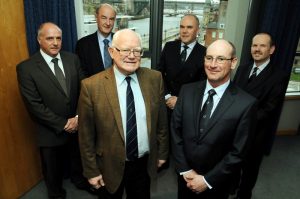 Sealing the deal – (front, from left) John Seymour, Chairman of Farmway and Graham Cock, Chairman of Mole Valley Farmers (back, from left) Simon Bishop, Operations Director of Farmway; Peter Hull, CEO of Farmway; Andrew Jackson CEO, CEO of Mole Valley Farmers and Andrew Chapple, Head of Finance at Mole Valley Farmers. 
Corporate experts from the Newcastle office of Ward Hadaway provided legal advice to Darlington-based Farmway Ltd on the sale of its trading assets to Mole Valley Farmers.
Formed from the amalgamation of three farming cooperatives – Teesside Farmers, Northern Farmers and East Yorkshire Farmers – in 1964, Farmway has grown to become one of the North's leading agricultural and rural retail businesses, specialising in animal feeds, the processing and dressing of cereal seeds, fertilisers, and also the drying, storage and marketing of grain.
Over the past five years, the company has diversified into rural retailing, offering farmers and people who live in rural areas a range of products via a network of eight stores across the North East and Yorkshire.
Ward Hadaway has advised Farmway for over 20 years, providing legal support across a broad spectrum of areas including banking, corporate, employment, property and commercial agreements.
A team led by Ward Hadaway Head of Corporate Martin Hulls and Banking and Finance Partner Imogen Holland advised Farmway on its sale to Mole Valley Farmers (MVF).
Based in Devon, MVF was established in 1960 and is an agricultural supply business, owned by over 7,000 farmer shareholders and with an annual turnover of more than £350m.
It has an extensive network of Country Stores as well as an online operation and field sales representatives, and has expanded in recent years with the acquisition of agricultural businesses including Central Wool Growers and SCATS.
The acquisition of Farmway means that MVF will be serving customers from Cornwall to the Scottish Borders.
Martin Hulls, Partner and Head of Corporate at Ward Hadaway, said: "We are delighted to have advised Farmway on its successful sale to Mole Valley Farmers.
"Over the years with which we have worked with Farmway we have built up an excellent relationship with the senior team so we are very pleased to have helped them on such a key move for the business.
"Securing a successful sale to the right kind of new owner was very important to the team at Farmway who have put so much effort into building the business up over the years to become an integral part of rural life across the North East and Yorkshire."
Farmway chairman John Seymour said: "We believe that the acquisition by Mole Valley Farmers will ensure the successful continuation of our business throughout the North-East benefitting our customers, shareholders, staff and suppliers.
"Mole Valley Farmers have an excellent track record in investing in and supporting rural businesses and communities across the country and have a reputation for having a business culture heavily focussed on adding increased value for farming and rural communities.
"Our customers will continue to have access to technical expertise and a wide range of agricultural and rural requisites either through their usual Farmway field sales representative, their local Farmway Country Store or the Customer Services team based at Farmway's head office."
Under the terms of the sale, Farmway Ltd staff will transfer over to Mole Valley Farmers.
Mr Seymour added: "Martin and the team at Ward Hadaway have performed superbly for us over the years and this time was no exception.
"Having people who know your business well and who you can trust to deliver the right advice at the right time is so important and makes a real difference to the success of any venture."