Gillian joins the healthcare team
THE specialist healthcare team at law firm Ward Hadaway has been further strengthened with the appointment of Gillian Muir.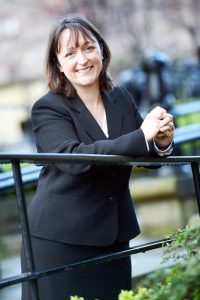 Gillian (pictured) joins the UK Top 100 firm as an Associate after more than 16 years' experience advising on clinical negligence cases.
She previously worked for a firm advising clients lodging claims against the NHS and other healthcare organisations.
Gillian will now be using that experience to assist organisations in defending against claims brought against them.
She has advised on a wide range of cases including high value birth injury cases, spinal injuries and cases involving delayed diagnoses.
Gillian has also lectured on clinical negligence issues.
Speaking about her appointment at Ward Hadaway, Gillian said: "I am very familiar with Ward Hadaway and the team here, having worked on the other side of a series of cases involving the firm, and I have always been impressed with the knowledge and experience of the healthcare team.
"As a result, when the opportunity to join the firm arose, it was something I didn't think twice about doing.
"There is a terrific team in place here doing some superb work and I hope that my experience advising claimants will prove a valuable asset to the team and to the firm's clients in the healthcare sector."
Jeffrey Keeble, Partner and Head of Healthcare at Ward Hadaway, said: "We are delighted to welcome Gillian on board. It is great to have someone of her extensive experience to join the team.
"As someone who has dealt extensively on the claimant side, Gillian will provide a valuable alternative perspective on matters which I am sure will prove to be extremely useful to the firm and our clients."
Ward Hadaway provides legal advice to more than 75 NHS Trusts and healthcare organisations across the country.