Jeffrey is one of the top rated healthcare law specialists in the North of England and is ranked amongst the top clinical negligence defence practitioners in the UK by legal directory Chambers & Partners.
He heads Ward Hadaway's multi-disciplinary Healthcare Team, comprising more than 80 lawyers and offering the full range of legal services required by the Healthcare sector.
Experience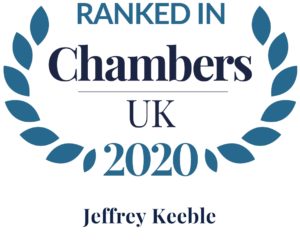 Jeffrey has wide-ranging experience across the entire field of health law including more than 30 years of experience in defending clinical negligence and personal injury cases on behalf of the NHS. He has particular and specialist knowledge of high value birth injury claims and regularly advises as part of our urgent response team on issues such as consent, confidentiality, capacity and mental health issues. In December 2013 he successfully defended two high value birth injury claims at trial.
He ensures the high quality delivery of legal services by the entire team and is an experienced lecturer on clinical negligence and clinical risk management and also speaks on the University of Northumbria LLM programme in medical law, most recently delivering a lecture on the subject of causation.
Jeffrey is a Nominated Partner approved by NHS Resolution (formerly the NHSLA) for the clinical negligence panel, a position he has held since Ward Hadaway were appointed to that panel.
He has extensive experience of periodical payment orders and settling high value cases in joint settlement meetings. Jeffrey is the Client Liaison Partner for many of Ward Hadaway's key health sector clients.