Family fun day at Middleton Lodge marks Ward Hadaway's 30th anniversary celebrations
Ward Hadaway held a family fun day for its people recently to mark the 30th anniversary of when it first opened its doors in Newcastle upon Tyne.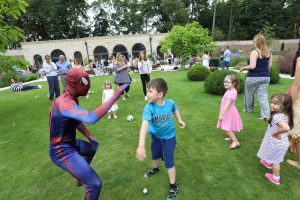 More than 200 people and their families from across the law firm attended the event, which offered something for all ages at Middleton Lodge in Yorkshire.
Entertainers were on hand for the children to paint their faces, alongside other fun activities which included den-making and fire-building by former soldiers.
Families were also invited to take part in traditional games against the picturesque backdrop of the lodge, including croquet, French Boules and Giant Jenga and they also got to try their hand at archery.
The fun day, which was organised by Ward Hadaway's social committee, ended with competitive game of rounders.
Sarah Appleby, social committee chairwoman, said: "Our 30th anniversary event at Middleton Lodge was a great success. It was lovely to see so many staff and partners from across the three offices come together with their families to celebrate 30 years of Ward Hadaway. The face-painting especially went down a storm with our senior partner Jamie Martin."
Jamie added: "This family fun day was the perfect way for everyone from our three offices across the North to get together, enjoy the good weather, good food and enjoy each other's company.
"Everyone had a great day and that is just what we set out to achieve."
The family day follows on from a special event for a select gathering of in-house counsel in July at the Discovery Museum in Newcastle, against the backdrop of the iconic Robert Stephenson steam locomotive Rocket.
As part of its 30th anniversary celebrations, Ward Hadaway is also hosting a string of other activities throughout the year.
These include In September, more than 50 of Ward Hadaway's people will take part in a Three Points North relay challenge between the firm's offices in Newcastle, Leeds and Manchester.
Martin Hulls, Managing Partner, added: "All of the activities we have planned to celebrate our 30th anniversary seek to highlight the fact that we are one firm working together to provide the best possible client service and working environment for our people."