Tim advises on a wide range of commercial disputes, but has a particular expertise in high value professional negligence claims, including against solicitors, accountants, and insurance brokers; IT disputes and insurance disputes.

Although Tim has extensive trial experience, he is a firm believer and experienced in negotiating settlements, mediation, and other methods of commercial resolution, such as expert determination.
Experience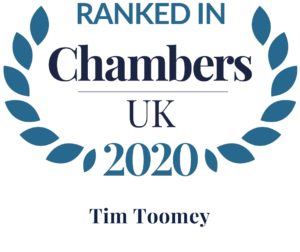 Tim's recent experience includes acting for:
A Dutch-based IT service provider on claims arising following a pilot study prior to a company-wide roll-out by a multi-national food producer
A mining conglomerate developing one of Europe's largest coal deposits and claims connected with the hire of an offshore drilling platform
Advising a major provider of outsourcing services in a dispute about termination and step-in rights in connection with a large financial institution.
Advising a large NHS Trust on the termination of a major IT project to implement a patient administration and bed management system.
Acting for the owner of a recycling business in a high value professional negligence claim against its insurance broker following a catastrophic fire and declinature of its policy cover by Insurers.