We put the spotlight on the new Housing and Planning Minister and take a closer look at his comments regarding a potential shift away from the Government's drive towards home ownership.
Who is he?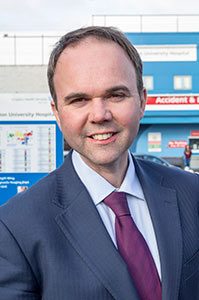 Gavin Barwell (pictured) was appointed as the new Minister for Housing and Planning, under Theresa May's Government in July 2016.
Before his appointment, he was a senior Government Whip and has been the local MP for Croydon Central since winning the seat in 2010.
His previous achievements include:
obtaining £25,000,000 to rebuild Croydon following the riots of 2011;
petitioning for and introducing Lilian's Law to tackle the problem of drug driving; and
securing increased funding for local schools and hospitals within Croydon.
What has Mr Barwell been saying?
In his first major speech as Minister for Housing and Planning at the RESI Conference on the 13 September 2016, Mr Barwell confirmed "we need to build more homes of every single type and not focus on one single tenure." He went to explain "we need to have a good, thriving private rented sector" and alluded to the potential moderation of the Government's current Starter Homes planning policy.
These comments echo an earlier entry in Mr Barwell's blog on 17 July 2016 which came immediately after his appointment as Minister, confirming that, when working with organisations such as councils, housing associations and developers in his new role, he would need to "make sure we build what we need with the mix of tenures that people want and that those homes should be great places to live".
There have been questions raised over Mr Barwell's enthusiasm for actually building homes, but his supporters have been quick to come to his defence confirming he is more pragmatic than his traditionalist Conservative cohorts and is the type of minister "who is looking to get things done".
Many of those working within the sector will hope the appointment of Mr Barwell will lead to a reversal of the position put forward in the Government's 2015 Autumn Statement: to divert funding from affordable rent towards home ownership.
What are the implications?
Mr Barwell's blog of 17 July 2016 and more recent comments certainly appear to offer a more flexible approach when it comes to the types of tenure the Government is looking to provide and appears to show a shift in the Government's stance put forward in their Autumn Statement of 2015.
Ultimately, Mr Barwell does appear to be promoting the approach favoured by the sector, all we can say is 'watch this space…'.
If you have any questions on this and how it will affect social housing providers, or any other questions as a social housing provider, please do not hesitate to contact John Murray or a member of our expert Social Housing Team.
Please note that this briefing is designed to be informative, not advisory and represents our understanding of English law and practice as at the date indicated. We would always recommend that you should seek specific guidance on any particular legal issue.
This page may contain links that direct you to third party websites. We have no control over and are not responsible for the content, use by you or availability of those third party websites, for any products or services you buy through those sites or for the treatment of any personal information you provide to the third party.