THE countdown has started to the definitive run-down of Greater Manchester's fastest growing privately-owned companies as we launch the Ward Hadaway Greater Manchester Fastest 50 Awards for 2016.
The Fastest 50, devised by leading North law firm Ward Hadaway and backed by Greater Manchester Business Week and the Manchester Evening News, identifies and champions companies across the region who have achieved the most impressive performances in growing their businesses.
The awards were started in 2014 and have already proved to be a resounding success.
The search has now started to find the 2016 winners as we compile the definitive list of the privately-owned profit-making businesses who have seen the biggest annual growth rate in their turnover.
This A to Z list will be published in Greater Manchester Business Week in the New Year. Then at the start of March, awards will be handed out to the fastest growing small, medium-sized and large businesses at an awards ceremony for companies with annual turnover of up to £5m, between £5m and £15m and over £15m respectively.
One of those three winners will then receive the ultimate accolade of being crowned Greater Manchester's overall fastest growing business for 2016.
Law firm Ward Hadaway is again organising and hosting the Greater Manchester Fastest 50.
The UK Top 100 law firm has itself experienced considerable growth since opening its Manchester office in 2012, adding to its operations in Leeds and Newcastle.
Paul Johnson, Executive Partner at Ward Hadaway's Manchester office, said: "It is terrific to be linking up again with Greater Manchester Business Week/the Manchester Evening News to launch the Greater Manchester Fastest 50 for 2016.
"The vibrancy and vitality of the region's business scene was a key factor in the firm's decision to open our Manchester office and that has certainly been vindicated in the ensuing years.
"The Greater Manchester Fastest 50 gives us the opportunity to express our thanks to the region's business community and to underline our ongoing commitment to the area and to further developing our practice here.
"Most of all, it enables us to highlight and celebrate the tremendous work being done by companies right across the region in growing their businesses, attracting investment and creating wealth and jobs.
"As political attention continues to focus on realising the potential of the North's economy, those who feature in the Greater Manchester Fastest 50 for 2016 are the real Northern Powerhouses who are leading the way."
Ward Hadaway has been running Fastest 50 award schemes for companies in the North East of England every year since 1998 and for companies in Yorkshire since 2011.
Jamie Martin, Managing Partner at Ward Hadaway, said: "As a Northern law firm for national business, we are fortunate to see at first hand the effort and innovation which companies right across the North demonstrate every day.
"The Fastest 50 is a great way to celebrate the achievements of those businesses who are setting the pace. The reaction we received to the Greater Manchester Fastest 50 Awards in 2014 and 2015 demonstrated a real appetite to share in such celebration so we are really looking forward to the 2016 Awards."
The Ward Hadaway Greater Manchester Fastest 50 is compiled by independent economic researchers using publicly available data from Companies House.
The data is then verified before the definitive Fastest 50 list is published in Greater Manchester Business Week in the New Year.
Shelina Begum, senior business reporter at Greater Manchester Business Week, said: "In its first two years, the Ward Hadaway Greater Manchester Fastest 50 has really proven its worth as a focus for business excellence in the region and as a way of highlighting the diversity of our economy.
"It is an ideal platform to celebrate all that is best about the commercial world in Greater Manchester and about the fantastic companies which we have here.
"Because it is based on turnover and there are categories for different-sized businesses, companies of all shapes and sizes have a chance to shine if they are succeeding in growing their businesses.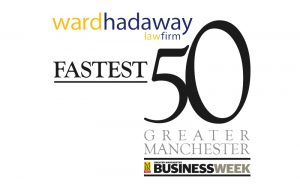 "The first two years have already uncovered some fascinating success stories and so we are all looking forward to what the 2016 Awards will bring."
* Find out more about the Fastest 50 Awards.
Please note that this briefing is designed to be informative, not advisory and represents our understanding of English law and practice as at the date indicated. We would always recommend that you should seek specific guidance on any particular legal issue.
This page may contain links that direct you to third party websites. We have no control over and are not responsible for the content, use by you or availability of those third party websites, for any products or services you buy through those sites or for the treatment of any personal information you provide to the third party.