Ward Hadaway supports Small Business Saturday with some top tips for businesses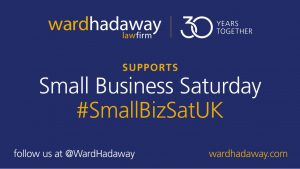 Ward Hadaway is supporting Small Business Saturday by providing some top tips to help SMEs stay on the right track with so much uncertainty expected in the future.
The annual event takes place every year on December 1st and we are keen to help celebrate and promote the contribution SMEs make to the UK economy – whilst also offering some additional advice and support.
We know setting up a business and building it up to be a success is both challenging and exciting. However it's vital to have all the building blocks in place and good legal advice at the start gives your business the best chance of success.
As a UK Top 100 law firm, we have been advising SMEs for the past 30 years, so you can be assured that our team will help you plan ahead to understand the basics of contract law and put the right documentation in place early on.
We can advise you on capital and cashflow issues and help to understand the importance of limiting liability if you are going into business with someone else. You'll also get the benefit of our wealth of experience across our extended teams to help you avoid the potential pitfalls.
Our top tips to stay on track
Set out any arrangement with any co-owners in an agreement at the start
Don't cut and paste terms of business from elsewhere, make sure they are bespoke to your business
Put in place a comprehensive approach to credit control starting with client take on
If you have valuable IP put in place a strategy for identifying, managing and protecting it
Be alert to the risks of being over-reliant on a single customer
Make sure you have in place not only employment contracts but also the policies needed to protect your business.
To find out more about how we can support you at Ward Hadaway, talk to one of our commercial solicitors, on 0191 204 4226 or 0113 205 6766 or email Colin. Hewitt@wardhadaway or Gareth.Yates@wardhadaway.com
Please note that this briefing is designed to be informative, not advisory and represents our understanding of English law and practice as at the date indicated. We would always recommend that you should seek specific guidance on any particular legal issue.
This page may contain links that direct you to third party websites. We have no control over and are not responsible for the content, use by you or availability of those third party websites, for any products or services you buy through those sites or for the treatment of any personal information you provide to the third party.