A partnership between Newcastle based international children's charity COCO (Comrades of Children Overseas) and law firm Ward Hadaway has saved a school in East Africa from closure.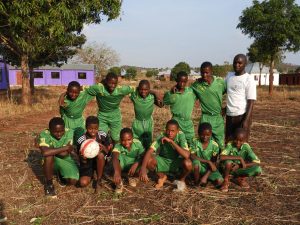 Mshangano Secondary School in Southern Tanzania has been given a new lease of life thanks to the efforts of a team of 50 runners from the law firm who ran a 135-mile non-stop relay from the company's Manchester office, through Leeds, ending at their Newcastle office.
The Three Points North Relay challenge raised £7,500 to be split between COCO and the Greggs' Foundation which funded the renovation of all of the classrooms, dormitory and office at the school, which the government was due to close had improvements not been made to the infrastructure by the end of the year.
Mshangano Secondary School had initially approached COCO and Hoja Project, the charity's implementation partner in Tanzania, in 2013 as it had been forced to close in 2010 due to a lack of finance and poor academic performance. With the support of the partnership the school reopened the same year, and since then its exam results have improved from being outside the top 100 schools in the region, to being inside the top 10.
This second threat of closure would have seen 146 pupils without a place to study in an area where the average household income is well below the absolute poverty threshold.
Lucy Kendall, CEO of COCO, said: "The fantastic efforts of our supporters at Ward Hadaway have provided a vital lifeline to the many pupils at Mshangano Secondary School and their families, in what is one of the most remote and poorest areas of East Africa. It has enabled vital renovations to be carried out that will benefit hundreds of students in the coming years, helping them find their way on a path towards a brighter future.
"The school is now a great learning environment and, what's more, the government were so impressed with the effort that has been put into the renovation, they have invested in the school themselves, bringing mains water and electricity to the site, and buying football and netball goals for their sports field, saving the school thousands of pounds sourcing these themselves. We're excited to see how Mshangano develops in the future."
The Three Points North Relay was the brainchild of Ward Hadaway's Corporate Partner, Katherine Richards, one of COCO's Board of Trustees, and Commercial Partner, Matthew Cormack as a fun way of celebrating the firm's 30th anniversary.
In completing the challenge the 50 runners clocked up a cumulative 490 miles, with many of them running further than they had ever run before.
They were joined for the final leg of the relay along Newcastle's Quayside by British middle-distance runner, Laura Weightman, who earlier this year won the 1500m title at the British Athletics Championships and then claimed a bronze medal in the same event during the European Athletics Championships.
Commenting on the impact of the team's fundraising efforts in saving Mshangano Secondary School, Katherine Richards, who has been a trustee of COCO for more than eight years, said: "This is a great result for everyone concerned. Our 30th anniversary relay challenge not only brought everyone across our three offices in Newcastle, Leeds and Manchester together, it also showed our commitment to health and wellbeing and how well we work as a team."
Mshangano Secondary is one of COCO's most recent partners in the Schools for Life programme which has so far enabled 2500 young people from communities in Uganda, Tanzania and Kenya to access sustainable education in a safe environment. The programme covers six key elements: shelter; power; water and sanitation; food; sports and recreation; and entrepreneurship.
COCO was co-founded by Steve Cram and British Army Major Jim Panton in 2000 and its headquarters are in Newcastle. COCO's activities have made a positive impact on the lives of more than 200,000 people in East Africa through 50 transformational projects covering 16 countries.  Last year COCO succeeded in reaching a major fundraising milestone of £4 million in donations received.
To find out more about the work of COCO or to donate visit www.coco.org.uk, find the charity on Facebook or follow @COCO_Charity on Twitter.
Please note that this briefing is designed to be informative, not advisory and represents our understanding of English law and practice as at the date indicated. We would always recommend that you should seek specific guidance on any particular legal issue.
This page may contain links that direct you to third party websites. We have no control over and are not responsible for the content, use by you or availability of those third party websites, for any products or services you buy through those sites or for the treatment of any personal information you provide to the third party.