Ward Hadaway is celebrating after being recognised as the busiest corporate dealmaker in the North East in the annual Experian MarketIQ league tables.
The data published by Experian MarketIQ, which tracks M&A deals valued at more than £500,000 at regional and national level, has found Ward Hadaway to be the region's busiest legal adviser in 2018.
The firm's team of Corporate solicitors advised on 56 deals in 2018 in the North East with a combined deal value of £177m (based on the deal values the firm is able to publicise). To put this result in context, we are also ranked 14th nationally, which puts us alongside major international law firms. Check out the full Experian report for more details.
The past year has seen the team advising on a whole range of different projects to achieve success.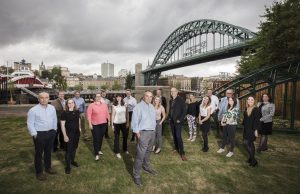 Robert Thompson, who heads up the 30-strong Corporate team, said: "We are extremely pleased to see Ward Hadaway has come out on top as the busiest law firm buying, selling and fund raising for businesses across the North East.
"We work with businesses of all sizes and across many different sectors and so we are really grateful to our clients for continuing to trust us with their transactions, and to our fellow professional advisers who continue to recommend us to their clients.
"We have a really good spread of work. So as a firm we worked on more than 21 acquisitions, 15 disposals, 21 companies raising development capital, and three Management Buy-outs (MBOs), as well as a number of other corporate transactions. It is the variety of work we do that helps us to stand out.
"Some thought the deals market would fall off a cliff in the two years leading up to Brexit, but that hasn't happened.  There has still been a vibrant corporate scene driven by some great local businesses."
Ward Hadaway's 13 specialist corporate partners are supported by hard-working, ambitious and talented lawyers throughout the firm committed to the highest levels of service and technical ability to its clients.
The range of transactions the team has advised on remains extensive and includes sales, acquisitions, private equity fund raising and refinancing work across all sectors, from waste and recycling to life sciences, from manufacturing to recruitment.
"I am very pleased with our performance across all three of our offices in Newcastle, Leeds and Manchester. It's very encouraging and we have continued to grow and strengthen our team as a result with the recruitment of high-calibre lawyers.
"We will continue to focus on the SME market across the North and also look to build our pipeline of work nationally and internationally through our extensive network of professional partners."
Please note that this briefing is designed to be informative, not advisory and represents our understanding of English law and practice as at the date indicated. We would always recommend that you should seek specific guidance on any particular legal issue.
This page may contain links that direct you to third party websites. We have no control over and are not responsible for the content, use by you or availability of those third party websites, for any products or services you buy through those sites or for the treatment of any personal information you provide to the third party.