THE Ward Hadaway Fastest 50 has gone global after the overall winner of last year's award spread the word of its success to customers around the world.
Offshore oil and gas and marine specialist Techflow Marine was named fastest growing large business and overall fastest growing business in the 2015 Ward Hadaway Fastest 50 Awards last October.
Since then the Cramlington-based company has used the award wins to help market its services to its international client base.
And Techflow Marine Sales Director Ken Beattie says businesses named in this year's definitive list of the fastest growing companies across the region should also shout about their achievements.
Ken said: "It was an honour to win the awards last year.
"It is a very prestigious award to win so we were very proud. We are an international company – 90% of the work we do is export-based – and we do business throughout the world, in the Far East, the US, the Middle East, but it is an honour to be recognised in the North East of England in this way.
"We publicise the award in our literature and we get lots of questions from our customers around the world about what the award was and how our growth was achieved.
"When we have visitors to our premises we give them a presentation when they first come here and we always highlight the award and it always impresses people."
As well as demonstrating the achievements of the company to customers and potential clients, winning a Ward Hadaway Fastest 50 award also acts as a motivator to a victorious business's workforce.
Ken Beattie explained: "The award win was very well received by the staff. When we got back from the awards event last October, we got everyone together in one of the main offices and explained what had happened and they were really enthused by it.
"It is something very worthwhile winning and something you can use to your benefit."
The Ward Hadaway Fastest 50 – devised and organised by law firm Ward Hadaway in association with The Journal – recognises and celebrates the achievements of profit-making private companies in the North East who have shown the most growth in turnover.
A list of the 50 fastest growing businesses is published in September with an awards event taking place in October at which awards are presented to the fastest growing small, medium-sized and large businesses with one of these being crowned the overall fastest growing business in the North East.
The other winners at the 2015 Ward Hadaway Fastest 50 Awards alongside Techflow Marine were multi-site online marketing company Mediaworks, which won the award for fastest growing small business, and cloud computing services specialist SITS Group, which was named fastest growing medium-sized business.
Phil Cambers, Commercial Director at SITS Group, said: "It was very satisfying to win because it validated that hard work pays off and that we are doing the right things and going in the right direction.
"We definitely use the award to underline our credibility as a company."
However, even those who don't win one of the awards up for grabs at this year's event should still make the most of it if they are listed in the final 50, according to Ken Beattie of Techflow Marine.
He said: "Companies who make it into this year's Fastest 50 list should promote it and publicise it to their customers, not just in the UK but worldwide."
Colin Hewitt, Partner and Head of Commercial at Ward Hadaway, said: "It is really gratifying to hear what a difference winning a Ward Hadaway Fastest 50 Award has made to Techflow Marine and how the company has spread the word about its achievements to an international audience.
"When we started the Fastest 50 Awards in 1998 this is exactly the kind of effect we hoped that they would produce, to highlight the success and the tremendous work being done by businesses right across the region.
"The North East is a great place for companies to thrive and we are now looking forward to revealing which businesses have made the final 50 for this year."
The A-Z list of this year's Fastest 50 companies – compiled by independent researchers from St Chad's College/Durham Business School – will appear in The Journal later this month.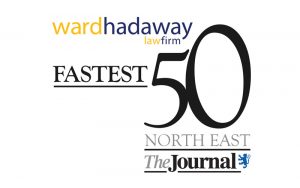 Representatives from all 50 companies, alongside business leaders, will then be invited to an awards ceremony in October where the winners of the 2016 Fastest 50 Awards will be announced.
* Find out more about the Fastest 50 Awards.
Please note that this briefing is designed to be informative, not advisory and represents our understanding of English law and practice as at the date indicated. We would always recommend that you should seek specific guidance on any particular legal issue.
This page may contain links that direct you to third party websites. We have no control over and are not responsible for the content, use by you or availability of those third party websites, for any products or services you buy through those sites or for the treatment of any personal information you provide to the third party.