Ward Hadaway continues to lead the way as the North East's busiest legal dealmakers in Experian's rankings
Follow us on LinkedIn
Ward Hadaway has again been ranked as the busiest dealmakers in the North East, according to the latest Experian MarketIQ legal volume rankings which tracks M&A deals valued at more than £500,000 over the first half of 2019.
The firm's team of Corporate lawyers topped the table in the North East, completing 32 deals. The teams in Yorkshire and the North West were ranked third and eighth respectively.  The combined total even placed the firm second in the UK overall, advising on 61 deals.  Review the full Experian report here for more details.
This follows the firm's top ranking as last year's busiest Corporate dealmaker in the North East in the 2018 Experian MarketIQ league tables.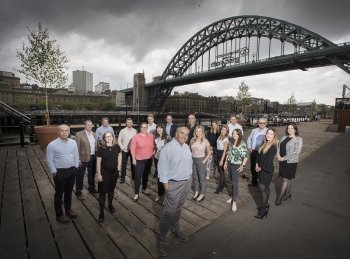 Robert Thompson, who heads up the 30-strong Corporate team, said: "We are extremely pleased that we are continuing to rank as the busiest law firm in the North East when it comes to buying, selling and fund raising for businesses, and also making a really strong showing in Yorkshire and the North West.
"The market has inevitably seen a slowdown since the referendum, but we have bucked the trend in terms of deal-making.  We had a number of deals on hold as a result of Brexit uncertainty, but many of these are now moving forward as industry leaders decide to maintain their business's momentum.  That is good news for us and our clients.
"We adopt the innovative strategy for a team of our size to focus on the SME market.  Whilst we of course support many of the firm's large corporate clients, the culture of the SME market suits our entrepreneurial approach, and this is reflected in the volume and scope of deals.
"Because of the breadth and scale of the team, I am able to assign different members of my team to different sectors, meaning they are able to gain real specific insight and knowledge that helps our clients achieve the best outcome.
"We remain really grateful to our clients for continuing to trust us when it matters most, and to our fellow professional advisers who continue to recommend us to their clients."
Ward Hadaway's 13 specialist corporate partners are supported by hard-working, ambitious and talented lawyers throughout the firm committed to the highest levels of service and technical ability to its clients.
Please note that this briefing is designed to be informative, not advisory and represents our understanding of English law and practice as at the date indicated. We would always recommend that you should seek specific guidance on any particular legal issue.
This page may contain links that direct you to third party websites. We have no control over and are not responsible for the content, use by you or availability of those third party websites, for any products or services you buy through those sites or for the treatment of any personal information you provide to the third party.