Ward Hadaway attends international conference on Medicine, Science and Justice at Northumbria University
Follow us on LinkedIn
Ward Hadaway joined leading academics and other professionals at Northumbria University for a seminar demonstrating the contribution of science and medicine to complex cases and problems in the justice system internationally.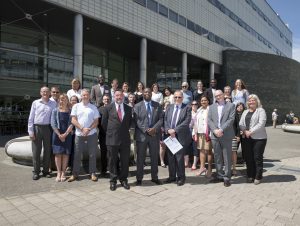 The one-day seminar attracted participants from Australia, Brazil, Canada, the Netherlands and the UK. The group examined a range of issues which demonstrated the importance of forensic science and medicine to public safety, health and wellbeing.
Examples of the cases and issues covered during the session includes the forensic science contribution to the Stephen Lawrence and Joanna Yates inquiries, how blood pattern analysis helped to exonerate a man accused of GBH with intent, and the ethical and legal aspects of genetic identification of victims of crime in Brazil.
The conference also featured a panel discussion on the challenging issue of Medical Assistance in Dying, which was led by Alfredo Walker, a registered Forensic Pathologist from the University of Ottawa, Jon Maskill, a consultant in anaesthetics and intensive care at Doncaster Royal Infirmary and Jeffrey Keeble, head of litigation and healthcare at Ward Hadaway.
Martin Evison, professor in Forensic Science in the Faculty of Health and Life Science at Northumbria University coordinated the conference with Dr Carole McCartney, a reader in the School of Law.
He said: "The seminar was a cross-faculty initiative of science and justice, medical and mental health law, and forensic science research groups. The feedback we've received has been excellent. The conference has served to share and expand knowledge in fascinating areas of medicine and forensics."
Jeffrey Keeble, Head of Healthcare at Ward Hadaway, added: "It was great as a lawyer to be asked to participate in a panel discussion around end of life care. Experts spoke from a medical perspective and complex ethical issues and practise around the world were discussed and considered as part of this fascinating and informative session."
Please note that this briefing is designed to be informative, not advisory and represents our understanding of English law and practice as at the date indicated. We would always recommend that you should seek specific guidance on any particular legal issue.
This page may contain links that direct you to third party websites. We have no control over and are not responsible for the content, use by you or availability of those third party websites, for any products or services you buy through those sites or for the treatment of any personal information you provide to the third party.