ONE of Yorkshire's most successful entrepreneurs in recent years has been revealed as the guest speaker for the Ward Hadaway Yorkshire Fastest 50 Awards 2017.
Larry Gould, founder and chief executive at Leeds-based international translation company thebigword, will deliver the keynote speech at the event, which is organised and sponsored by law firm Ward Hadaway and celebrates the achievements of Yorkshire's fastest growing companies.
Mr Gould founded the company as a start-up in 1981, providing translation services to businesses mainly based in Yorkshire.
Since then, thebigword has expanded to become one of the largest companies of its kind in the UK with a fast-growing international presence.
The company's services are used by around 80% of the world's top 100 global brands and organisations. It has 11 offices around the world, employs more than 500 staff and has more than 8,000 linguists.
Last year, thebigword secured two major Government contracts to provide translation services.
The biggest of these is a £120m four-year contract with the Ministry of Justice for face-to-face and telephone interpreting, along with translation and transcription services. The company will provide linguists to courts, tribunals, prisons, the probation service, Crown Prosecution Service and police.
Thebigword, which is now the largest interpreting services provider in Europe, also won a £60m contract to provide translation services to the Department of Work and Pensions, Home Office, NHS, Ministry of Defence and HMRC for four years.
The company's founder Larry Gould will be talking about the challenges of growing a company when he meets business leaders and representatives of Yorkshire's fastest growing companies at the Ward Hadaway Yorkshire Fastest 50 Awards 2017 at Aspire in Leeds on Friday March 17.
The awards highlight and celebrate the privately owned, profit-making businesses in Yorkshire which have grown their turnover by the largest amount in recent years.
Speaking about his forthcoming appearance, Larry Gould said: "I'm thrilled to have been invited to give the keynote speech at the Ward Hadaway Yorkshire Fastest 50 Awards for 2017.
"I am passionate about growing businesses and encouraging the entrepreneurial spirit so it will be terrific to meet up with fellow business people and find out more about how they have been growing their companies.
"The Ward Hadaway Yorkshire Fastest 50 is an excellent way to highlight and celebrate the businesses who are really putting Yorkshire on the map and creating jobs, boosting prosperity and attracting investment into the region.
"I am really looking forward to the awards and finding out which companies are really blazing a trail when it comes to expanding their businesses."
Jamie Martin, Managing Partner of Yorkshire Fastest 50 organisers Ward Hadaway, said: "We are delighted that Larry has accepted our invitation to be guest speaker at the Ward Hadaway Yorkshire Fastest 50 Awards for 2017.
"He is a well-known entrepreneur in the region with a clear passion for business and is at the helm of a company making waves both nationally and internationally.
"I am sure he will receive a great reception from the awards audience who will be very interested in hearing his thoughts on entrepreneurship and the challenges of growing a business."
This will be the seventh year that the Ward Hadaway Yorkshire Fastest 50 Awards have taken place.
The awards will see trophies presented to the fastest growing small business, the fastest growing medium-sized business and the fastest growing large business.
One of these three award winners will then be crowned Yorkshire's overall fastest growing business for 2017.
The first opportunity to discover those companies in contention for the awards will happen at the end of February when The Yorkshire Post publishes the full A-Z list of the 50 fastest growing companies in Yorkshire for 2017.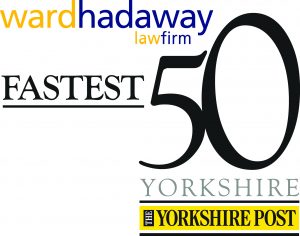 It is from this list that the winners of the awards will be drawn and revealed on March 17.
* Find out more about the Fastest 50.
Please note that this briefing is designed to be informative, not advisory and represents our understanding of English law and practice as at the date indicated. We would always recommend that you should seek specific guidance on any particular legal issue.
This page may contain links that direct you to third party websites. We have no control over and are not responsible for the content, use by you or availability of those third party websites, for any products or services you buy through those sites or for the treatment of any personal information you provide to the third party.