IT WAS a case of keeping it in the family for the overall winners of the 2015 Ward Hadaway Fastest 50 Awards, Techflow Marine.
The Cramlington-based company won the award for fastest growing North East business for 2015, as well as being named the fastest growing large business in the region.
The offshore oil and gas and marine specialist followed in the footsteps of its sister company, Techflow Flexibles, which was named fastest growing large business in the 2014 Ward Hadaway Fastest 50, to make it a remarkable double triumph.
Ken Beattie, Sales Director at Techflow Marine, said: "It was a great surprise to win. In these difficult times, we are very pleased to have increased our turnover so much and we look forward to continually growing the company and developing into even more of a world force.
"We have really committed staff, a skilled workforce and a determination to succeed. Exports are also key to us – we have to work hard abroad and we can't just rely on work in the UK."
Techflow Marine provides a range of specialist products to the global offshore oil & gas and marine industries, particularly fluid transfer systems.
As well as the company's Cramlington head office, Techflow Marine also has manufacturing facilities in Singapore as well as engaging sub-contractors in China, Korea and the USA.
The company received its awards at a ceremony at BALTIC, the Centre for Contemporary Art, in Gateshead on Friday.
Techflow Marine fought off competition from County Durham wine specialist Lanchester Wines and Darlington-based hazard protection equipment maker Mech-Tool Engineering to win the fastest growing large business award, for companies with annual turnover of more than £15m.
The other winners at the Ward Hadaway Fastest 50 Awards for 2015 were Gateshead-based Mediaworks and SITS Group of Cramlington.
Mediaworks pipped two care home operators – Popular Care and Motherdale Limited – to be named the fastest growing small business of 2015, for companies with annual turnover of between £1m and £5m.
Mediaworks was founded in 2007 and has grown from a small internet search company to a multi-site online marketing firm with clients including GlaxoSmithKline, Scottish Power and House of Fraser.
SITS Group was named the fastest growing medium-sized business of 2015, ahead of second placed Blaydon-based asbestos consultancy Lucion Environmental and third placed marine and offshore oil and gas fabrication specialist Marine Fabricators, from Stockton.
SITS Group specialises in providing cloud computing services to some of the leading companies across the region and the country. It supplies a wide range of services including virtual desktops, business continuity and data centre facilities.
The winning companies were revealed before an audience of over 250 business leaders and representatives of the Fastest 50 companies at the Riverside Terrace at BALTIC.
Ed Cox, Director of influential economic think tank IPPR North, was the keynote speaker at the event, which has been held every year since 1998.
Ed talked about the strength and resilience of the economy in the North, pointing out it makes up one fifth of the national economy and appealed to businesses in the North East to make sure the region's voice was heard loud and clear in the Northern Powerhouse debate.
Ed said: " It is not for Government or Manchester or anywhere else to say whether the North East us or isn't included. We need to be bold and confident and say 'we are in the Northern Powerhouse'.
"I also think that business leadership is critical. I think businesses sometimes need to knock political heads together to ensure that the devolution deals really work. You know that markets don't stop at particular boundaries and political leaders need to recognise that."
The Fastest 50 is organised by leading North law firm Ward Hadaway and supported by The Journal.
Colin Hewitt, Partner and Head of Commercial at Ward Hadaway, said: "I am delighted to say that once more the Ward Hadaway Fastest 50 has succeeded in highlighting all that is best about North East business.
"Our three winners and indeed every company in the 2015 list have demonstrated the aptitude, flair and sheer hard work which make this region such a great place to do business.
"As an event, the Ward Hadaway Fastest 50 continues to go from strength to strength with a record number of guests attending this year's awards, reinforcing its position as one of the key events in the North East business calendar."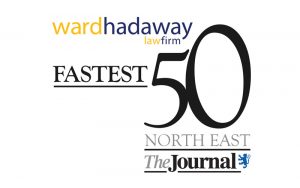 Graeme Whitfield, Business Editor of The Journal, introduced the awards, which reward profit-making privately-owned companies and organisations in the region which have shown the strongest annualised sales growth over recent years.
Graeme said businesses in the Fastest 50 were "the real Northern Powerhouse" and outlined the work which The Journal's Let's Grow fund has done in supporting businesses and creating jobs in the region.
* Find out more about the Fastest 50 Awards.
Please note that this briefing is designed to be informative, not advisory and represents our understanding of English law and practice as at the date indicated. We would always recommend that you should seek specific guidance on any particular legal issue.
This page may contain links that direct you to third party websites. We have no control over and are not responsible for the content, use by you or availability of those third party websites, for any products or services you buy through those sites or for the treatment of any personal information you provide to the third party.