Sage Northern Europe Executive Vice President to be Ward Hadaway Fastest 50 guest speaker
Follow us on LinkedIn
LEADING tech industry figure and Sage's new EVP for Northern Europe, Jacqueline de Rojas, will be the guest speaker at the Ward Hadaway Fastest 50 Awards for 2016.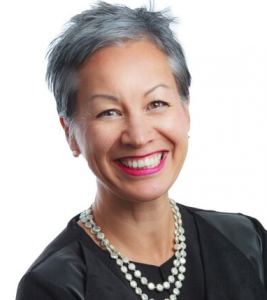 Ms de Rojas (pictured) will give the keynote address at the event in October when the fastest growing companies across the North East will be revealed.
Acclaimed as the most influential woman in IT in the UK, Jacqueline de Rojas has more than 25 years' operational experience in the software industry including as general manager and area VP for Northern Europe for Citrix, the role she held before taking up her new post as EVP Northern Europe at Newcastle-based FTSE 100 software giant Sage which she starts on 1st October.
Jacqueline is the current president of UK technology industry body techUK and is the organisation's board champion for women and diversity.
In 2015, Ms de Rojas was named by Computer Weekly as the most influential woman in UK IT, and, earlier this year made Debrett's list of 500 people of influence in social media and digital.
As well as championing women in the technology industry, she is also a passionate advocate of entrepreneurship and business enterprise.
Ms de Rojas will be talking about this and her mission at Sage when she meets business leaders and representatives of the North East's fastest growing companies at the Ward Hadaway Fastest 50 Awards 2016 at BALTIC the Centre for Contemporary Art in Gateshead, on Friday October 14.
The awards highlight and celebrate the privately owned, profit-making businesses in the North East which have grown their turnover by the largest amount in recent years.
Speaking about her forthcoming appearance, Jacqueline de Rojas said: "Tech businesses are my passion and fast-growing businesses of all kinds will increasingly lean on a digital heartbeat at their centre.
"Entrepreneurship and skills are essential to powering up the economy and I'm delighted to be joining Sage where we are passionate about supporting the growth of Small & Medium Businesses. Their importance to creating a digital nation of significance is clear; 99% of all businesses are Small & Medium Businesses and create two thirds of all new jobs.
"I am thrilled to be asked to be the guest speaker at the Ward Hadaway Fastest 50 Awards. It is a great opportunity to learn more about how North East businesses are successfully growing; it's a real showcase for the region's business dynamism and strong entrepreneurial spirit and how these companies are playing their part in seizing the opportunity to create a nation of entrepreneurs.
"While Sage is a global business, we are proud that our roots are very firmly in the North East and events like this demonstrate why the region is such a terrific place for companies to succeed and grow."
Colin Hewitt, Partner and Head of Commercial at Fastest 50 organisers Ward Hadaway, said: "We are delighted that Jacqueline has accepted our invitation to be the guest speaker at the Ward Hadaway Fastest 50 Awards for 2016.
"Not only is she a significant figure at one of the North East's leading companies – and the UK's largest listed tech company – she is also well known for her enthusiasm and advocacy for entrepreneurship and innovation, two qualities which Fastest 50 companies have in abundance.
"I am sure she will get a great reception from the audience at the awards who will be interested to hear how technology can help businesses of all kinds and how Sage champions these Small & Medium Businesses and helps them grow."
The Ward Hadaway Fastest 50 Awards will see trophies presented to the fastest growing small business, the fastest growing medium-sized business and the fastest growing large business.
One of these three award winners will then be crowned the North East's overall fastest growing business for 2016.
The first opportunity to discover those companies in contention for the awards will happen later this month when The Journal publishes the full A-Z list of the 50 fastest growing companies in the North East for 2016.
The list is currently being compiled by independent economic researchers at St Chad's College/Durham Business School using publicly available data from Companies House.
It is from this Fastest 50 list that the eventual winners of the awards will be drawn and revealed on October 14.
* Find out more about the Fastest 50 Awards.
Please note that this briefing is designed to be informative, not advisory and represents our understanding of English law and practice as at the date indicated. We would always recommend that you should seek specific guidance on any particular legal issue.
This page may contain links that direct you to third party websites. We have no control over and are not responsible for the content, use by you or availability of those third party websites, for any products or services you buy through those sites or for the treatment of any personal information you provide to the third party.