Ward Hadaway's Corporate team continues to expand to meet growing demand across the SME sector.
Operating out of three regional offices, the 30+ team of corporate solicitors has 13 specialist corporate partners working with their dedicated legal teams focusing on the deals market in the SME sector.
The team provides advice on the full range of corporate work from mergers and acquisitions to flotations, public company work, raising venture capital and taking on private equity as well as refinancing and banking work.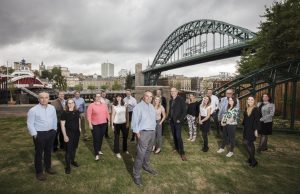 Robert Thompson, who now heads the team across the three offices in Newcastle, Leeds and Manchester, plans to continue to grow and strengthen the team by the recruitment of high-calibre lawyers who share the vision and client culture that the firm has become renowned for.
He said: "When I joined the firm 27 years ago, Corporate was pretty much a two-man team and it has grown substantially over the years to what we
have today.
"As the firm and team have grown, we have seen other large regional firms move their focus away from the SME deals market to the large corporate deals market, which has created a bit of a vacuum for quality advice in the SME sector. We plan to address that by continuing to focus on this sector."
During the first half of 2018, Ward Hadaway was noted among the most active deals advisers in the North East.
According to information services giant Experian MarketIQ, the firm achieved 16 completions with a cumulative value of £83m – the largest value of deals conducted by a law firm in the region. The third quarter saw the team close another 20 deals.
Robert said: "We have closed deals across a broad range of sectors and deal types. We look to do so seamlessly and in a way that exceeds our clients' expectations.
"There was a history of larger deals migrating out of the region to London in the belief that the only real choice for perceived service and specialism was to go there.
"This is obviously not the case and the latest Experian results show that we are attracting the bigger and better quality deals in the North East. We have seen similar success in our Leeds and Manchester markets.
"We offer City of London quality and service, but at regional rates, adding real value and expertise at a competitive cost.
"Over the next 12 months and beyond, we will focus on the regional SME market and also look to build our pipeline of work nationally and  internationally through our extensive network of professional partners.
"Given our diverse client base, we operate across most sectors, however, we have built up particular deals expertise in scrap metal, waste and recycling, healthcare and recruitment and will be looking to apply that expertise nationally.
"Through our membership of the Geneva Group International (GGI), one of the leading professional networks in the world, we can open the door to high quality advice on local laws, business advice and market strategies anywhere in the world.
"Our clients find this reach and access to trusted expertise to be invaluable, which allows them to use us as a one stop shop for all their international
matters."
If you would like further information, please do not hesitate to get in touch.
Please note that this briefing is designed to be informative, not advisory and represents our understanding of English law and practice as at the date indicated. We would always recommend that you should seek specific guidance on any particular legal issue.
This page may contain links that direct you to third party websites. We have no control over and are not responsible for the content, use by you or availability of those third party websites, for any products or services you buy through those sites or for the treatment of any personal information you provide to the third party.