OFFSHORE fabrications specialist Heerema Hartlepool delivered a major success at the 2016 Ward Hadaway North East Fastest 50 Awards.
The Hartlepool-based company won the award for the fastest growing North East business of 2016, as well as being named the fastest growing large business in the region.
Heerema Hartlepool specialises in the engineering and manufacturing of large and complex structures for the offshore oil & gas and energy-related industries.
Mark Ellis, Contracts Manager at Heerema Hartlepool, said: "We were a little shocked but delighted to win and to have performed so well, especially in the present climate in the oil and gas industry."
Alan Lloyd, Yard Director at Heerema Hartlepool, said: "It is a big team effort by a tried and tested workforce who have have worked here for many years, who understand client needs and requirements and deliver quality products.
"I think people at Heerema Hartlepool will be really pleased with this award and it will be a good recognition and acknowledgement of their efforts."
Heerema Hartlepool is part of the Heerema Fabrication Group and operates from two purpose-built construction facilities located around Victoria Harbour in Hartlepool, employing around 700 people.
Projects which the company has worked on include the Sheringham Shoal Offshore Wind Farm, the Greater Gabbard offshore wind transformer in the North Sea and the Culzean oil platform in the North Sea.
Heerema Hartlepool received its awards at a ceremony at BALTIC, the Centre for Contemporary Art, in Gateshead on Friday.
The Teesside business fought off competition from County Durham residential property developer Partner Group UK Ltd and fellow Hartlepool company, property façade specialist Deepdale Solutions, to win the fastest growing large business award, for companies with annual turnover of more than £15m.
The other winners at the Ward Hadaway North East Fastest 50 Awards for 2016 were Newcastle-based Crosbys and Exterior Lighting Solutions of Killingworth.
Crosbys pipped Sunderland-based construction support services provider Grab & Deliver and Middlesbrough precision engineering company Dormor Machine and Engineering Company Limited to be named the fastest growing small business of 2016, for companies with annual turnover of between £1m and £5m.
Crosbys was founded in 1990 and supplies a wide range of equipment to customers in the restaurant, bar and catering industry.
Exterior Lighting Solutions was named the fastest growing medium-sized business of 2016, ahead of second placed flexible commercial vehicle hire specialist Transflex Vehicle Rental, from Stockton, and third placed Aspire Technology Solutions, a Gateshead-based IT services provider.
Exterior Lighting Solutions provides a range of street and exterior lighting systems with previous projects including street lighting on the Wynyard Estate on Teesside and passive safety columns on the A182 in Washington.
The winning companies were revealed before an audience of over 300 business leaders and representatives of the Fastest 50 companies at the Riverside Terrace at BALTIC.
Jacqueline de Rojas, Northern Europe Executive Vice President at Sage plc and President of techUK, was the keynote speaker at the awards, which have been held every year since 1998.
Jacqueline talked about how businesses like those found in the Fastest 50 are the "driving force" of the UK economy and how technology and infrastructure are vital to help stimulate further growth across the region and the UK.
She also talked about Sage's pride as a business "founded and grown in the North East" and commented on the region's "big work ethic" and the willingness for North East businesses to support each other and grow. She said that the whole country needed to sign up to #NotJustLondon.
Jacqueline added: "For me, growth and ambition make the difference between and ordinary company and an extraordinary company."
The Fastest 50 is organised by leading North law firm Ward Hadaway and supported by The Journal newspaper.
Colin Hewitt, Partner and Head of Commercial at Ward Hadaway, said: "Once again, the Ward Hadaway North East Fastest 50 has succeeded in highlighting all that is best about business in the North East.
"Not only do we have three fantastic winners of the main awards, but also every company in the Fastest 50 has performed exceptionally well to make it into this year's list.
"The drive, determination and ability which the 50 companies in the list have demonstrated embody the spirit of enterprise and effort which makes this region so special.
"The record number of attendees at this year's event also shows what an important fixture the Fastest 50 is in the North East business calendar."
Graeme Whitfield, Business Editor of The Journal, introduced the awards, which reward profit-making privately-owned companies and organisations in the region which have shown the strongest annualised sales growth over recent years.
The Ward Hadaway North East Fastest 50 2016 roll of honour
Fastest growing small business
Winner: Crosbys, Newcastle
2nd place: Grab & Deliver, Sunderland
3rd place: Dormor Machine & Engineering Company Limited, Middlesbrough
Fastest growing medium-sized business
Winner: Exterior Lighting Solutions, Killingworth
2nd place: Transflex Vehicle Rental, Stockton
3rd place: Aspire Technology Solutions, Gateshead
Fastest growing large business
Winner: Heerema Hartlepool, Hartlepool
2nd place: Partner Group UK Limited, Spennymoor, County Durham
3rd place: Deepdale Solutions, Hartlepool
Overall fastest growing business
Heerema Hartlepool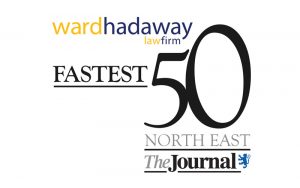 * Find out more about the Fastest 50 Awards.
Please note that this briefing is designed to be informative, not advisory and represents our understanding of English law and practice as at the date indicated. We would always recommend that you should seek specific guidance on any particular legal issue.
This page may contain links that direct you to third party websites. We have no control over and are not responsible for the content, use by you or availability of those third party websites, for any products or services you buy through those sites or for the treatment of any personal information you provide to the third party.