THE KEY growth drivers of the Yorkshire economy risk being left behind when it comes to apprenticeships, advises a leading law firm.
Employment experts at Top 100 UK law firm Ward Hadaway, which organises the definitive run-down of the fastest growing companies in the region, the Ward Hadaway Yorkshire Fastest 50, say confusion and a lack of clarity from Government is leaving businesses facing an uphill task to be ready for the introduction of the apprenticeship levy.
From April 6, all UK companies and organisations with a pay bill over £3 million a year will need to spend 0.5% of their total pay bill on the apprenticeship levy – minus a 'levy allowance' of £15,000 per year.
The funding will be pooled and then available to be accessed by employers to pay for apprenticeships.
However, whilst businesses are aware that the apprenticeship levy is coming, many are not prepared for how their companies will be affected with fast-growing medium-sized businesses – in many ways the growth drivers of the regional economy – particularly badly hit.
Harmajinder Hayre (pictured), Partner in the Employment team at Ward Hadaway's Leeds office, said: "Whilst major corporates, plcs and international groups have been gearing up for the apprenticeship levy for some time, many smaller and medium-sized businesses have only had time to get to grips with it since the start of the year.
"What they are finding is that there is not much clarity and certainty from the Government on how the scheme is going to operate and not much guidance on how they as businesses can get the most out of the scheme on a practical level.
"As a result, many very well run companies find themselves in a very difficult position just two months from the scheme going live."
Harmajinder cited practical difficulties for the scheme including the fact that digital accounts where details of company payments and suppliers are kept will not be ready until the end of this month and the list of approved registered apprenticeship training providers, from whom companies can choose training schemes, will not be confirmed until the end of March.
He also stressed that employers needed to think carefully and in many cases take professional advice about how taking on apprentices would change their workforce and the way they structured their operations.
Harmajinder said: "It is perfectly natural for companies to look at the money which they are losing as a result of the apprenticeship levy and to see apprenticeships as a way of recouping that.
"The problem with this approach is whether doing this fits in with the company's overall business objectives and its recruitment priorities – if your business needs more highly skilled workers with specialist expertise, bringing in a raft of apprentices at a fairly low level is not going to address this issue.
"Companies also need to ensure their workforces are structured the right way to make apprenticeships work. For example, apprentices need to spend 20% of their time every week getting training – how will this fit in with your company's work patterns?"
However, despite these difficulties and the scheme's current teething troubles, Harmajinder says that apprenticeships can offer companies advantages, particularly fast-growing businesses such as those found in the Ward Hadaway Yorkshire Fastest 50.
He explained: "If you need to grow your workforce quickly, rather than recruiting non-apprentices at the National Minimum Wage and paying for their training, why not recruit apprentices who are paid at a lower rate and where the Government pays 90% of the training costs?
"Culturally and practically, the business has to be ready for apprentices, but if you can get the fit right, a fast-growing company has real scope to grow a workforce which is well trained for the job, well used to the challenges the company faces and potentially loyal to a business which has helped to develop their skills."
In the long-term, Harmajinder says that if it is managed and supported well, the growth in apprenticeships has the potential to make a major difference to the UK workforce.
He said: "Where we may get to in, say, five years' time is a system where, instead of the current 'premium' route via university, employees of the future can choose a vocational route to a better job.
"I think we will see large employers strengthening links with schools and colleges to encourage students to choose an apprenticeship when they leave at 18 rather than going to university. Employers could then put those candidates on a graduate scheme where they can get a degree but they will finish with no debt and be better aligned to what the business needs."
Ward Hadaway will be honouring the current growth drivers of the Yorkshire economy next month at the Ward Hadaway Yorkshire Fastest 50 Awards 2017.
The Yorkshire Fastest 50 identifies and highlights the privately-owned, profit-making companies who have seen the biggest annual expansion in their turnover in recent years by analysing company financial figures.
This process creates a definitive list of the 50 fastest growing companies in Yorkshire, the latest version of which will be published at the end of next month.
Then in March at a special event, awards will be handed out to the fastest growing small, medium-sized and large businesses, for companies with annual turnover of between £1m and £7.5m, between £7.5m and £15m and turnover of more than £15m respectively.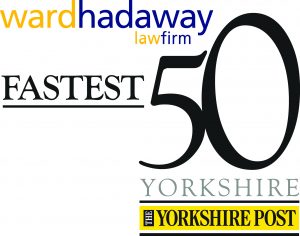 One of those three winners will then receive the accolade of being crowned Yorkshire's overall fastest growing business for 2017.
* Find out more about the Fastest 50.
Please note that this briefing is designed to be informative, not advisory and represents our understanding of English law and practice as at the date indicated. We would always recommend that you should seek specific guidance on any particular legal issue.
This page may contain links that direct you to third party websites. We have no control over and are not responsible for the content, use by you or availability of those third party websites, for any products or services you buy through those sites or for the treatment of any personal information you provide to the third party.