THE winners of the 2015 Ward Hadaway Fastest 50 Awards – revealed in just two days' time - will follow a great tradition of North East business success.
The awards take place at BALTIC, the Centre for Contemporary Art, on Friday (9th October) and will recognise the fastest growing small, medium-sized and large businesses in the North East. One of these three will then be named the overall fastest growing business in the region for 2015.
The fastest growing small business award is for companies with annual turnover of between £1m and £5m, the award for fastest growing medium-sized business is for companies with annual turnover of between £5m and £15m and the fastest growing large business is for companies with annual turnover of more than £15m.
Two runners-up in each category will be announced at the awards ceremony before the winners are unveiled.
The awards are the invention of leading North law firm Ward Hadaway and have been staged every year since 1998.
In that time, there has been an array of different businesses which have been crowned as winners of the Fastest 50, which ranks privately owned profit-making businesses which have grown their turnover by the highest average annual amount.
Previous winners over the years have included The Engineering Business – now part of the multinational IHC Merwede Group – and Eaga Partnership, which is now a part of support services and construction giant Carillion plc.
Dragons Den star Duncan Bannatyne's businesses have also featured in Fastest 50 history with both Bannatyne Fitness and Bannatyne Hotels winning awards – in the case of Bannatyne Fitness for two years in a row, in 1999 and 2000.
Such double victories in the Fastest 50 are rare, but they do happen. For example, Middlesbrough-based multi-disciplinary engineering company Wilton Engineering won awards in both 2010 and 2011 while Control Mesure Regulation (UK) Ltd of North Tyneside was a winner in 2007 and 2009.
The latter series of victories earmarks the strong contribution made by engineering and manufacturing companies to the Fastest 50 over the years.
A traditional strength of the North East economy over many decades, Fastest 50 engineering and manufacturing winners have been involved in everything from plastics injection moulding to making truck and lorry parts, creating clean-room facilities for laboratories to manufacturing hi-tech wiring systems.
However, it would be a mistake to assume that this is the only sector from which winners are drawn.
Analysis of previous years shows that fast-growing companies in the region have included food wholesalers, care home groups, wallpaper retailers, recruitment businesses, furniture sellers, nurseries and architects.
The list of different sectors flags up both the diversity of the North East economy and the Fastest 50's knack of uncovering successful companies which may otherwise have gone under the radar.
Colin Hewitt, Partner and Head of Commercial at Ward Hadaway, said: "When we started the Ward Hadaway Fastest 50 in 1998, it was with the intention of highlighting businesses which were doing great work in their individual fields and were helping the North East to grow and develop.
"We also wanted it to act as a stage for showcasing the very best in North East enterprise and generate a positive message about the region's economy.
"Many things have changed over the years – not least the size and scale of the awards ceremony itself, which has grown considerably to become one of the key events in the North East business calendar and attracts hundreds of attendees every year.
"However, the ethos of the awards remains very much the same and, although the identity of the winning companies changes over the years, the qualities of talent, determination and sheer hard work which characterise those who walk off with the trophies remains a constant.
"We are all now really looking forward to Friday and to finding out which companies will be writing their names on the history of the Fastest 50 this year."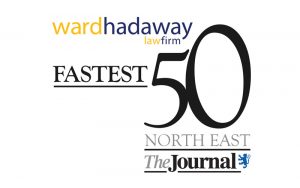 The Ward Hadaway Fastest 50 is compiled by Durham Business School/St Chad's College using publicly available information from Companies House and ranks privately owned, profit-making companies according to their annualised turnover.
* Find out more about the Fastest 50 Awards.
Please note that this briefing is designed to be informative, not advisory and represents our understanding of English law and practice as at the date indicated. We would always recommend that you should seek specific guidance on any particular legal issue.
This page may contain links that direct you to third party websites. We have no control over and are not responsible for the content, use by you or availability of those third party websites, for any products or services you buy through those sites or for the treatment of any personal information you provide to the third party.