Eccleston Homes in double win at Ward Hadaway Greater Manchester Fastest 50 Awards 2017
Follow us on LinkedIn
HOUSEBUILDER Eccleston Homes proved to be hot property by winning two awards at the Ward Hadaway Greater Manchester Fastest 50 Awards 2017.
The company won the awards for Fastest Growing Medium Sized Business and Overall Fastest Growing Business at the event at the Museum of Science and Industry in Manchester.
Eccleston Homes was only started up in 2011 but has grown rapidly since then, specialising in building select developments of homes at locations across the North West.
The Warrington-based company develops houses in the Arts & Crafts style, aimed at combining a traditional look with contemporary interiors.
Kevin Marren, founder and managing director of Eccleston Homes, said: "We were surprised to win not just one award but two – it was great to even make the Fastest 50 list.
"We started the business in 2011 and it's gone from zero with one site and now we've won two awards – it's great.
"This has been a real team effort – there is a great feeling around the company and this will increase that even further."
Mr Marren started the company after being chief executive at Elite Homes and said that the experience which he has gained over the years in the housebuilding sector is helping Eccleston Homes in its growth.
He said: "Apart from finance, the key to success in housebuilding is knowledge and the right attitude.
"I know what a good construction manager looks like, I know what a good technical manager looks like and this all helps when growing the business."
Eccleston Homes fought off stiff competition from Crewe-based Trak (Global) Solutions Ltd and Runcorn's LPW Technology Limited, who were second and third respectively, to win the Fastest Growing Medium Sized Business award, for companies with an annual turnover of between £5m and £15m.
Eccleston Homes was not the only winner at the awards, organised by law firm Ward Hadaway in association with the Manchester Evening News/Greater Manchester Business Week.
Manchester-based UK real estate asset and investment manager APAM was named as the Fastest Growing Small Business, for companies with an annual turnover of between £1m and £5m. APAM, which also has an office in London, has invested over £730m into UK investment opportunities on behalf of its joint venture partners and has over £2bn worth of assets under management and/or sold.
APAM won the award for Fastest Growing Small Business ahead of second-placed Manchester-based legal sector cloud services company Converge Technology Specialists and third-placed Energy Gain UK, an Ashton-under-Lyne business that is an accredited designer, supplier and installer of renewable energy systems.
Eldapoint Ltd was named Fastest Growing Large Business for 2017, for companies with an annual turnover of more than £15m.
The Manchester-based company has Shipping Container Depot facilities in most major UK ports and manufactures a wide range of structures including storage and shipping containers, modular equipment buildings and fire certified and blast-resistant units.
Eldapoint Ltd won the award ahead of second-placed bar operator The New World Trading Co, which is based in Knutsford, and third-placed Edina UK, a Stockport-based business which delivers a range of natural gas, combined heat & power and biogas solutions at locations across the country.
The winning companies and the runners-up were revealed before an audience of Fastest 50 company representatives and regional business leaders at the Museum of Science and Industry in Manchester on Friday 19 May.
Greater Manchester Combined Authority chief executive Eamonn Boylan was the special guest at the event and delivered the keynote speech.
Mr Boylan talked about newly elected Greater Manchester Mayor Andy Burnham's plans to transform the area and spoke about how fast-growing businesses like those found in the Ward Hadaway Greater Manchester Fastest 50 were "fundamental" to the future growth and prosperity of the region.
Paul Johnson, Executive Partner at Ward Hadaway in Manchester, talked about the fast pace of change in the economic and political world and paid tribute to the endeavours of all 50 companies in the Ward Hadaway Greater Manchester Fastest 50 of 2017 for their success in growing their businesses.
Paul O'Halloran, Managing Director of Manchester Evening News publisher MEN Media, introduced the awards.
The Greater Manchester Fastest 50 recognises and celebrates profit-making privately-owned companies and organisations in the region which have shown the strongest sales growth over recent years.
Independent economic researchers compile the list using publicly available data from Companies House.
Jamie Martin, Managing Partner at Greater Manchester Fastest 50 organiser Ward Hadaway, said: "This is the fourth time which we have held these awards and they get bigger and better every year.
"It is tremendous to see such a wide variety of companies successfully growing their businesses, creating jobs and prosperity and attracting investment into the region.
"As a Northern law firm for national business, we are able to see at first hand the superb work being carried out by companies every day.
"The Ward Hadaway Greater Manchester Fastest 50 enables us to help shine a light on those companies who are blazing a trail when it comes to growing their businesses, as well as highlighting what a fantastic place this is to do business.
"While the awards celebrate the winning companies, every business in the final 50 has done exceptionally well to grow their enterprises in a profitable way and we wish them every success for the future."
The Ward Hadaway Greater Manchester Fastest 50 2017 roll of honour
Fastest growing small business
Winner: APAM, Manchester
2nd place: Converge Technology Specialists, Manchester
3rd place: Energy Gain UK, Ashton-under-Lyne
Fastest growing medium-sized business
Winner: Eccleston Homes, Warrington
2nd place: Trak (Global Solutions) Ltd, Crewe
3rd place: LPW Technology Ltd, Runcorn
Fastest growing large business
Winner: Eldapoint Ltd, Manchester
2nd place: New World Trading Co, Knutsford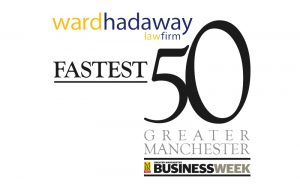 3rd place: Edina UK, Stockport
Fastest growing overall business
Winner: Eccleston Homes, Warrington
* Click here for a special Ward Hadaway Greater Manchester Fastest 50 Awards 2017 supplement.
* Find out more about the Fastest 50.
Please note that this briefing is designed to be informative, not advisory and represents our understanding of English law and practice as at the date indicated. We would always recommend that you should seek specific guidance on any particular legal issue.
This page may contain links that direct you to third party websites. We have no control over and are not responsible for the content, use by you or availability of those third party websites, for any products or services you buy through those sites or for the treatment of any personal information you provide to the third party.