THE floods which deluged Yorkshire in December 2015 demonstrated why contingency planning and disaster recovery is not a tick-box exercise, according to a leading property lawyer.
Kevin Weston, Partner and Head of the Property Team at Ward Hadaway in Leeds, says that the destruction and disruption caused by the flooding across the region brought home to many companies why taking precautions and planning for the worst is an important part of business life.
The comments come as the build-up continues to the Ward Hadaway Yorkshire Fastest 50, the annual run-down of the fastest growing privately owned companies in Yorkshire which Ward Hadaway organises in association with The Yorkshire Post.
As many businesses continue the clean-up after December's devastation, Kevin Weston, who has over 25 years' experience advising on property issues in Yorkshire, says with the prospect of similar deluges occurring on a more frequent basis, companies would do well to factor in such scenarios when it comes to their property needs.
Kevin said: "In general terms, when a company is looking for premises, it is important to carry out a long-term risk assessment of the potential property, looking at its location in terms of proximity to rivers and other watercourses and the flood risk profile of the area.
"Of course, this isn't always straightforward – one of the features of the most recent flooding to hit Yorkshire was the fact that many properties suffered from flood damage despite being some distance from major watercourses.
"It is also important to stress that urban locations can be just as badly affected as those in more rural areas – you only have to look back at what happened in cities like Leeds and York to see that.
"As a result, whilst it makes sense to carry out due diligence on a property's susceptibility to flooding, that is not a guarantee premises will not be affected by the effects of prolonged heavy rain. This makes having a comprehensive and workable disaster recovery plan a real must for all businesses, not least the kind of fast-growing, ambitious companies such as those found in the Ward Hadaway Yorkshire Fastest 50."
Ideally, disaster recovery plans should cater for a wide range of scenarios and the prevalence of flooding in recent years means dealing with such a situation is a key part of any plan.
Kevin explained: "The plan which may differ depending upon whether a company is tenant or owner of the property should contain set procedures and practical steps and it is important that it is communicated to everyone within a company so they know what to do should the worst happen.
"It should have everything from how to ensure the safety of the staff in such situations to keeping comprehensive HR and contact records in the event of an emergency. Many premises in the recent floods were affected during the holiday period – including our own office in Leeds – so it is important to be able to contact staff to let them know what is happening and how that will affect them.
"Provision should also be made for preserving crucial stock and valuable equipment in the event of a flood, particularly in the case of any hazardous materials which may be on site, and then dealing with clients who may be expecting goods or services which you can no longer deliver.
"There is a lot to consider when faced with such scenarios, but proper planning is much more than just a box-ticking exercise. While even the best prepared businesses are sometimes helpless in the face of nature, they are the ones more likely to bounce back from such serious setbacks."
Kevin Weston said: "If you are a tenant, you may need to notify your landlord that the premises have been damaged to invoke the rent suspension provision in your tenancy (meaning you may not have to pay rent for the time that the premises are unable to be used).
"You should also review the lease which you have to see if there are any other provisions which you need to comply with in so far as damage by flooding is concerned.
"A tenant should also check whether there are any insurance excesses they have to pay – whilst the landlord insures the building, the tenant may have to pay any excess in the event of a claim. This makes it doubly important for businesses to ensure that their disaster recovery plan includes back-up copies of crucial documents like leases and insurance agreements.
"For landlords or property owners, clearly you will want to ensure that you are covered in the event of flooding and, in the case of landlords, that you are covered for the loss of rent due to the rent suspension provision.
"While no-one wants to think about their business property being flooded, it is an increasingly common fact of life. Those who confront the situation and prepare for such eventualities are likely to be the successful companies of the future."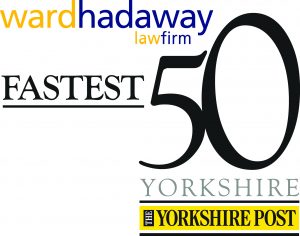 The Ward Hadaway Yorkshire Fastest 50 2016 Awards take place at Aspire Leeds on Friday 18 March when awards will be given to the fastest growing small, medium-sized and large privately-owned businesses in Yorkshire with one of those winners going on to be crowned the overall fastest growing business.
* Find out more about the Fastest 50 Awards.
Please note that this briefing is designed to be informative, not advisory and represents our understanding of English law and practice as at the date indicated. We would always recommend that you should seek specific guidance on any particular legal issue.
This page may contain links that direct you to third party websites. We have no control over and are not responsible for the content, use by you or availability of those third party websites, for any products or services you buy through those sites or for the treatment of any personal information you provide to the third party.