Kevin heads up our Leeds Property Team.
He has over 30 years' experience working within the Yorkshire region. During that time he has developed a strong client base and is a key adviser to a number of clients. He acts for a number of private developers and charity clients.
Kevin is recognised by his clients for not only his experience but a "pro-active approach and can-do attitude".
Experience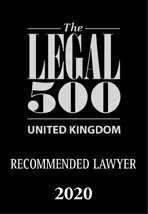 Kevin has a wealth of experience involving all types of property transactions, with particular emphasis as to transactions involving property holding charities including property joint ventures, regeneration schemes, water-related infrastructure agreements, acquisitions, disposals and lettings of property ranging from Greenfield sites to investment property.
Kevin is the client relationship partner for Canal & River Trust and the Land Trust.
Key projects on which he has advised include:
Advising Canal & River Trust in a deal with H20 Urban (a national joint venture partnership between the Trust and specialist partnering developer Bloc) which will see the development of four Grade II-listed canal buildings into luxury housing in Hertfordshire. The £14 million scheme will lead to the development of Bulbourne Yard, a historic complex of former canal lock workshops on the Grand Union Canal in Tring near Hemel Hempstead. The development will see 25 new premium homes, an office facility for the Canal & River Trust and a new footbridge over the canal to provide access and enhance the amenities. Profits derived from the joint venture partnership go towards helping the repair and upkeep of the Trust's historic canals.
Advising the Land Trust's involvement to manage and maintain up to 78 hectares of open space at Linmere (formally known as HRN1) which will deliver an extension to Houghton Regis of up to 5,150 homes and primary schools with employment. The development is being brought forward by Houghton Regis Management Company, a consortium of Lands Improvement, Aviva and the Diocese of St Albans.
Advising the Land Trust's involvement to manage and maintain 176 acres of parks and open spaces at the Beaulieu development on the outskirts of Chelmsford with the Developer Countryside (Zest) LLP.
Advising the Land Trust on the addition of two sites to its portfolio namely, St Luke's, Runwell and St Michael's Hurst in Bishops Stortford. Both sites include a significant amount of green space and woodland, particularly at St Michael's Hurst which includes a 16 hectare country park as part of the development.