Commercial law firm Ward Hadaway has marked its 30th anniversary by being named Law Firm of the Year at the annual Northern Law Awards.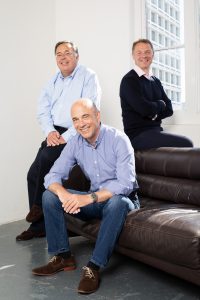 Here, we learn of some changes at the top which will stand them in good stead over the next 30 years.
As North East businesses go, the name Ward Hadaway has become as synonymous to the city of Newcastle as some of the renowned landmarks that surround its Quayside base.
Hard to believe, then, that the commercial law firm was established just 30 years ago. Founded in 1988, the aim was to challenge the likes of Dickinson Dees, Wilkinson Maughan and Ingledews, the major commercial firms of the day.
Having met those aspirations, and after branching out to the Northern strongholds of Leeds and Manchester during those first three decades, it's perhaps not surprising to find out-going managing partner Jamie Martin in reflective mood.
"It's an important juncture, and we're very proud of what we've achieved in those 30 years," says Jamie, who has moved into a new role as the firm's senior partner.
"We've always thought of ourselves as a reasonably young organisation, yet here we are celebrating our 30th anniversary, so we are no longer the new kids on the block.
"We are now very firmly established as a significant commercial law firm in this city, so we've certainly achieved the goal of our founding fathers and mothers.
"We opened offices in Leeds in 2008 and Manchester in 2012, so we are represented right across the North of England. To have accomplished that within 30 years – in what is a competitive and difficult market, is quite an achievement."
This is not, however, a business that is interested in standing still.
Their current HQ, directly next door to the former Co-operative Society Warehouse that now houses the Malmaison Hotel, is testament to their ambition.
"The biggest landmark for us was moving the business to Newcastle Quayside," explains Jamie. "It was a statement of intent by the partners at the time – we wanted to be taken seriously.
"We felt we couldn't do that from our old offices on Hood Street, and the ambition of the firm was demonstrated when we took up the lease at Sandgate House.
"All that was needed was a couple of floors at the time, but the building has got five. It was a real deep breath moment for us.
"Peter Allan, our senior partner at the time, said we should only sign the lease if we could have the option to build another building to the rear of Sandgate House within 18 months.
"This was to accommodate our business plan, and while many of us thought that was overambitious, he was proved to be absolutely right."
Now a UK Top 100 law firm, Ward Hadaway is looking to the future with the same kind of ambition and enthusiasm that fired the imaginations of the firm's founders in the late-1980s.
Replacing Jamie as the new managing partner is leading corporate lawyer and former Ward Hadaway finance partner Martin Hulls, while another change to the line-up sees the arrival of strategic business development partner, Steve McNicol.
Combined, the pair bring over half a century's worth of experience to the table – fitting appointments for a £36 million-plus operation that now employs in excess of 470 people.
So what has Martin made of his time so far in the role? "It has been very busy, but very enjoyable," he admits.
"Something I've embarked upon is spending time listening to people throughout the business, and a recurring theme is how Ward Hadaway is a welcoming and friendly place to work.
"That's a very important aspect of who we are – Ward Hadaway is quite a large organization, but it's very friendly. One of the things that we have had to balance carefully is encouraging the right blend of informal and personal approach with the highest standards of quality and professionalism.
"To that end, we have decided to make some changes to the way we work that contributes to a positive working environment. We have decided that the dress policy at Ward Hadaway is going to change. Since we work in a professional environment surrounded by colleagues, clients and visitors, we all dress for our activities that day whether that is a suit and tie or something more casual."
"That's what gives you the great client experience, where the law is right and the documents are right, but there's a really friendly bunch of people that you wouldn't mind sharing a beer or a glass of wine with behind all of that."
Martin continues: "We've concluded a strategic review, which has come up with a series of recommendations, and one of the key messages was about client service.
"We strive to deliver excellent client service, but we're trying to build on that to turn excellent into exceptional.
"There are a number of things that you can always do better, but what kept coming up is that our clients come to us and stay with us because of our client service and the ethos that we have, but we want that to be even better."
For Steve's part, it was the vital ingredients of the newly created role that led to the beginning of a new chapter in his career after over 17 years at another North East law firm, with more than 11 of those as managing partner.
When he weighed things up, it was an opportunity too good to turn down.
"It's very exciting," Steve says. "You have an established law firm with a full-service offering; a huge amount of potential; and a commitment to change, invest and to be ambitious. "Critically there is a real desire to build on a very strong "people centric" strategy and use that as the foundation for the future.
"When you add all of that together, it's an opportunity that was very difficult to resist – particularly for someone who really enjoys change."
The new role is clearly very broad and includes responsibility for the Ward Hadaway client experience, creating opportunities, building relationships and winning new work. Steve will also work very closely with Jamie to build on the firm's regional and national profile.
"The partners here have been really forward-thinking. They know that the technical knowledge and sector expertise in the business is superb. The aim now is to demonstrate that to as many people as we possibly can."
At first glance, the dynamics of the trio suggest an even brighter next 30 years for Ward Hadaway.
And though he's been on the journey for the past two decades, Jamie can see bigger and brighter things ahead.
"We're involved in very serious activities, but we tackle them with a friendly face," he says. "The two greatest assets of this firm are its people and the relationships it has with its clients and the business community as a whole.
"It's been a great journey for me and a great honour. But it's now time for me to step into a new role and let somebody else take the strategic lead.
"I'll be working closely with Steve, who comes with some really good credentials – not just in service delivery, but also in terms of his ability to develop clients – and I am very excited about the opportunities for the two of us.
"Martin has got exactly the right kind of qualifications to take his job on and to take the firm forward.
"He's a man of great commercial acumen, highly respected, a leader in his field and, most importantly, has the confidence of the partners to do the job. I have absolutely no doubt that he will take the firm forward in the right way."
Please note that this briefing is designed to be informative, not advisory and represents our understanding of English law and practice as at the date indicated. We would always recommend that you should seek specific guidance on any particular legal issue.
This page may contain links that direct you to third party websites. We have no control over and are not responsible for the content, use by you or availability of those third party websites, for any products or services you buy through those sites or for the treatment of any personal information you provide to the third party.