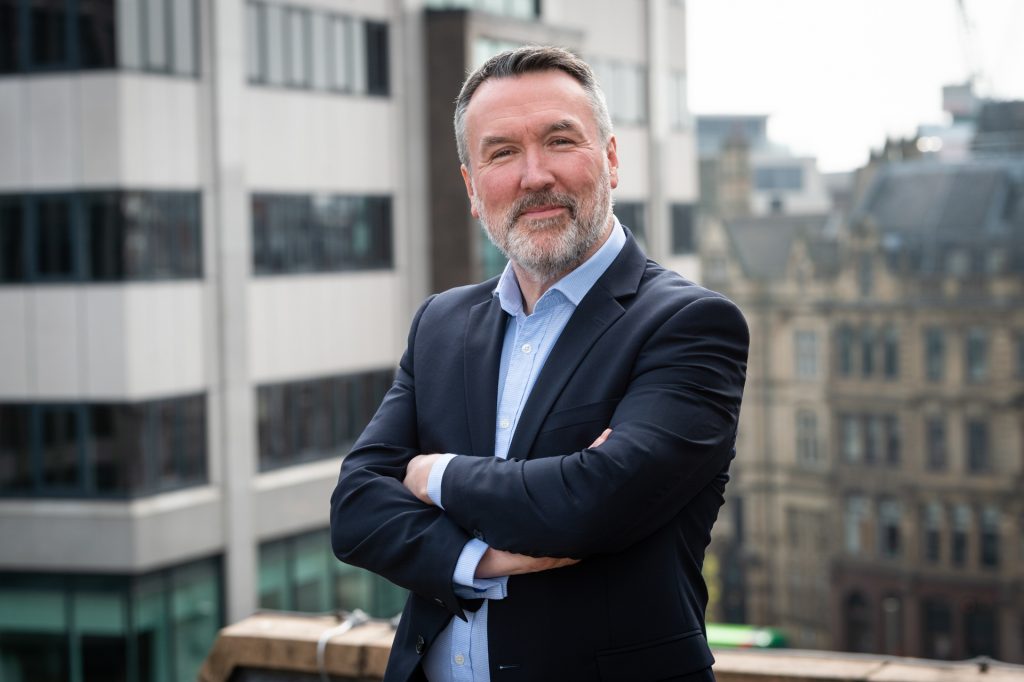 We talk to Stuart Clarke, an advisor to several businesses through his Paceline PR consultancy, and director of the Leeds Digital Festival which fosters digital culture among the region's business community, alongside Flora Mewies, a partner at Ward Hadaway.
In the ongoing series 'Inspiring Growth', Greg Wright of the Yorkshire Post talks to business leaders supporting growth in our region.
"A group of us started Leeds Digital Festival five years ago because we could see just how much the region's start-ups and scale-ups were bursting with technological innovation across all kinds of sectors from health and finance to education and marketing. All that was needed was a central hub to bring together these ideas and creativity and provide a way for businesses of all sizes to collaborate and share knowledge."
The digital transformation and technological strength of businesses, in every corner of the world, has accelerated beyond expectations this year. But then 2020 has been no ordinary year. At a time when social distancing is the norm, Yorkshire businesses have not been immune to Covid-19 restrictions. However, they are weathering the storm with the kind of digital dexterity that speaks volumes of the innovation, creativity and forward-thinking that's alive and kicking within Yorkshire's business community.
"The pandemic has showcased just how digitally adept Yorkshire businesses have become," continues Clarke. "Covid-19 has impacted every industry, but we've seen a real resilience in the region's tech sector: its innovation and creativity has enabled it not just to weather the storm, but also to thrive and grow."
And ambitious companies of all shapes and sizes, from start-ups to corporates, are providing a beacon of hope and inspiration to all businesses across Yorkshire, showing that an organisation can adapt – and even grow – during turbulent, difficult times.
"2020 will without a doubt go down in history as a catalyst for innovation and growth against a backdrop of unstable financial markets and uncertain economic security," believes Clarke. "We are seeing so many companies, born and bred in Yorkshire, opening a new digitally driven door of opportunity. For example, startup Calbot has capitalised on the growth in virtual meetings by launching its meeting scheduling software, gaining customers around the world. Leeds-based early-warning risk intelligence firm Crisp has continued to grow, with over 50 new team members joining since March 2020 – a real testament to its global scale and ambition."
And companies like Calbot and Crisp also have a lot of support among likeminded associates within Yorkshire's close-knit business community. For example, local authorities such as Leeds City Council and North Yorkshire County Council as well as Leeds City Region Enterprise Partnership have got one thing in common – a shared goal to enable enterprise to thrive, offering advice and direction each step of the way.
"Yorkshire is also home to some of the UK's best universities," explains Clarke. "They are brimming with graduates in STEM and digital sectors who can help businesses to excel in their digital transformation, enabling long-term growth. Couple this with knowledge sharing, collaboration and partnership – all principles that Leeds Digital Festival was formed upon – and what you've got is a strong, innovative business community where people who want to see others succeed support one another in their journey of growth."
Flora Mewies explains why events such as Leeds Digital Festival, which Ward Hadaway also sponsors, are vital to the development of innovative and progressive businesses in Yorkshire.
"Yorkshire is home to some exceptionally skilled and talented business leaders who have started their businesses from scratch and now run multi-million-pound companies with an international reach. Digital transformation has been fundamental to this with the pandemic specifically highlighting just how digitally able Yorkshire businesses are, as well as their agility in responding to the crisis.
"We're also seeing high numbers of clients from across the UK working with our specialist immigration team to help global tech talent secure sponsored Skilled Worker visas, EU Settlement Scheme visas and the elite Tech Nation Visa. This scheme, part of the Global Talent Visa programme, enables the brightest and best tech talent from around the world to come and work in the UK's digital technology sector. We've developing a particular skillset in this vital area, which ultimately supports the growth of the UK economy, in a world dominated by digital.
"So, while the pandemic has caused chaos in many quarters, in Yorkshire our business community can be proud of rising to the challenge, finding opportunities when faced with adversity and leading the UK's digital revolution. The future is perhaps brighter than we first imagined, and that's something we can all applaud."
This article originally appears in The Yorkshire Post on 3 December 2020.
Please note that this briefing is designed to be informative, not advisory and represents our understanding of English law and practice as at the date indicated. We would always recommend that you should seek specific guidance on any particular legal issue.
This page may contain links that direct you to third party websites. We have no control over and are not responsible for the content, use by you or availability of those third party websites, for any products or services you buy through those sites or for the treatment of any personal information you provide to the third party.