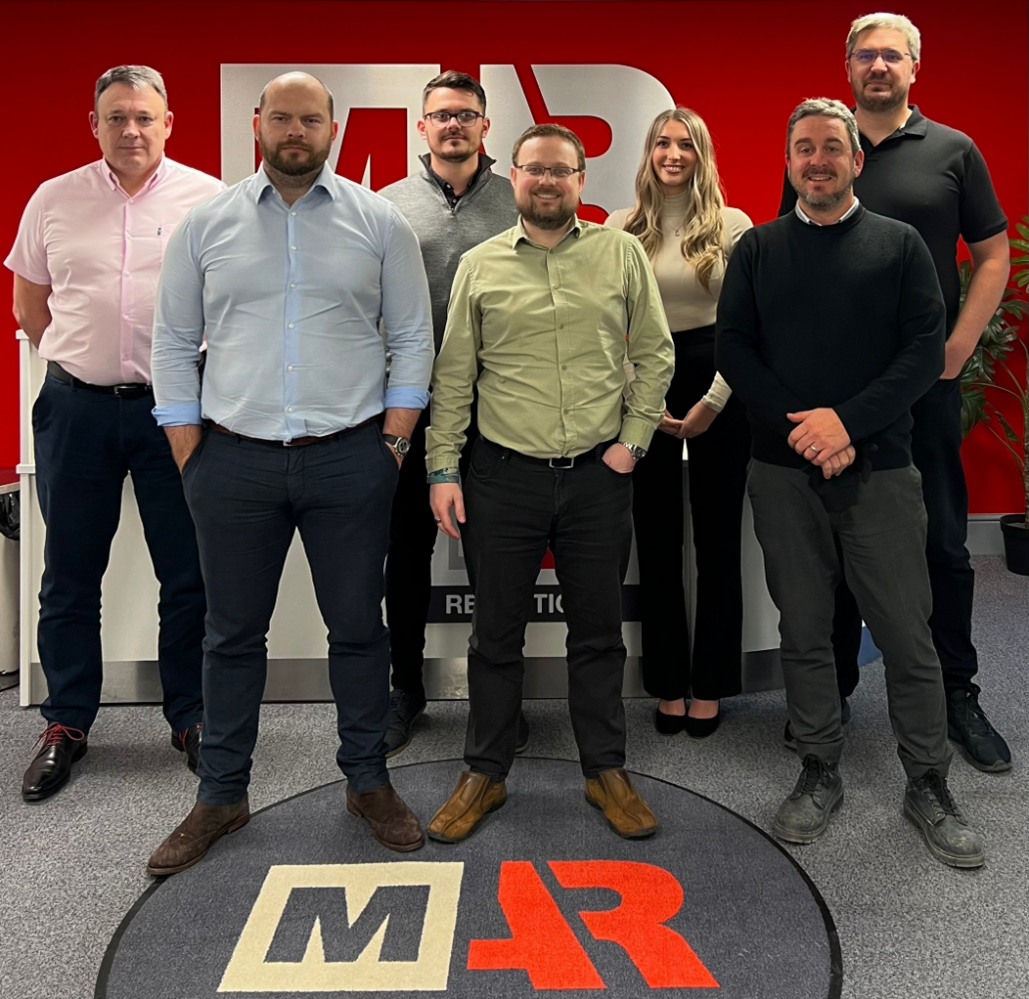 The Fastest 50 Awards celebrate the most innovative privately owned businesses across Yorkshire.
Many of the businesses that appear in this year's Top 50 are construction and manufacturing firms which have continued to drive growth and prosperity despite a turbulent economy. Hull-based modular construction firm M-AR is 2023's third fastest growing business. Here, we caught up with director Ryan Geldard alongside Our very own Dan Lyon to find out more about M-AR's story of success.
"Community, collaboration and a commitment to strive for better irrespective of circumstances is what motivates us and inspires us to grow," explains Ryan Geldard. "For clients, we offer a construction solution they need when they want it. Whether that's something speedy, in line with net zero targets, or a less disruptive build method in the community."
Founded by husband and wife directors, Amanda and Rob Grimbleby, Hull-headquartered M-AR was established in 2007. A modern method of construction company that employs approximately 75 employees, M-AR specialises in modular buildings across the public and private sector. From schools and hospitals to social and private housing and hotels, the company manufactures buildings in its factory and then transports and installs them on site. It's a more environmentally friendly way to build that typically uses less carbon than traditional construction does.
"We are passionate about being a very active and collaborative manufacturer both in business and the communities we work within," says Ryan. "We're a very open and transparent company that shares our processes and systems with other construction companies to promote best practice across the industry. We're extremely agile and will endeavour to deliver a bespoke solution to a client's build project. However, if we can't meet the needs of the client or deliver the project they want, we will happily recommend another builder or manufacturer that's more suited to the job."
And it's not just their cooperative ethos towards winning business that's enabled the rapid growth of M-AR, which is set to hit the £38 million turnover mark this year. "Sitting on the outskirts of Hull city centre, Yorkshire is our heartland. Hull in particular is one of the UK's most deprived cities and, for us, we want to support, improve and enhance local communities as much as possible. We hire locally, we source products and suppliers locally, and we give locally too. Social good means everything to us and we put our people first."
Such investment in sustainable construction and communities has seen M-AR work with BBC DIY SOS Big Build programme to transform a 2.5 acre site into an outdoor sanctuary and adventure centre for St. Michael's Youth Project in Hull. M-AR enlisted the help of its supply chain to design, build, deliver and install the new modular facility. The manufacturer has also partnered with one of the UK's biggest youth homelessness charities, Centrepoint to create 33 single occupancy modular homes for young people in London who do not have access to housing. The modular design means Centrepoint can replicate the model in other regions across the UK.
Ryan continues: "Our top three position in this year's Fastest 50 is testament to our wonderful team of highly skilled people and our shared passion to enhance the lives of others through build. We pride ourselves on nurturing relationships and constructing communities with our people-centred approach. Our growth revolves around sustainable ways of working and living where the needs of everyone in the community are met. People are happy and safe; the environment is protected, and local employment opportunities are improved."
Last year, M-AR completed the purchase of its new 100,000 square foot manufacturing facility in Hull. The business, which describes itself as a 'contractor with a factory', is now one of the region's biggest modular construction companies since its humble beginnings as a small modular builder 15 years ago.
Dan Lyon, a partner in the Ward Hadaway built environment team in Leeds, says: "M-AR is a fantastic example of how to successfully scale operations to drive organic, sustainable growth. Its focus on developing climate conscious construction methods and passion for building truly sustainable communities is extremely impressive. We work with a diverse range of construction firms across the North of England and are in tune with the continued challenges they face. Despite the tough climate, the sector is continuing to adapt, innovate and push boundaries to enable growth, something M-AR exemplify. Huge congratulations to the team at M-AR for securing a top three place in this year's Fastest 50. It's a great achievement."
Please note that this briefing is designed to be informative, not advisory and represents our understanding of English law and practice as at the date indicated. We would always recommend that you should seek specific guidance on any particular legal issue.
This page may contain links that direct you to third party websites. We have no control over and are not responsible for the content, use by you or availability of those third party websites, for any products or services you buy through those sites or for the treatment of any personal information you provide to the third party.