FORECASTING is fraught with difficulties, whether that is trying to predict the outcome of this season's Premier League title race or if we're set for a 'barbecue summer'.
FORECASTING is fraught with difficulties, whether that is trying to predict the outcome of this season's Premier League title race or if we're set for a 'barbecue summer'.
Perhaps the latter forecast is a little more straightforward in Manchester, but even so the unexpected has a habit of happening.
The same is true when it comes to analysing what 2016 might hold on the corporate deals front.
Nonetheless, there are certain market fundamentals which provide some useful pointers on what we may see over the course of this year.
For example, it is pleasing to report that there is a plentiful supply of funding available to drive deals.
What's more, this funding isn't tied to one particular area or source – there is equity finance available, there is debt funding from established players and there are a series of new entrants in the market offering innovative funding solutions, with many of these focused on SMEs.
This is all good news for the kind of fast-growing, ambitious companies which make up the Ward Hadaway Greater Manchester Fastest 50.
With funding coming from such a variety of different sources and available on a range of different terms, it is perhaps unsurprising that no one sector looks set to dominate the deals landscape in 2016, although the life sciences and technology industries do look particularly strong at the moment.
In a similar vein, no particular type of deal appears to be leading the market at the moment – at Ward Hadaway, we have been advising on a wide range of transactions.
These deals tend to come in batches – we advised on a total of 15 transactions in December 2015 alone, which were a mixture of trade deals, management buy-outs, and start-up and second round funding.
The 'batched' nature of such transactions is, perhaps, a reflection of the fact that deals are generally taking a little longer to complete than they used to – although, again, there are some notable exceptions to this.
Looking at the wider economic picture, the potential for a 'Brexit' from the EU following a referendum which now looks set to take place in June is likely to have an impact on deal flow, as much from uncertainty about the result and the consequences of a UK exit as anything else. Rumoured changes to pensions rules and entrepreneurs' relief in April might also have an effect.
Whilst the situation is always changing, the basic building blocks for deals to go ahead remain the same – sustainable businesses with quality management teams.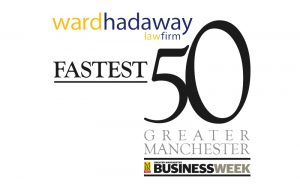 Fortunately, there is no shortage of such companies around – as no doubt we will see in the Ward Hadaway Greater Manchester Fastest 50 Awards next month.
* Find out more about the Fastest 50 Awards.
Please note that this briefing is designed to be informative, not advisory and represents our understanding of English law and practice as at the date indicated. We would always recommend that you should seek specific guidance on any particular legal issue.
This page may contain links that direct you to third party websites. We have no control over and are not responsible for the content, use by you or availability of those third party websites, for any products or services you buy through those sites or for the treatment of any personal information you provide to the third party.