THE Ward Hadaway Yorkshire Fastest 50 Awards are "a fantastic opportunity to share success" across companies, according to the overall winner of the 2016 flagship business event.
Transport smartcard specialist ESP Systex was named Fastest Growing Large Business and Overall Fastest Growing Business at last year's Ward Hadaway Yorkshire Fastest Awards, which recognise and celebrate profit-making, privately-owned companies who have grown their turnover by the largest amount in recent years.
Hull-based ESP Systex, which is part of the ESP Group, is a market leader in smartcard issuing, management and fulfilment for the transport sector with clients including Transport for London, the Association of Train Operating Companies, London Councils and the Scottish Government.
Reflecting on last year's award win, which came after the company saw its turnover grow by an average of 144% a year, ESP Group chief executive Terry Dunn recalled his surprise and his staff's delight at the news.
Mr Dunn said: "We were shocked to win – to be honest, I was absolutely gobsmacked because it was totally unexpected.
"When we told everyone back at the office, they were over the moon and high-fiving each other so it was a great thing to win.
"I believe that in business, you have to mark success, to celebrate it and to share it and the Ward Hadaway Yorkshire Fastest 50 is a great way of doing just that.
"We try to involve as many people 'on the ground' as possible in that success so when we are invited to awards ceremonies or dinners we bring along people from all levels of the company.
"Staff involvement in these kind of things is very important for us. We positively recruit internally and in terms of our call centre operations, we are one of the few call centres where people don't just take a job while they are looking for another job, we offer them real career prospects.
"The MD of our call centre in Scotland started there nine years ago as a call centre worker and she has just won Scottish Businesswoman of the Year which shows the process does work."
As well as providing a feelgood factor within a company, a win in the Ward Hadaway Yorkshire Fastest 50 Awards – organised by leading North law firm Ward Hadaway and supported by The Yorkshire Post – can also help in the wider commercial world.
Terry Dunn explained: "We spread the word about last year's win and used it in our marketing materials and on our website to let people know what we'd achieved."
He added that in the year since winning at the awards, ESP has had "a busy year", successfully securing a string of contract renewals with customers.
Looking to the future, the company is aiming for more growth through a range of different routes.
Mr Dunn said: "We have got developments in a number of areas which are taking us slightly away from the business to business market and more into the business to consumer area.
"These are largely internet-based ventures and with that kind of venture, you need to be ready to scale up quickly when the demand is there so our focus is on that and, of course, on keeping our current customers happy."
Changes in the transport sector are also set to have an effect on the company's future prospects as more transport operators turn to smartcards and legislation makes its way through Parliament.
Mr Dunn said: "The Bus Services Bill will be very important when we see the detail of what is planned and in Yorkshire it will be interesting to see what effects the activities of Transport for the North have on the sector."
ESP Systex will also be back to defend its title at the Ward Hadaway Yorkshire Fastest 50 Awards 2017, having made it into this year's list of the fastest 50 growing companies in the region – the third year in a row that the company has done so.
"We'll definitely be there and are looking forward to it," said Mr Dunn.
The other winners from the 2016 Ward Hadaway Yorkshire Fastest 50 Awards were Pet Brands of Dewsbury, who won the fastest growing small business award, and Advanced Forwarding Limited of Bradford, who were named fastest growing medium-sized business.
Harmajinder Hayre, Executive Partner for Ward Hadaway's Leeds office, said: "When we started the Ward Hadaway Yorkshire Fastest 50 in 2011, we wanted to celebrate the success of businesses across Yorkshire and to spread the word about what a fantastic place this is to do business.
"We are delighted that ESP Systex so enjoyed winning their awards last year and we wish them and all the other 49 companies in this year's list the best of luck for the 2017 awards."
The Ward Hadaway Yorkshire Fastest 50 Awards 2017 take place at Aspire Leeds on Friday March 17.
Awards will be handed out to the fastest growing small, medium-sized and large businesses, for companies with annual turnover of between £1m and £7.5m, between £7.5m and £15m and turnover of more than £15m respectively.
One of those three winners will then receive the accolade of being crowned Yorkshire's overall fastest growing business for 2017.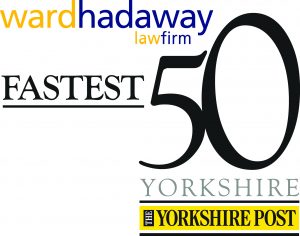 The Ward Hadaway Yorkshire Fastest 50 is compiled by independent economic researchers who analyse company financial figures to create a run-down of the privately-owned, profit-making companies who have seen the biggest annual expansion in their turnover in recent years.
* Find out more about the Fastest 50.
Please note that this briefing is designed to be informative, not advisory and represents our understanding of English law and practice as at the date indicated. We would always recommend that you should seek specific guidance on any particular legal issue.
This page may contain links that direct you to third party websites. We have no control over and are not responsible for the content, use by you or availability of those third party websites, for any products or services you buy through those sites or for the treatment of any personal information you provide to the third party.