Ward Hadaway Education, Skills and Apprenticeships Partners Frank Suttie and Paul Scope consider the issues affecting the number of apprenticeship starts and whether new Government guidance next month will grow confidence among employers.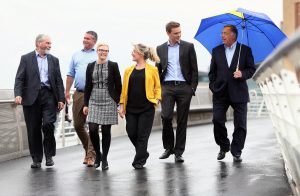 Much attention has been devoted to the difficulties that the Government has faced in its progress towards the achievement of three million new apprenticeship starts by 2020.
Regardless of whether this target is met, apprenticeships are delivering an increasingly important contribution to the skills required to re-assert the UK as a high performer on the global trading stage.
A series of initiatives are under way to create career routes that possess the skills demanded from a modern global workforce and which are best delivered through apprenticeships. The vision is simple: No longer is a university degree to be regarded as carrying greater value than a successful apprenticeship outcome.
However the lag in new starts under the apprenticeship funding regime is a serious problem – and a major obstacle to delivering skilled people in the numbers the Government expects. To help employers understand the opportunities to upskill using the apprenticeship route, the Education Skills and Funding Agency ("ESFA") is consulting on a new version of its Employers' Guide.
The guidance should be welcomed. It is frequently said that the levy system is too complicated and employers are deterred from taking advantage of the funding opportunity. There are certainly hurdles, but if the employer has a vision of the skills required to take forward its business, the time invested will be worthwhile.
A read through of the guidance will assure employers that rules such as eligibility to be an apprentice and steps the employer must take to ensure compliance with the funding scheme are straightforward. Documenting the apprenticeship correctly and maintaining evidence to demonstrate compliance are important tasks – but the greater part of this will be undertaken by the appointed training provider.
A further issue impeding apprenticeship starts is the development of new models of training and work experience that apprentices are required to follow. Referred to as Standards, these are role- and industry-specific specifications developed by employer groups, which require approval by the Institute of Apprenticeships. There are already hundreds of standards in place and available for use by employers. If you happen to be in a sector that has not yet taken forward the opportunity to develop or finalise standards, your delivery of apprenticeships will be delayed.
The Institute of Apprenticeships is alive to this issue and has implemented a fast track for the approval of standards. Access to apprenticeship routes is increasing as a result.
The standards are important from an HR perspective. Apprentices need to be given the correct type of contract with the correct standard identified, so they can be treated the same as other employees and not gain enhanced rights traditionally associated with apprentices. There are other common HR implications, such as not presuming (for age discrimination) an apprentice's age and getting the correct NMW rate, but starting with the correct contract is a must.
For the public sector, apprenticeships are just as relevant but an additional issue is compliance with public procurement rules. This can be resolved at an early stage through the analysis of the skills needs of the organisation, with a framework of relevant providers then put in place to provide the delivery of the apprenticeships.
Finally, employers have to contend with new contracts put forward by their training provider. The contract has to respond to the technicalities of a levy-based system. Helpfully, AELP has commissioned a model contract that many providers are now using. The contract can be set up as a framework allowing a stream of apprenticeships to flow through under the same contract making the job of agreeing to its terms a relatively straight forward task.
From the employer's perspective the contract benefits from a small amount of negotiation – reporting requirements (particularly when an employer is looking to reconcile its use of levy-based funding against payments made to the training provider) could be better developed.  Rules relating to the management of training provider appointed sub-contractors also require attention. Ensuring that there is a clear position around protection of personal data is also an important area for review and, if necessary, negotiation.
Taking legal advice from advisors knowledgeable about the funding rules and the rules that training providers are expected to comply with in delivering the apprenticeship will be a prudent step when appointing the training provider.
For more information on apprenticeship funding rules, visit https://www.gov.uk/government/publications/apprenticeship-funding-rules-2018-to-2019
For further guidance on legal issues, contact Paul Scope on 0191 204 4352.
Please note that this briefing is designed to be informative, not advisory and represents our understanding of English law and practice as at the date indicated. We would always recommend that you should seek specific guidance on any particular legal issue.
This page may contain links that direct you to third party websites. We have no control over and are not responsible for the content, use by you or availability of those third party websites, for any products or services you buy through those sites or for the treatment of any personal information you provide to the third party.