Today we reveal the businesses who have made it into the Ward Hadaway Yorkshire Fastest 50 2017 – the comprehensive list of the region's fastest-growing companies.
Organised by law firm Ward Hadaway and backed by The Yorkshire Post, the list highlights and celebrates privately-owned companies in the region who have shown the largest growth over recent years with the aim of recognising high achieving companies and encouraging others to follow in their footsteps.
The Ward Hadaway Yorkshire Fastest 50 2017 contains businesses from a wide range of sectors from construction to video games, taking in everything from furniture to Ferraris.
It has been compiled in association with Top 100 UK law firm Ward Hadaway, which has itself seen its Yorkshire operation grow considerably since setting up in Leeds in 2008.
Jamie Martin, Managing Partner at Ward Hadaway, said: "We are very proud and pleased to present the seventh Ward Hadaway Yorkshire Fastest 50 which once again has produced brilliant examples of all that is best about business in Yorkshire.
"The list also demonstrates the sheer variety of companies who are succeeding in growing their businesses, creating jobs and prosperity and attracting investment into the region.
"It is these companies which are the growth drivers of the Yorkshire economy and they deserve the accolades and the attention which being in the Ward Hadaway Yorkshire Fastest 50 brings them.
"Together they represent 50 reasons to be optimistic about the future of the region and we salute their considerable achievements."
Following today's publication of the Ward Hadaway Yorkshire Fastest 50, an awards ceremony will take place at Aspire Leeds on Friday March 17 when the winners of the Ward Hadaway Yorkshire Fastest 50 2017 will be revealed.
There, awards will be given to the fastest growing small, medium and large businesses, as well as an overall award for the fastest growing business of the year.
Here is the Yorkshire Fastest 50 for 2017 in alphabetical order:
Abacus Direct Manufacturing Group Limited, Harrogate
This company specialises in manufacturing a range of bathroom equipment for the commercial and residential sector under the Abacus Bathrooms and Elements Wetrooms brands.
ALNO UK Ltd, Leeds
ALNO UK has specialised in innovative kitchen design and manufacturing for more than 85 years. The company designs and makes a wide range of kitchens, selling them via a network of its own stores, independent kitchen retailers and John Lewis.
Azzure IT, Sheffield
Rated as the UK's leading Microsoft Gold Partner, Azzure IT is a specialist provider of Microsoft Dynamics solutions with over 20 years' experience implementing Enterprise Resource Planning (ERP) and Customer Relationship Management (CRM) solutions.
Castle Employment, Scarborough
A recruitment company with offices in Scarborough, Leeds and York, Castle Employment provides temporary, permanent and contract staff for businesses throughout Yorkshire and the UK in sectors including industrial, agricultural, education, hospitality, cleaning, manufacturing and engineering.
Caval Limited, Leeds
A company which also appeared in the 2016 Ward Hadaway Yorkshire Fastest 50, Caval is a construction recruitment specialist which operates across a range of sectors. Its clients include Laing O'Rourke, Bellway and Interserve.
Chippindale Plant, Leeds
Operating across nine sites in the North of England, Chippindale Plant provides a hire and sales service to the construction sector with products including plant, tools, attachments and site accommodation. It also appeared in the 2016 Yorkshire Fastest 50.
Classic Lifts Ltd, Rotherham
Classic Lifts Ltd has been installing, modernising, servicing and repairing a full range of lift products for over 20 years. The company's customers are located throughout the UK and range from single disabled access lift users to blue chip companies.
Copernus Limited, Hull
Based in Hull, Copernus is a wholesale fish merchants which supplies fresh fish to a wide range of customers including major supermarket groups.
Crest Building Products, Howden, East Yorkshire.
Crest supply and distribute a high quality range of key building products to the construction industry throughout the UK. Crest provide an inspired portfolio of over 120 different types of bricks in addition to their outstanding range of concrete and clay roofing tiles and their energy-efficient Aerated Concrete Blocks.
Dura Beds, Batley
Founded in 1998, Dura Beds designs and manufactures a wide and varied range of mattresses and divans. In June 2016, the company bought the former Layezee factory in Dewsbury to cope with the expansion of its business.
Easypay Services, Leeds
Founded in 2001, Easypay provides finance, payroll and back office services to support the recruitment industry. The company's clients include OSP Group, Change Group plc and Totally Recruitment.
ESP Systex, Hull
Part of the ESP Group and the overall winner of the Ward Hadaway Yorkshire Fastest 50 Awards 2016, ESP Systex provides online payment and ticketing solutions to organisations including Transport for London and the Association of Train Operating Companies.
F&G Commercials, Barnsley
This company provides truck servicing, new and used truck sales and genuine truck parts for a wide range of makes and models. It was formed in 1995 and became a franchised DAF Service Dealer in 1998, and a body repair shop was integrated in 1999.
Future Cleaning Services, York
Formed in 2003, Future Cleaning Services specialises in delivering facilities management, contract cleaning and support services to commercial, industrial and public sector clients across the UK at locations including offices and commercial buildings, cinemas and leisure complexes, car showrooms, schools and public transport.
G&A Transport Services Limited, Sheffield
From its base in Sheffield, G&A Transport Services provides road haulage, transport, storage and warehousing services.
GC Motors, Harrogate
This independent motor dealership specialises in prestige, sports and 4×4 vehicles and has over £10m worth of vehicles in stock, including models from the likes of Lamborghini, Porsche, Range Rover, Ferrari and McLaren. It also has a repair and service centre.
Global Autocare, Leeds
Formed in 1997 as a vehicle maintenance centre, Global Autocare has grown to provide a wide range of in-house services to help customers manage vehicle fleets. The company's customers range from small businesses to some of the UK's largest PLCs.
H&A, York
Established in 1988, H&A specialises in producing high quality and creative children's toiletries under licence for a number of high profile properties. H&A have a variety of major licenses including Disney Princess, Disney Planes and Minnie Mouse.
Harris Construction Management, Pontefract
Founded in 2007, Harris Construction Management is a multi-disciplinary construction company delivering a diverse range of projects across the UK. It has carried out work for clients including Tesco, Coca-Cola, Asda and Next.
The Harris Partnership, Wakefield
The Harris Partnership is a national architectural practice with a strong reputation in the commercial field undertaking commissions throughout the UK on all building types via five strategically located regional offices, including its Wakefield centre.
Harron Group Limited, Leeds
This housebuilder creates residential developments across Yorkshire and into the Midlands, offering a wide range of sizes and types of new homes. Harron Group also appeared in the 2016 Ward Hadaway Yorkshire Fastest 50.
headoffice3, Pudsey
headoffice3 offers specialist fit-out and construction services to the schools, commercial and residential sectors from initial design to final execution. Its recent projects include a design and build of new offices in Wetherby and a Leeds regional office for car rental company Enterprise.
Hensall Group Limited, Eggborough
Hensall Group provides mechanical and electrical building services to some of the UK's most successful organisations. Established in 1978, the company has over 38 years' experience in the provision of integrated M&E design, installation and maintenance and works alongside leading contractors and blue chip brands to deliver large scale projects.
Hesco Holdings Limited, Leeds
Hesco is well known for its work in the design and manufacture of rapidly deployable barrier systems as well as armour, flood barriers and protective structures. Since 1991, its products have been deployed in a range of hostile environments, including at the UK base in Afghanistan.
High Seat Holdings Ltd, Batley
This furniture maker has been producing hand-made furniture for more than 40 years and sells its products in shops right across the country. It also appeared in the 2016 Ward Hadaway Yorkshire Fastest 50.
High Street TV, Harrogate
Since launching in 2008, this shopping channel retailer has grown rapidly into a multi-channel business encompassing TV, online and print sales as well as via high street chains. It was third in the large category section in the 2016 Ward Hadaway Yorkshire Fastest 50.
Hisense UK Limited, Leeds
Established in 2012, Hisense UK Ltd is a Leeds-based subsidiary of China-based Hisense Company Ltd, one of the world's largest electronics and consumer goods manufacturers. Its products include televisions, refrigerators, freezers, laundry units, tablet computers and mobile phones.
Humberside Aggregates Limited, Brough
Humberside Aggregates has been operating for over 30 years. Supplying many major concrete and mortar plants in the Hull and Yorkshire region, its customers include local council authorities, builders merchants, local and national building and civil engineering contractors, the MOD and Environment Agency.
Kaam Holdings Limited, Leeds
Based in Leeds, Kaam Holdings specialises in the manufacture of plastic products and distribution of insulation materials.
Manco Energy Limited, South Newbald
Manco Energy Ltd is a green energy supply and management company which specialises in renewable energy, fuels and burners. The company supplies all types of biomass-derived fuel as well as equipment such as boilers and hot water plants.
Metcalfe Farms, Leyburn
This haulage specialist offers a complete project management package, including site to site service, to anywhere in the world. It has particular expertise in the heavy haulage sector and also has an office in Southampton as well as its North Yorkshire base.
Natural Paving Products (UK) Ltd, Doncaster
Natural Paving Products (UK) Ltd is a leading independent supplier of natural stone landscaping products. The company's activities range from managing quarries and transportation and distribution centres to sales and marketing of the finished products.
Navartis Limited, Doncaster
This specialist project-focused technical recruitment company provides skilled personnel to clients within the global transportation, civil engineering and utility industries. It also appeared in the 2016 Ward Hadaway Yorkshire Fastest 50.
NMC (Group) Limited, Doncaster
NMC Surfacing is an independent surfacing and civil engineering contractor that provides a 24/7 nationwide service, for some of the UK's leading blue chip companies, from a network of regional offices. Clients include major supermarkets, national retailers and the NHS.
Northcoast Seafoods Ltd, Grimsby
From its base in Grimsby, this company supplies prawns, whitefish and other seafood products into the retail and foodservice markets. It is also a supplier for companies looking for seafood ingredients for further processing.
Osborne Technologies Ltd, Barnsley
Based in Barnsley, Osborne Technologies is a national multi-division technology company, providing IT and Audio Visual solutions, voice and data cabling, digital signage, security, CCTV installation and smart home technology. It appeared in the 2015 Ward Hadaway Yorkshire Fastest 50.
Patrick Construction Group Limited, Huddersfield
Patrick Construction Group carries out a range of construction services from its base in Huddersfield.
Principle, Huddersfield
Principle provides a range of brand implementation services to global brands such as BMW, Barclays Bank and stadiums including Wembley and The Emirates. The company also appeared in the 2016 Ward Hadaway Yorkshire Fastest 50.
Qualitycourse Limited, Brighouse
This is the holding group for recruitment and management company Transline Group. Founded in 1989 by joint-CEOs, Paul Beasley and Jon Taylor, the Transline Group now spans more than 100 sites across the UK, as well as having operations in Ireland, Eastern Europe, Canada, Thailand and Dubai.
RBA Moody Bros (Contractors) Ltd, Northallerton
Founded in 1921, this family-run commercial and residential building contractor has worked on a range of projects in sectors including education, commercial, healthcare and conservation. It has also developed and built homes for sale and makes a range of bespoke timber products.
Siddall Investments Limited, Halifax
This Halifax-based company is a holding company which specialises in investment.
Sigma, Castleford
Sigma provides a range of services and solutions to retailers, including supply, consolidation, management and re-use of fixtures and fittings as well as shop fitting and project management. The company has over 20 years' experience in the sector.
Skipton Properties, Keighley
This family-run housing developer has over 30 years' experience and has built homes for more than 3,000 families. It has current developments at locations across Yorkshire and Lancashire including Skipton and Silsden.
Team 17 Digital Limited, Wakefield
Established 24 years ago, this Wakefield company is one of the longest running privately owned independent video and computer games companies in the world. Team 17 has released over 70 games across numerous gaming platforms with sales in excess of 65 million units.
Triton Construction Ltd, Liversedge
Triton Construction Limited is a general contractor providing construction services across the North of England. The company's experience spans all sectors, with projects ranging in value from £500,000 to £6m. Triton also appeared in the 2016 Ward Hadaway Yorkshire Fastest 50.
Vallectric (Holdings) Limited, Leeds
Vallectric is a multi-disciplined property services group specialising in a broad range of installation and refurbishment projects throughout the UK. Its services include design & installation, new-build & refurbishment and plumbing, heating and ventilation.
Warwick Ward (Machinery) Limited, Barnsley
Founded in 1970 by Warwick Ward, this company has grown into one of the largest stockists and suppliers of new and used wheel loaders, earthmoving equipment, waste recycling equipment and spare parts in Europe.
Wastewise, Hull
Wastewise is a waste management, recycling, composting and skip hire company based in Hull with over 50 years' experience in the industry. The company typically works with large waste producers, including public and private customers, and each year handles over 100,000 tonnes of waste across its various operations.
Woodgreen Construction, Birstall
Woodgreen Construction is a family-owned company which has been in business for over 20 years, during this time expanding into its role as a principal contractor for clients ranging from local authority and utility companies through to commercial property and large retailers.
Xiros, Leeds
Originally started to develop techniques for treating ACL injuries, Xiros has expanded to develop an extensive range of implants, fixation devices and surgical techniques. It also appeared in the 2016 Ward Hadaway Yorkshire Fastest 50.
The companies in this list have been selected from a table of fastest growing profit-making, private, regional companies, based on turnover growth.
Information has been compiled by researchers at Bradford University School of Management using data which is publicly available at Companies House of UK listed companies.
The average turnover growth has been assessed on a percentage increase based on the difference between turnover figures filed for the last three years.
To qualify, companies must be trading entities and have turnover in excess of £1,000,000 in the last three years of filed accounts, which are up to date as at 31 December 2016. Companies must also have made profits in each of the past three years' accounts and have filed new accounts since last year's awards.
Private limited companies which are subsidiaries of listed companies do not qualify.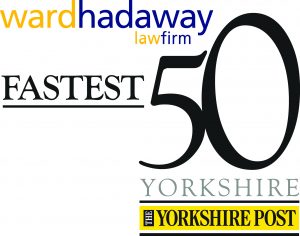 Subsidiaries of foreign-controlled companies have been accepted if they have headquarters or a decision-making function in the region.
Ward Hadaway and The Yorkshire Post do not accept any responsibility for any errors or omissions.
* Find out more about the Fastest 50 Awards.
Please note that this briefing is designed to be informative, not advisory and represents our understanding of English law and practice as at the date indicated. We would always recommend that you should seek specific guidance on any particular legal issue.
This page may contain links that direct you to third party websites. We have no control over and are not responsible for the content, use by you or availability of those third party websites, for any products or services you buy through those sites or for the treatment of any personal information you provide to the third party.