Ward Hadaway helps Gap Waste Management finance refrigeration waste recovery centre
Follow us on LinkedIn
Ward Hadaway lawyers have helped a national recycling and waste management company finance a new refrigeration waste recovery centre in the North East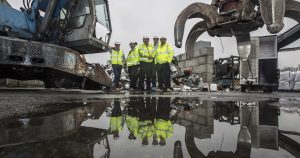 The recycling facility, to be constructed on behalf of Gateshead-based Gap Waste Management at a strategic location in the North East, will help set new standards for processing waste which would otherwise be destined for processing in Wales or the Midlands. It will be capable of processing up to 100 fridges per hour, converting them back into valuable raw materials which can then be used for other things.
Managing director, Peter Moody, said "After spending what has felt like a long time putting the necessary plans together, we are thrilled to see the funding come through to facilitate what will be a fantastic project and beneficial to so many.
"This will allow local waste to be treated by local people which is not only fantastic in terms of generating employment opportunities, but also great from an environmental perspective."
Working closely with a range of public and private sector customers, Gap Waste provides a full-service collection and recycling facility for a range of specialist wastes, including large and small domestic appliances, batteries, fridges and food waste.
The team at Ward Hadaway, led by Mark Whitehead and supported by Property partner Alex Wright, Finance partner Imogen Holland and Construction associate Alan Ross, worked closely with Gap throughout the project, including selection of funding partners, supply chain and funder negotiations.
Commenting on the services provided by Ward Hadaway, Peter Moody, managing director of Gap Waste Management, said: "The support we've had from Mark and the team has been excellent throughout.
"When it comes to the waste management industry, everyone needs to work together to address the challenges which risk storing up problems for future generations to deal with and the team at Ward Hadaway understood this from the start.
"We were able to successfully complete a complex waste project that is not just good for our business, but also for those in the community and the environment. We now look forward to working with Ward Hadaway on future waste schemes across the country."
The head of Ward Hadaway's Energy, Waste and Utilities team, Mark Whitehead, said the new centre is the shot in the arm that the UK recycling sector needs.
He said: "Gap's recovery centre offers consumers an excellent way to reduce their carbon footprint. Without investment like this, we wouldn't be able to recycle the fridges and domestic appliances we throw away as a society. The centre will make a huge contribution to addressing these issues.
"It was great to work with Peter and his team on this project, and to take it from initial design stage through to financial close. Our work on this project is an example of how we look to support our clients in all aspects of a transaction."
Please note that this briefing is designed to be informative, not advisory and represents our understanding of English law and practice as at the date indicated. We would always recommend that you should seek specific guidance on any particular legal issue.
This page may contain links that direct you to third party websites. We have no control over and are not responsible for the content, use by you or availability of those third party websites, for any products or services you buy through those sites or for the treatment of any personal information you provide to the third party.