Ward Hadaway and RSM advise on launch of innovative North East marketing intelligence platform
Follow us on LinkedIn
Specialist technology lawyers at Ward Hadaway have advised two Newcastle entrepreneurs on the development and launch of a new cloud-based marketing intelligence platform, alongside RSM.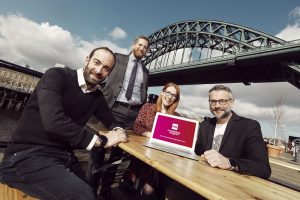 Marketing Engine is an innovative SaaS platform, which offers marketers and business owners a chance to plan, share and measure their marketing activity in one visual dashboard. It plots multiple data sources and marketing activities in one place to allow in-depth analysis of which activity is making a difference to a business' bottom line.
Ward Hadaway Partner, Matt Cormack and RSM Partner, Richard Urron have been working alongside the platform's founders Kieron Goldsborough and Aimee Muirhead from concept to commercialisation.
The Marketing Engine platform was developed in collaboration with Nebula Labs, a software house recently named in The Journal's 35 under 35 and named as one of the region's companies to watch in the '18 for 2018' list.
As part of the project, the business has received funding from Virgin StartUp which will be used for further technical development of the software.
Kieron, who also owns Narrative, a marketing agency based in Sunderland, said: "We are delighted that we are able to launch Marketing Engine which would not have been possible without the support of Matt and the team at Ward Hadaway and Richard and the team at RSM, who weren't just our lawyers and accountants, but added a real in-depth knowledge of our intended market, and helped to challenge and test us on our commercial model and strategy.
"It was so important to have sector specialist advisors, given that our background is in marketing rather than software, and the support of their networks and potential customers has also been invaluable."
Aimee added: "We created the first version of Marketing Engine in a colour-coded spreadsheet which was 12 pages long when printed, and it's great to see this initial vision become a reality thanks to TEDCO, Virgin StartUp and the entrepreneurial community of the North East for all of the support and funding we've received.
"We're thrilled to finally share the product with marketers and business leaders, and we have been overwhelmed by the readiness of professionals and businesses across the region to engage with us and find out more.  Hopefully this is the start of a really exciting journey for the platform."
Matt Cormack said: "Kieron and Aimee have a great product and the enthusiasm to match. It is really exciting to see the product launched, after everyone's hard work. This project is a real testament to what can be achieved with collaborative working across the business community in the North East.
"We look forward to seeing how Kieron and Aimee get on with the business, and are excited about working with them on their ambitious growth plans."
Richard Urron added: "All of the advisors engaged had a real grasp of the sector, and for our part it was a pleasure to be involved in helping to shape the solution based on our significant sector experience."
Please note that this briefing is designed to be informative, not advisory and represents our understanding of English law and practice as at the date indicated. We would always recommend that you should seek specific guidance on any particular legal issue.
This page may contain links that direct you to third party websites. We have no control over and are not responsible for the content, use by you or availability of those third party websites, for any products or services you buy through those sites or for the treatment of any personal information you provide to the third party.