TODAY is the day when we reveal the businesses who have made it into the Ward Hadaway Greater Manchester Fastest 50 2016 – the comprehensive list of the region's fastest-growing companies.
Organised by leading law firm Ward Hadaway and backed by the Manchester Evening News/Greater Manchester Business Week, the list highlights and celebrates companies in the region who have shown the largest growth over recent years with the aim of recognising high achieving companies and encouraging others to follow in their footsteps.
The companies are all from the Greater Manchester Business Week's circulation area and have all seen their turnovers grow over the last three years whilst remaining profitable in each of those years.
Following today's publication of the Fastest 50, an awards ceremony will take place at the Museum of Science and Industry in Manchester on Friday 4 March when the winners of the Ward Hadaway Greater Manchester Fastest 50 2016 will be revealed.
Awards will be given to the fastest growing small, medium and large business, as well as an overall award for the fastest growing business of the year.
Here is the Ward Hadaway Greater Manchester Fastest 50 for 2016 in alphabetical order:
AB Sundecks, Worsley
AB Sundecks specialises in manufacturing and installing uPVC alternatives to traditional wooden decking for caravans, holiday homes and other applications. The company was established by managing director Derek Beaumont in 2001.
Acrobat Carbon Services, Manchester
This company specialises in creating and delivering carbon and energy efficiency-based schemes for energy companies to help them achieve their obligations. Acrobat also works with installers, landlords and householders.
Aptus Utilities, Bolton
Aptus Utilities is an Independent Connections Provider (ICP) which offers utility connections services throughout the UK. Based in Bolton, the company provides connections to gas, water, electricity and street lighting.
Aqua Fabrications Limited, Skelmersdale
Aqua Fabrications makes and supplies plastic products to a range of industries, including drainage systems to the rail industry and items to the agricultural and civil engineering sectors. The company featured in the 2015 Greater Manchester Fastest 50.
Avecto, Wythenshawe
This IT company specialises in security software to protect businesses and organisations from a wide range of cyber attacks. Its customers include PwC, Dundee and Derby Universities and global technology company Semtech.
Blue Machinery (Central) Limited, Northwich
Formed in 2004, Blue Machinery is a specialist provider of materials processing equipment for the quarrying and waste recycling industries in England, Scotland and Wales. As well as its Northwich site, the company has operations in Warrington, Bristol, Surrey, Stirling and the Republic of Ireland.
Centriq Group, Blackpool
Centriq Group provides IT solutions to the logistics, supply chain and retail sectors via its subsidiary companies: Voiteq specialises in voice-directed warehouse solutions while Cirrus Logistics provides warehouse and supply chain modelling, simulation and optimisation.
Comms-Care Limited, Northwich
This IT specialist is a leading provider of channel network and server support solutions. It assists over 700 channel partners and provides support to over 30,000 active support contracts.
Comms Plus, Rainford
This telecoms specialist owns and operate 16 franchise stores, a Business Team, an External Consumer Team and a CRM Team, together with mobile telecoms giant O2. Its first O2 franchise store opened in 2006 in Bolton.
Computer Risk Management Limited, Altrincham
Trading as Printerland.co.uk this company has grown to become one of the largest independent resellers of printers and consumables in the UK. It supplies a range of products from laser printers and scanners to ink and toner cartridges.
Crawford Healthcare, Knutsford
Crawford Healthcare has over 15 years' experience in supplying specialist dermatology products to the NHS including sun protection, skincare, woundcare and diagnostic products for the care and repair of skin. The company also appeared in the 2015 Greater Manchester Fastest 50.
Creamline Dairies, Manchester
Founded in 1945, Creamline initially supplied milk and dairy products to businesses in Trafford Park and Worsley. It has since grown to be one of the leading independent dairy companies in the UK.
Culimeta-Saveguard, Dukinfield
This company manufactures a range of specialised products from advanced high performance technical fibres. Its main areas of activity are in vehicle exhausts, passive fire protection, personal protection and thermal insulation.
CVS (Commercial Valuers and Surveyors) Limited, Manchester
This company provides a range of advice and services to the commercial property sector, including advice on business rates. In addition to a base in Manchester, CVS also has operations in London and Bristol. It appeared in the 2015 Greater Manchester Fastest 50.
Datum Monitoring Services, Bury
Datum specialises in remote monitoring of earthworks, structures and transport infrastructure, offering a range of geotechnical and structural expertise to sectors including the rail industry and mining, quarrying and demolition sectors. It was in the 2015 Greater Manchester Fastest 50.
Emitex Limited, Manchester
From its base in Manchester, this company specialises in the import and export of textiles.
Euroforce People Solutions, Bolton
Euroforce is an international recruitment company which focuses on matching skilled European workers with employment opportunities throughout the UK, particularly in the furniture, textiles and automotive sectors.
Eurogold Holdings Limited, Huyton
This company is part of the Eurogold Group, which carries out general civil engineering groundworks, roads and sewers and other associated works for developers, main contractors and house builders.
Exchequer Solutions, Chester
Established in 2003, Exchequer Solutions is a commercial contracting company which provides business services to recruitment agencies and contractors across the UK in sectors including construction, technical, engineering and IT. It was in the 2015 Greater Manchester Fastest 50.
Forresters Chicken, Frodsham
Forresters is one of the largest suppliers of cooked, raw and coated poultry in the UK, supplying both the retail and food service sectors with a variety of frozen and chilled products. The company was established in 1972 and still remains independently family owned.
Grenson Motor Company, Crewe
This motor dealership sells a wide range of new and used cars from manufacturers including Suzuki, Citroen, Kia and Mitsubishi as well as providing servicing facilities.
HFL Building Solutions, Manchester
HFL Building Solutions offers mobile maintenance services, integrated facilities services and building environmental services to wide range of sectors. It carries out work on schemes including commercial buildings, schools, retail outlets, leisure facilities and hotels.
In Touch with Bricks, Macclesfield
As its name suggests, this company is a leading UK distributor of bricks, providing bricks of various sizes, shapes, colours and quantities to customers across the country.
James Hargreaves PM Limited, Burnley
Established in 1968, this plumbers merchant operates 45 depots and four bathroom showrooms, supplying a wide range of plumbing, heating and bathroom products.
Kids Planet, Lymm
Based in Cheshire, Kids Planet operates 16 day nurseries for children across the North West, nine of which have been rated as Outstanding by Ofsted. The company was founded in 2008 by chief executive Clare Roberts and her father John Hoban, who is chairman. Kids Planet appeared in the first Fastest 50 list in 2014.
Kingdom, St Helens
Established in 1993, Kingdom delivers a wide range of services to customers across the UK, including security personnel and systems, reception and concierge services, commercial cleaning ,site maintenance, environmental protection and cyber security.
Klash Holdings Limited, Oldham
Based in Oldham, this company is a distributor of fashion and leisure wear.
Kooltrade Holding Limited, Manchester
Kooltrade first started trading in 1986 as a nursery wholesaler. It has since grown to become a distributor to over 500 independent nursery retailers and also supplies major retailers with its own baby brand products.
Labour 24/7, Bolton
This company has over 50 years' experience in the recruitment and service industry supplying workers to sectors including office administration, warehousing, logistics and distribution, construction, refuse services, hotel and catering.
Lanway Holdings Ltd, Burnley
From its base in Burnley, this company supplies IT infrastructures to a multitude of organisations with focused solutions teams across Education, Housing, Corporate and SMB Business. It has been in business for over 25 years.
Laser Quantum, Stockport
Laser Quantum was formed in the 1990s by three PhD physicists from the University of Manchester. The company has grown rapidly since then into a leading global supplier of laser technology and solutions.
Liquid Personnel, Manchester
This recruitment company is one of the UK's leading suppliers of agency social workers, recruiting for UK local authorities, NHS trusts, fostering agencies, charities and other organisations at all staffing levels.
LSE Retail Group Limited, Salford
LSE Retail Group Limited is an online retailer of lighting for the home. The company was also in the 2015 Greater Manchester Fastest 50.
Lundy Projects, Stockport
Established in 1976, Lundy initially provided turnkey design, fabrication and construction services to the process and chemical industry. The company has now diversified into other areas including the rail industry where it carries out projects around the UK.
Mobica, Manchester
This company provides engineering and consultancy services spanning software design, engineering and testing and was in the 2015 Greater Manchester Fastest 50. It has customers in sectors including automotive, mobile, semiconductor, finance and banking, TV and broadcasting, marine and aviation.
MPM Products, Macclesfield
MPM Products produces pet food under the Applaws and Encore brands. From its base in Macclesfield, the company now exports to more than 40 countries across the world. MPM Products also appeared in the 2015 Greater Manchester Fastest 50.
MyPay, Cheadle
MyPay is a UK PAYE Umbrella Company, offering a range of payroll, invoicing and administrative services for contract and freelance workers.
Pakeeza Dairies, Rochdale
From its base in Rochdale, Pakeeza Dairies produces a range of products including yoghurts, vegetable margarine and lassi.
Patrick Properties, Manchester
Patrick Properties was established in 2002 and has grown with the acquisitions of investments and development projects throughout the UK. The company has a diverse portfolio of assets consisting of industrial, office and retail premises from Scotland to South East England.
PayStream, Altrincham, Cheshire
From its base in Altrincham, PayStream provides a range of business services including umbrella company services, limited company services and tax advice and compliance. It also appeared in the 2015 Greater Manchester Fastest 50.
Proseal UK Ltd, Adlington
Formed in 1998, Proseal has become a leading manufacturer of tray sealing machinery and tooling for the food industry. As well as the UK, it also operates a number of sites overseas.
Raised Floor Solutions, Skelmersdale
This flooring contractor was established in 2003 and provides composite flooring solutions, incorporating steel floor decking, insitu concrete floor slabs on steel decking and raised access flooring. Its work can be found in shopping centres, car parks, hotels and health and education developments.
Safeguard Security Solutions, Rochdale
Safeguard Security Solutions designs, installs and maintains security, CCTV, access control, intercom, concierge, security doors, automatic door solutions, fire, emergency lighting, electrical and associated systems for public and private sector clients.
Silven Recruitment, Manchester
This recruitment company specialises in providing staff for the food and drink and legal services sectors, as well as supplying interim staff.
SMS Stores Limited, Manchester
SMS Stores is a convenience store operator which sells a range of goods including food, tobacco and drinks.
Sykes Cottages, Chester
This company offers more than 6,000 cottages to rent at locations across the UK and Ireland. More than 100,000 holiday bookings are made with Sykes Cottages every year.
Venturi Group, Wilmslow
Venturi is an IT staffing service which specialises in business intelligence and niche technological recruitment. Its clients range from SMEs to major companies in a range of sectors including banking and financial services, travel and retail, construction, manufacturing, education and healthcare.
Visualisation One Limited, Chester
Based in Chester, Visualisation One is a specialist architectural 3D visualisation and animation company. It creates still and moving computer-generated images to aid with design, planning and marketing processes.
WHP Projects Limited, Warrington
WHP is one of the UK's longest established providers of professional and network support services to the wireless telecoms sector. Since 1988, the company has provided acquisition, design and construction services across the UK for all the major telecoms operators.
Wiggett Construction Ltd, Oldham
This company carries out building and construction contracts for a variety of public, corporate and private clients. It has been trading for more than 30 years and has worked on building and construction projects in virtually every sector including housing, health, leisure, industrial, religous, education, shop fitting, office and commercial.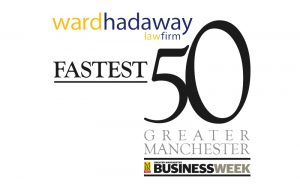 * Find out more about the Fastest 50 Awards.
The companies in this list have been selected from a table of fastest growing profit-making, private, regional companies, based on turnover growth.
Information has been compiled by researchers at Durham University Business School using data which is publicly available at Companies House of UK listed companies.
The average turnover growth has been assessed on a percentage increase based on the difference between turnover figures filed for the last three years.
To qualify, companies must be trading entities and have turnover in excess of £1,000,000 in the last three years of filed accounts, which are up to date as at 31 October 2015. Companies must also have made profits in each of the past three years' accounts and have filed new accounts since last year's awards.
Private limited companies which are subsidiaries of listed companies do not qualify.
Subsidiaries of foreign-controlled companies have been accepted if they have headquarters or a decision-making function in the region.
Ward Hadaway and the Manchester Evening News do not accept any responsibility for any errors or omissions.
Please note that this briefing is designed to be informative, not advisory and represents our understanding of English law and practice as at the date indicated. We would always recommend that you should seek specific guidance on any particular legal issue.
This page may contain links that direct you to third party websites. We have no control over and are not responsible for the content, use by you or availability of those third party websites, for any products or services you buy through those sites or for the treatment of any personal information you provide to the third party.