Super League opens nominations for award to celebrate the best on and off the pitch
Follow us on LinkedIn
Super League, in partnership with law firm Ward Hadaway, has opened nominations on its website for a new honour to be presented at the Betfred Super League Awards on October 6.
"The Spirit of Super League Award" highlights and honours those players who have made a significant contribution both on and off the field. Their on-field impact must be recognised by their peers for showing the highest levels of sportsmanship and attitude. Off the field they must have given back to the game, their clubs, their local communities and the fans. This may be through volunteer work, donations, campaigning for a particular cause, or something else unique in their own spare time.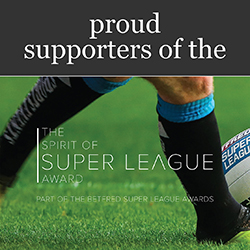 The award will be presented at the new Betfred Super League Awards, an end of season celebration at the Lowry Theatre in Salford on October 6.
Super League is looking for fans to submit online entries to the panel via the entry form to highlight stories and instances where a Betfred Super League player has displayed exceptional sportsmanship or 'given back' through community work this season, rather than solely fulfilling obligatory club appearances.
Local media, Rugby League Cares and representatives from Ward Hadaway will compile the shortlist of players from received nominations, with an expert panel deciding the winner based on the criteria.
Super League Chief Commercial Officer, Rhodri Jones, said: "The Spirit of Super League Award allows us to celebrate the players who are either selfless with their time and profile when giving back to the game, or demonstrate an extraordinary act of sportsmanship on the field.
"In promoting this new award, we are delighted to find such a proactive partner in Ward Hadaway, a law firm which shares our values of respect and giving back to our communities. We look forward to working together to raise the profile and significance of the award."
Partner Martin Karran said: "Super League and the rugby league family shares Ward Hadaway's sense of responsibility towards our own clients and communities.
"To celebrate the players who use their time and profile to improve their communities is something we are very proud to support.
"We have been working with Rugby League Cares for a couple of years now and it is clear we place the same sense of importance on this award.
"We are delighted to be able to recognise the achievement of players who are selfless, open and who consistently show good values on and the off the pitch."
Fans who submit a nomination via https://www.superleague.co.uk/spirit-of-super-league on behalf of a Betfred Super League player, will be entered into a draw to win 4 tickets for the Betfred Super League Grand Final 2019.
Please note that this briefing is designed to be informative, not advisory and represents our understanding of English law and practice as at the date indicated. We would always recommend that you should seek specific guidance on any particular legal issue.
This page may contain links that direct you to third party websites. We have no control over and are not responsible for the content, use by you or availability of those third party websites, for any products or services you buy through those sites or for the treatment of any personal information you provide to the third party.