LAW firm Ward Hadaway has advised on an innovative peer-to-peer lending deal which is helping to finance a housing development.
Banking and property experts from the UK Top 100 firm provided legal advice to peer-to-peer lending platform Assetz Capital in relation to a £700,000 loan to housebuilder Gower Homes.
One of the first new-build developments to be financed with the help of peer-to-peer lending, the Assetz Capital loan will help to fund a 47-home development of one, two and three-bedroomed properties in Wrexham, North Wales.
Peer-to-peer lending is a fast-growing source of funding in the UK and US. It works by individual investors using platforms such as Assetz Capital's online platform to invest in loans jointly with other investors to provide funding to borrowers in a range of different sectors.
Debt-based peer-to-peer lending such as that operated by Stockport-based Assetz Capital is fast emerging as a source of funding for borrowers such as SMEs, property investors and developers. Having launched in March 2013, the platform has facilitated more than £26m of lending and expects that figure to exceed £100m by 2015.
The Assetz Capital platform provides working capital for SMEs, and bridging, development and investment finance to the property sector.
Michael Forgrave, managing director at Gower Homes, commented: "I was delighted to agree a funding package with Assetz Capital. I found them to be a very professional, fast-moving organisation, which is evidenced by the fact that less than ten weeks passed between our initial meeting and first drawdown. Many claim to be supporting the SME Housebuilders in the regions; Assetz Capital really are."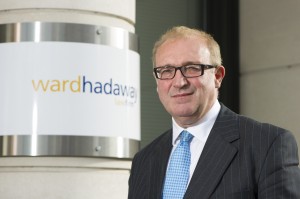 Mark Smith (pictured), Banking and Finance Partner at Ward Hadaway, provided legal advice to Assetz Capital on the loan to Gower Homes.
Mark said: "We are delighted to have advised Assetz Capital on what is a significant deal in terms of the financing of a new-build housing development.
"The peer-to-peer lending sector looks set to grow substantially over the next few years as developers search for new sources of funding and investors look to access new ways to invest in the property market."
David Penston, MD property lending at Assetz Capital, said: "This is a significant deal for a number of reasons, and it's gratifying to be able to fund such an important project. Developments such as these boost much-needed housing supply, create jobs and help the local economy.
"I would like to thank Mark and the team at Ward Hadaway for their splendid work in getting this funding deal over the line. Their proactive, positive and helpful attitude was much appreciated by the parties to the deal."
Mark Smith at Ward Hadaway has advised on a wide range of property-related financial transactions for over 20 years.
He has acted for a whole range of funding clients including UK and overseas banks, building societies, insurance companies and funds as well as quoted and private borrowers.
Please note that this briefing is designed to be informative, not advisory and represents our understanding of English law and practice as at the date indicated. We would always recommend that you should seek specific guidance on any particular legal issue.
This page may contain links that direct you to third party websites. We have no control over and are not responsible for the content, use by you or availability of those third party websites, for any products or services you buy through those sites or for the treatment of any personal information you provide to the third party.