The North's tech sector has a bright future and is home to some of the UK's leading lights in the industry, according to a leading law firm.
Ward Hadaway, which has offices in Newcastle, Leeds and Manchester and advises a range of technology and digital companies, made the comments after the final of the Northern Stars 2016 competition.
Organised and promoted by regional technology industry organisation Tech North, the competition set out to discover the most promising early stage technology companies across the North of England.
A series of regional pitch events culminated in the Grand Final which took place at the Old Granada Studios in Manchester when 10 winning companies were chosen by a panel of high-profile industry experts.
The winners were Airtime Rewards, which has developed technology linking retail transactions to mobile phone bill discounts; mobile-focused video advertising specialist Ash.tv; Dream Agility, which helps retailers get onto Google Shopping; DueCourse, which helps companies unlock funds in unpaid invoices; LivingLens, which provides deep video analysis for marketers; hi-tech parking payment company ProxiSmart; web-based broadcasting service Radio.co; augmented reality toy maker Swapbots; TopicDNA, which helps marketers analyse Twitter and Instagram and Valuechain, which helps power smarter supply chains for industry.
Ward Hadaway, which has a long track record of advising businesses in the technology sector from early stage and start-up companies to multinationals, was the official legal partner for the competition and helped to judge the entries.
The winning firms will each be receiving free legal advice and support in growing their businesses from Technology sector experts at the Top 100 UK law firm as part of their prize-winning package.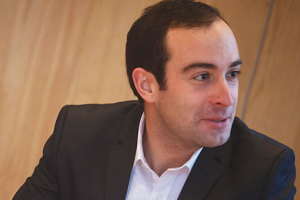 Matt Cormack (pictured right), Associate in the Commercial team at Ward Hadaway, who was a judge at the Newcastle regional heat, said: "We already know from our extensive work with a range of companies and entrepreneurs in the technology sector that the North of England is home to some fantastic tech businesses, and it was great to see the quality and variety of businesses in this year's competition, which really does highlight the strength in depth of the sector across the North.
"Whilst the businesses are at an early stage in their development, they all have a very firm idea of where they want to get to and how they aim to get there.
"We were very impressed with the quality of all the companies which we saw and how far many of them had already got to making real headway in developing their businesses.
"We're now looking forward to working with the winning companies and identifying ways in which their businesses can progress to further success."
Tech North Director Richard Gregory said: "There was an exceptional line-up of finalists for the Northern Stars this year so it was tremendously difficult to pick ten winners from those on show.
"Those who were selected demonstrated real innovation matched with a keen eye for their target markets and we hope this will be a springboard for them to take their businesses to the next level.
"It is important for companies to get solid legal foundations in place for their businesses so it was great to have Ward Hadaway involved in Northern Stars.
"We hope that the legal advice and support which the winners of the competition receive will enable them to go on to further success as they continue to develop their businesses."
Northern Stars 2016 entrants had to be digital tech start-ups based in the North of England, have raised less than £2m investment and have a live product in the market.
Companies had to develop and present a three-minute pitch to a live audience and judging panel at the regional heats before being picked to advance further in the competition.
As well as free legal support from Ward Hadaway, the 10 winners of the competition each receive a package of events and opportunities designed to raise their profile and build their networks, including places at high-profile industry events TechCrunch Disrupt in London, Investor pitch at Bloomberg, The Next Web conference in Amsterdam, the Northern Tech Awards and the offer of a subsidised trip to SxSW in Texas.
Please note that this briefing is designed to be informative, not advisory and represents our understanding of English law and practice as at the date indicated. We would always recommend that you should seek specific guidance on any particular legal issue.
This page may contain links that direct you to third party websites. We have no control over and are not responsible for the content, use by you or availability of those third party websites, for any products or services you buy through those sites or for the treatment of any personal information you provide to the third party.