THE head of one of the North's leading law firms has warned that the Northern Powerhouse risks falling flat unless practical steps are taken to make the vision of a stronger North a reality.
Jamie Martin, managing partner of Ward Hadaway, which has offices in Leeds, Manchester and Newcastle, says that a shortage of real measures – and funding – designed to boost the North's businesses and help close the economic gap with the South has led many to see the Northern Powerhouse as a distant dream rather than an achievable goal.
And he warns that unless the Government comes up with timetabled, practical steps to fulfill its ambitions, business enthusiasm for and participation in the Northern Powerhouse agenda could be lost.
Jamie Martin made his comments as the build-up continues to the Ward Hadaway Yorkshire Fastest 50, the annual run-down of the fastest growing privately owned companies in Yorkshire which Ward Hadaway sponsors and organises in association with The Yorkshire Post.
Jamie said: "As a Northern law firm for national business, we were enthusiastic supporters of the Northern Powerhouse since we work with ambitious, talented companies across the North every day and we could see how things like greater investment in transport and more local decision-making could help businesses and organisations achieve even more.
"Research from think tank IPPR North which we supported last year found that companies in the North shared a similar level of enthusiasm for the concept. They wanted to see action taken which would give greater powers to local areas and more funding for infrastructure projects to boost the North's economy – and were bullish about the region's capabilities.
"Almost a year on, there is a sense that some of the steam has gone out of the Northern Powerhouse – in a recent Ipsos MORI poll, half of those surveyed said they didn't think the ambitions of the Northern Powerhouse would be achieved in their lifetime.
"Progress on the devolution front, particularly in Yorkshire, has been slow and it would be fair to say that a degree of cynicism has crept in to people's thinking when it comes to the Government putting money behind its ambitions."
Jamie cited Ministers' response to the December floods which swept across Yorkshire as an example of why businesses may be starting to lose faith in the Northern Powerhouse.
He explained: "For many people, the floods were the first test for the Government's commitment to putting the North on an even footing with the South and by and large it is a test which has been failed.
"At Ward Hadaway, we were fortunate to escape relatively unscathed, but our Leeds office still had to be closed between Christmas and New Year and we know of many businesses who were not so lucky, in Leeds, York and right across the region.
"The Leeds Chamber of Commerce was spot on to warn the Chancellor that without better flood defences, it will be very hard to attract more investment and jobs to the city and the region – no business will want to invest if there is the chance that it will see that money literally going down the drain.
"Floods are devastating wherever they hit, but for such incidents to handicap one of England's leading commercial centres is not acceptable and funding needs to be found for comprehensive defences to ensure it does not happen again."
Greater powers and greater funding at a local level could be one way to address such issues. However, while a limited devolution deal has been agreed for the Sheffield City Region, similar deals have not yet materialised for the rest of Yorkshire, a fact which is causing some concern for businesses.
Jamie Martin said: "It is understandable that businesses want to see things moving when most other cities in the North (including Newcastle and Manchester, home to our other offices) have agreed some form of devolution or another.
"However, balanced against that need for certainty and progress, it is important that we get this process right if we are to realise the huge potential found in all areas of Yorkshire.
"The idea of a 'Greater Yorkshire' umbrella agreement with underlying deals for Leeds City Region, Hull and East Riding and York and North Yorkshire does have merit to it and may be the best way to get over the current impasse and get on with the job. It is to be hoped that this happens sooner rather than later, however."
Transport remains a vital component of realising Yorkshire and the North's true economic potential. There have been some encouraging signs – the end of Pacer Trains on the Transpennine route for example – mixed with ominous ones such as the initial cancellation and then re-timetabling of the Transpennine electrification.
Jamie Martin said: "Bringing areas of the North closer together and opening up more national and international markets is absolutely crucial to making the Northern Powerhouse a reality.
"However, we have always believed you can't approach the issue of transport in a piecemeal way. For that reason, Transport for the North's comprehensive blueprint, not just for rail but also for road, air and port infrastructure, is surely the plan which has to be followed.
"This is just one of the reasons why we are delighted John Cridland has accepted our invitation to be guest speaker for this year's Yorkshire Fastest 50 Awards. It has been encouraging to see the organisation's genuine pan-Northern outlook and composition backed by Government putting TfN on a statutory footing and allocating it a funding stream.
"It will be very interesting to see what John Cridland – a man well versed in speaking with the top levels of Government – has to report at the awards in March."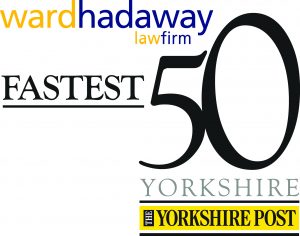 The Ward Hadaway Yorkshire Fastest 50 2016 Awards take place at Aspire Leeds on Friday 18 March when awards will be given to the fastest growing small, medium-sized and large businesses in Yorkshire with one of those winners going on to be crowned the overall fastest growing business.
* Find out more about the Fastest 50 Awards.
Please note that this briefing is designed to be informative, not advisory and represents our understanding of English law and practice as at the date indicated. We would always recommend that you should seek specific guidance on any particular legal issue.
This page may contain links that direct you to third party websites. We have no control over and are not responsible for the content, use by you or availability of those third party websites, for any products or services you buy through those sites or for the treatment of any personal information you provide to the third party.