LAW firm Ward Hadaway's Litigation team has won a national legal award for the quality of its work in resolving disputes.
The firm has been named UK Regional Law Firm of the Year in the Dispute Resolution category of the 2015 Legal 500 Awards.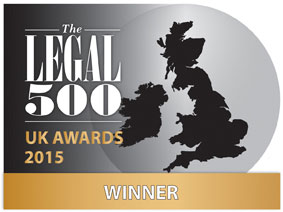 Organised by independent legal guide Legal 500, the awards recognise outstanding performance over the past year by law firms in a range of different specialist fields.
They are awarded to elite legal practitioners and based on comprehensive research into the UK legal market, including more than 50,000 interviews with clients, intermediaries and contemporaries.
A leading firm from each region of the country is put forward for each category of the Regional Awards, so each category sees legal practices from around the country compete for the title.
Ward Hadaway fought off stiff competition from practices in Yorkshire, the Midlands, the North West, the South Coast, and East Anglia to win the award.
Ian Collinson, Consultant and Head of Commercial Litigation at Ward Hadaway, said: "Winning this award is a testament to the skills, aptitude and sheer hard work of everyone in the team and it is something of which we are very proud.
"We have always prided ourselves on providing the very best service we can for our clients so to get independent recognition of this on a national scale is very rewarding.
"The fact that the award is based on research and interviews with clients gives it extra weight and means that the work which we carry out for our clients is genuinely valued and appreciated."
Jeffrey Keeble, Partner and Head of Litigation at Ward Hadaway, said: "Ian and the Dispute Resolution team have long been stand-out performers in our eyes so we feel this recognition is thoroughly deserved.
"Dispute resolution is not an easy field in which to work and it puts a lot of demands on the lawyers who practice within it.
"We are lucky to have such a dedicated and talented team at Ward Hadaway whose expertise stretches across a wide range of specialist sectors and it is terrific that their abilities have been recognised on a national scale."
It is the second year in a row in which Ward Hadaway has won a national title in the Legal 500 Awards.
Last year, the firm's Banking and Finance team was named UK Regional Law Firm Finance Team of the Year. No other law firm in the North East has won titles in successive years.
Jamie Martin, Managing Partner at Ward Hadaway, said: "To win one of these awards is difficult enough when you bear in mind that you are up against top-performing law firms from right across the country so to win two awards in succession in two different fields is an outstanding performance.
"It reinforces our status as a Northern law firm for national business which boasts some of the country's leading legal figures and finest specialist teams."
Ward Hadaway's Dispute Resolution team provides specialist legal advice on a wide range of different disputes, including contractual disputes, IT disputes, insurance disputes and shareholder and partnership disputes.
The team also regularly advises on financial services and pensions disputes, fraud cases, defamation, professional negligence, private client and intellectual property disputes as well as judicial reviews, injunctions and public sector disputes.
As well as winning the UK Regional Law Firm of the Year Award for Dispute Resolution, the team is also placed in the top rank of law firms for Commercial Litigation in the North East by independent legal guide Chambers & Partners.
Please note that this briefing is designed to be informative, not advisory and represents our understanding of English law and practice as at the date indicated. We would always recommend that you should seek specific guidance on any particular legal issue.
This page may contain links that direct you to third party websites. We have no control over and are not responsible for the content, use by you or availability of those third party websites, for any products or services you buy through those sites or for the treatment of any personal information you provide to the third party.