INNOVATION in a wide range of different fields could hold the key to the future success of the Yorkshire economy, according to a leading law firm.
Bill Goodwin, Partner in the Intellectual Property Team at Ward Hadaway in Leeds, says that developing and protecting new ideas and encouraging the right environment for innovation will be vital to the progress of the region in the 21st century.
The comments come as the build-up continues to the Ward Hadaway Yorkshire Fastest 50 Awards, the annual run-down of the fastest growing privately owned companies in Yorkshire which Ward Hadaway organises in association with The Yorkshire Post and which takes place this Friday (18 March) at Aspire Leeds.
A number of businesses in this year's Yorkshire Fastest 50 have found success by developing innovative products and services and Bill Goodwin, who advises a range of businesses on intellectual property, trade marks and branding, says such attributes will be even more important for the future.
Bill said: "The increasing pace of globalisation and the availability of new technology means that companies who produce standard goods and services find themselves competing against counterparts all over the world, often in places where wages or overheads are significantly lower and therefore costs are lower too.
"It can reach a point where competing on price alone is no longer viable so companies have to look at other ways to differentiate themselves and grow their businesses.
"This is where innovation is so important. If you can develop a different way of carrying out a particular process, if you can come up with a new product or service or a new approach to solving a particular issue, you will immediately stand out from your competitors and will have something on which you can build for the future.
"This is true in whatever industry or sector you are working in, from the creative and digital industries through to pharmaceuticals or the manufacturing sector – innovation is the quality which marks out the best companies from the rest.
"Yorkshire has a rich history of innovation and creativity and many of the companies in this year's Yorkshire Fastest 50 have built their continuing success on the back of doing things differently, such as ESP Systex which provides online payment and ticketing solutions and Express Bi-folding Doors, which makes bespoke doors, windows and roofs.
"However, innovation isn't something which comes easily – it needs to be encouraged and nurtured as Yorkshire looks to compete with counterparts around the UK and across the world."
The signs for boosting innovation in Yorkshire are encouraging. For example, in a survey published last year by manufacturers' organization EEF, almost nine out of ten manufacturers in Yorkshire were found to be engaged in innovation.
Around 58% of those surveyed said they were focused on innovation surrounding product improvement, while 46 per cent looked to improve their organisational methods and processes.
Other sectors in Yorkshire are looking to stimulate innovation by creating clusters of like-minded businesses, such as the Leeds Digital Hub.
There are also a range of organisations which are actively working to help promote and nurture innovation, including the Business and IP Centre in Leeds, where Ward Hadaway runs monthly advice clinics.
Bill Goodwin, who is also a Chartered Trade Mark Attorney, explained: "As a solicitor specialising in intellectual property, it is my job to help companies and individuals to identify the intellectual property they have got and to advise on ways of protecting that and getting the most commercial advantage out of it.
"Sometimes it can be difficult for people to identify what intellectual property they have got, who owns it and how it can be protected. On some occasions, people may think one part of their product range or processes is innovative and needs protecting when they have overlooked the really valuable or unique aspect to their business – and this is where we can help.
"Identifying, protecting and exploiting the intellectual property is as important to companies and individuals as the innovation which is produced – and is key to securing the rewards of good ideas."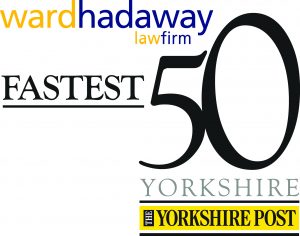 The Ward Hadaway Yorkshire Fastest 50 2016 Awards take place at Aspire Leeds on Friday 18 March when awards will be given to the fastest growing small, medium-sized and large privately-owned businesses in Yorkshire with one of those winners going on to be crowned the overall fastest growing business.
* Find out more about the Fastest 50 Awards.
Please note that this briefing is designed to be informative, not advisory and represents our understanding of English law and practice as at the date indicated. We would always recommend that you should seek specific guidance on any particular legal issue.
This page may contain links that direct you to third party websites. We have no control over and are not responsible for the content, use by you or availability of those third party websites, for any products or services you buy through those sites or for the treatment of any personal information you provide to the third party.