Immigration in tech sector is key to fuelling business growth across Yorkshire, says Ward Hadaway
Follow us on LinkedIn
Tech sector business owners must continue to welcome the brightest minds from overseas if they want to grow big, according to a leading law firm.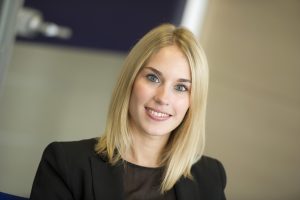 Flora Mewies, an Associate in the Employment team at Ward Hadaway, said the UK skills gap in the sector means that companies can only recruit for limited roles from within the existing UK workforce.
Flora Mewies, an Associate in the Employment team at Ward HadawayShe said: "We need an effective immigration system for recruitment outside of the European Economic Area (EEA) and also to allow students studying technology-based courses to remain in the UK and take up permanent employment after completion of training.
For the last two years, Ward Hadaway has worked with regional technology industry organisation Tech North on the Tech Nation Visa Scheme to help bring some of the world's most talented tech sector people to companies across the North of England.
Miss Mewies, said: "The scheme has been running since 2015 and makes it possible for tech talent from around the world to come and work in the UK's digital technology sector. It is a vital component to help fuel business growth.
"Talent supply is a real challenge facing all digital tech businesses not just in Yorkshire, but across the country and the removal of EU countries as a source of recruitment post-Brexit is likely to cause further problems for the sector, stunting growth and making it harder to attract start-ups and key talent.
"While changes to the flow of trade, EU funding and changes in regulation and legislationare posing challenges which SMEs will have to address, worries are worsened by a shortage of digital skills in more mainstream roles such as data scientists and front and back end developers."
Miss Mewies added: "Disrupting technologies such as Internet of Things and Artificial Intelligence are evolving at such a rapid pace that there are few people with the skills and experience needed to keep up-to-date with these changes and drive them forwards in commercial organisations. Other areas seeing shortages include cyber security, cloud and data analytics."
Her comments come as the build-up continues to the Yorkshire Fastest 50, the annual run-down of the fastest-growing privately owned companies in Yorkshire which Ward Hadaway sponsors and organises in association with The Yorkshire Post.
According to figures issued in a recent survey by Tech City UK, more than 50% of businesses highlighted a shortage of highly skilled employees and nearly 25% described sourcing talent as a major challenge.
As part of Tech City UK, Tech North champions the digital sector and growth of digital businesses in the North of England and Tech City UK has the ability to endorse applications for the Tier 1 Exceptional Talent Visa.
Currently this allows up to 200 exceptionally talented individuals in the digital technology field to come and work or set up businesses in the UK every year.
However, this will be extended from April 2018 so that there are an additional 1,000 endorsements available each year for the Tier 1 Exceptional Talent Visa, albeit these will be issued to the relevant endorsing body across six sectors, on a first come first served basis.
Ward Hadaway is an official legal partner for the Tech Nation Visa Scheme.
Miss Mewies said: "We can provide legal support for companies across the North who are looking to employ world leaders or rising stars in the tech industry, and those individuals thinking of applying for a visa to work in the UK tech industry.
"Many of the companies in the sector are leading the world in their respective fields which means that, whilst the vast majority of jobs they create will be home-grown, having access to exceptionally talented people across the globe can help them to get even further ahead of their competitors.
"The Tech Nation Visa Scheme aims to help them do exactly that, ensuring that the economy in the North of England benefits from exceptionally talented individuals from overseas whilst keeping in line with Government immigration targets and policy.
"We are delighted to be involved in the scheme, to be working with Tech North, tech companies and highly talented individuals across the North to ensure the region benefits from a world of expertise, something of increasing importance as the countdown to Brexit continues."
Ward Hadaway continues to advise a number of companies looking to recruit and/or retain staff on the options available to them for recruiting outside the EEA. It has also helped many talented tech people to secure their endorsements and visas to work in the UK tech sector.
Tech North Director, Richard Gregory, said: "Technology is a vital and fast-growing part of Yorkshire's economy but competition for the best talent is fierce.
"As a result, for UK companies to continue to be at the forefront of the industry, it is important that they have the ability to bring in exceptional individuals from outside the country when the occasion demands it.
"We enjoy working with the team at Ward Hadaway. Their experience and know-how in the field of immigration law has been of real benefit to companies and individuals in the North."
The Yorkshire Fastest 50 2018 takes place at Aspire in Leeds on Friday, 16th March with guest speaker Keir Starmer, the Shadow Secretary of State for Exiting the European Union.
Please note that this briefing is designed to be informative, not advisory and represents our understanding of English law and practice as at the date indicated. We would always recommend that you should seek specific guidance on any particular legal issue.
This page may contain links that direct you to third party websites. We have no control over and are not responsible for the content, use by you or availability of those third party websites, for any products or services you buy through those sites or for the treatment of any personal information you provide to the third party.