Two leading law firms in the North of England have come together to support the Great Exhibition of the North in 2018. Womble Bond Dickinson and Ward Hadaway are working closely together to provide legal support and advice to organisers of next year's major event.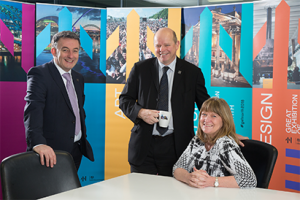 To visit the website for the Great Exhibition of the North, please click here.
The 80-day programme, which will take place in NewcastleGateshead between June 22nd and September 9th, will be unveiled early next year. Telling the dynamic story of the North through arts and culture, design and innovation, Great Exhibition of the North will engage local communities and put the area on the map.
As well as instilling local pride, the Exhibition aims to inspire the next generation to pursue exciting lives and careers in the North.
Great Exhibition of the North will show how innovators, businesses, artists and designers across the North of England have shaped our present and are inspiring our future.
One of the highlights of the exhibition will be the return of Stephenson's Rocket to its original birthplace of Newcastle upon Tyne. Visitors to the Great North Museum will also get the chance to see iconic objects from across the North, including the space suit worn by Britain's first astronaut and John Lennon's famous Record Plant Piano.
BALTIC Centre for Contemporary Art will present the best in Northern contemporary art, including a new solo show from Turner Prize nominee Michael Dean.
Colin Hewitt, Partner and Head of Commercial law at Ward Hadaway, said: "We are proud to show continued commitment to our roots by making a significant investment in the Great Exhibition of the North.
"With offices in Newcastle, Manchester and Leeds, the North and everything it stands for is always at the heart of our aims and objectives. We are therefore delighted to be a part of this profile-raising initiative which will not only support local people and businesses, but forge new links across the world and put the North of England on the map as a place to work, study and invest in.
"Collaborating with our friends at Womble Bond Dickinson has worked incredibly well as we are playing a vital role in raising the profile of the North, a place in which we all live and work.
Kevin Robertson, Head of the Newcastle Office at Womble Bond Dickinson, comments: "We're delighted to support this year's Great Exhibition of the North, which is one of the North East's key events, bringing thousands of businesses and individuals into the region and boosting our economy."
"We look forward to working alongside Ward Hadaway to support this important event, this is a collaboration of two firms who have a shared interest in supporting local projects.
We have a proud heritage in the North East and as a successful and growing business, we're committed to supporting our local community and to continue investing in Newcastle where our largest UK office is based."
Carol Bell, Executive Director for Great Exhibition of the North of England, said: "Both Womble Bond Dickinson and Ward Hadaway are major employers across the North so we're delighted to be working with them on this once in a lifetime event that celebrates the achievements of Northern England. As experts in their field they will provide unrivalled advice and support as we develop Great Exhibition of the North.
Their joint working approach reflects the collaborative nature of the Great Exhibition and we're already in discussion about staff at both firms volunteering during the event. They're a wonderful addition to the team."
Please note that this briefing is designed to be informative, not advisory and represents our understanding of English law and practice as at the date indicated. We would always recommend that you should seek specific guidance on any particular legal issue.
This page may contain links that direct you to third party websites. We have no control over and are not responsible for the content, use by you or availability of those third party websites, for any products or services you buy through those sites or for the treatment of any personal information you provide to the third party.